Welcome to the area of this website ruled by HAWKs!
---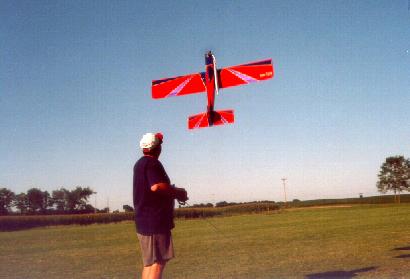 Rege Hall with Hawk 60 in a hover!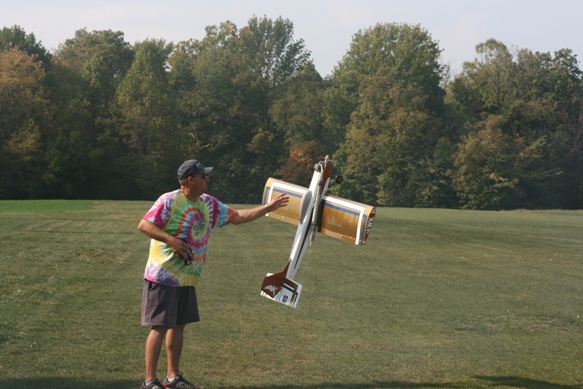 "How to hand launch a Hawk" by Rege Hall: 1) start it up 2) hold it up 3) let it go!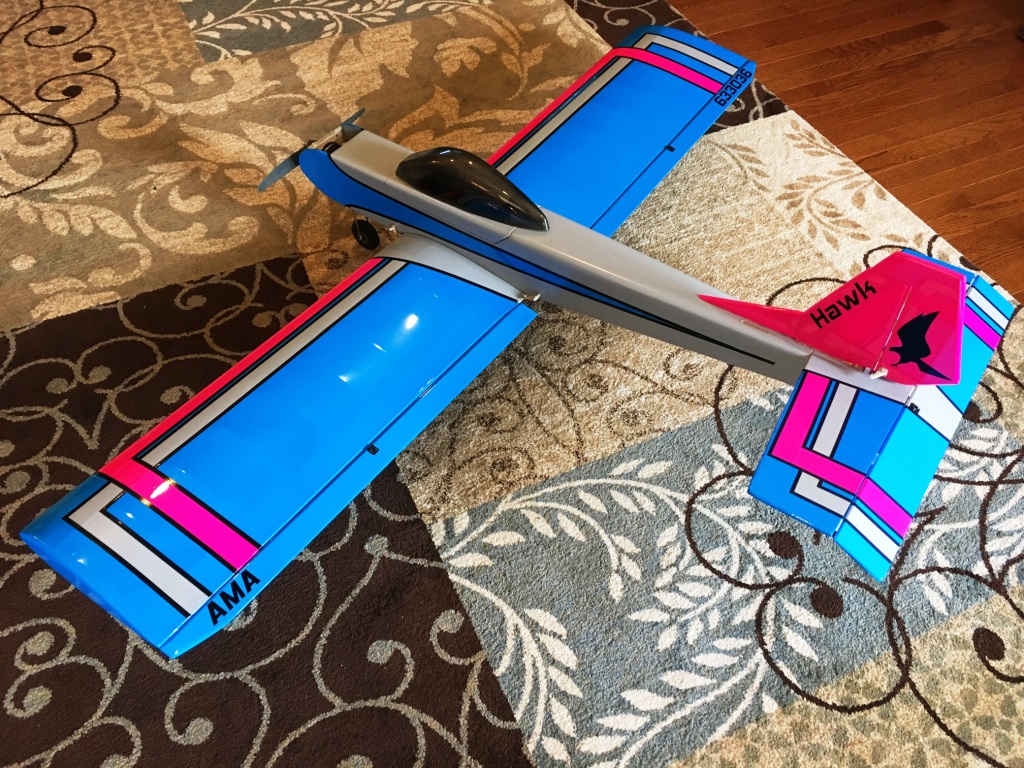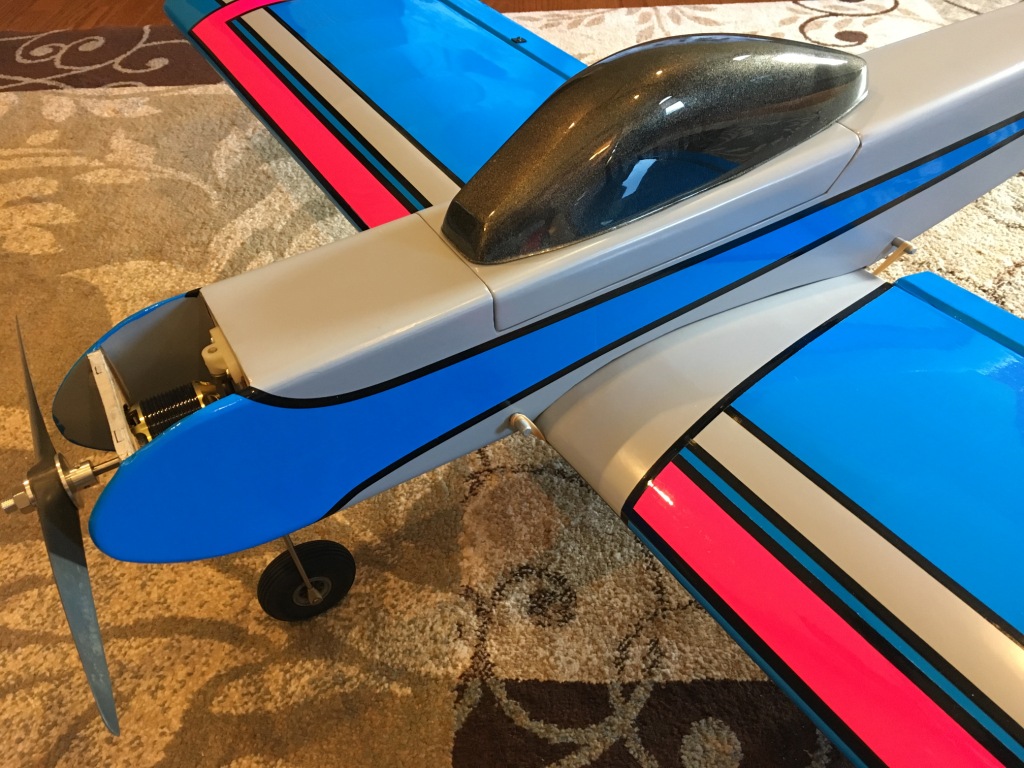 2019, a new Hawk is about to fly! It has been a few years since we have seen a new Hawk with all the ARF's avaialble, Ralph McBee's electric Hawk was a few years ago. Rege Hall built this Hawk for Parker. Powered by a Scorpion heli motor and a 6 cell 5000 Mah battery. Has hatch built on top and a second firewall to get correct spacing for the motor.

L-R:

1. Parker Hall with his 2009 Hawk 60. Black & gold monocote , powered by a piped TT .61 engine, weighs 6 pounds.

2. Black & gold Hawk in KE flight.

3) Hawks and their owner/operators at the 2003 Fall Fun Fly. Kneeling L - R: Kyle Bain, John Louden, Bill England, Rege Hall, Bob Wernsing, Parker Hall Standing: L - R: Dan McVey, Deene Vanmeter, Don "wish I haddaHawK" Schmedake, Tim Landon, Joe Hartsock, Tom Trout.

4) Dillon McBee flying the McBee family Hawk on a beautiful Saturday morning, also doing a great job.

5) 4 Hawks waiting for thier turn in the air. John Louden's Big Hawk, Rege Hall's, Parker Hall's and McBee's Hawks.

6) Joe Hartsock and Hawk.

7) The McBee Family, Dillon, Ralph and Blake, with newest Hawk 60. Looks good and flies great.

8) Dillon McBee, a victim of the wind!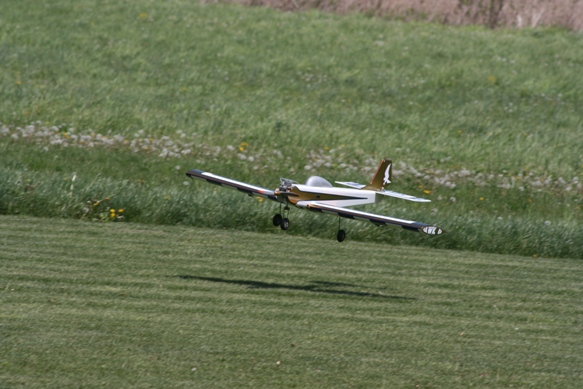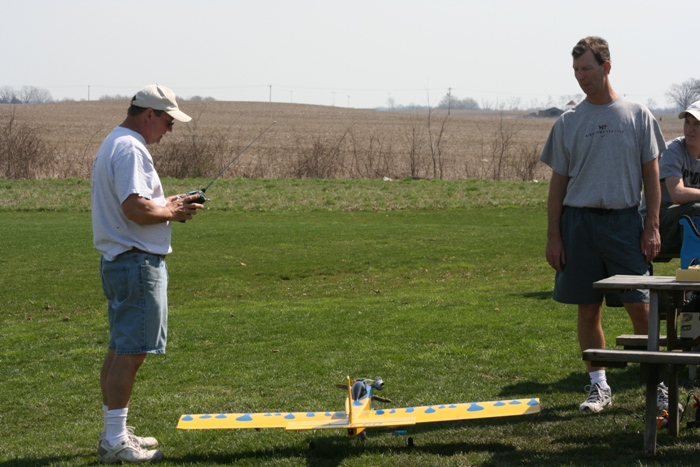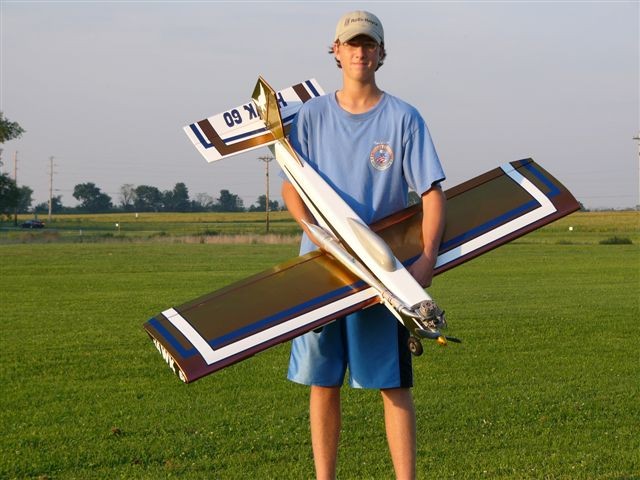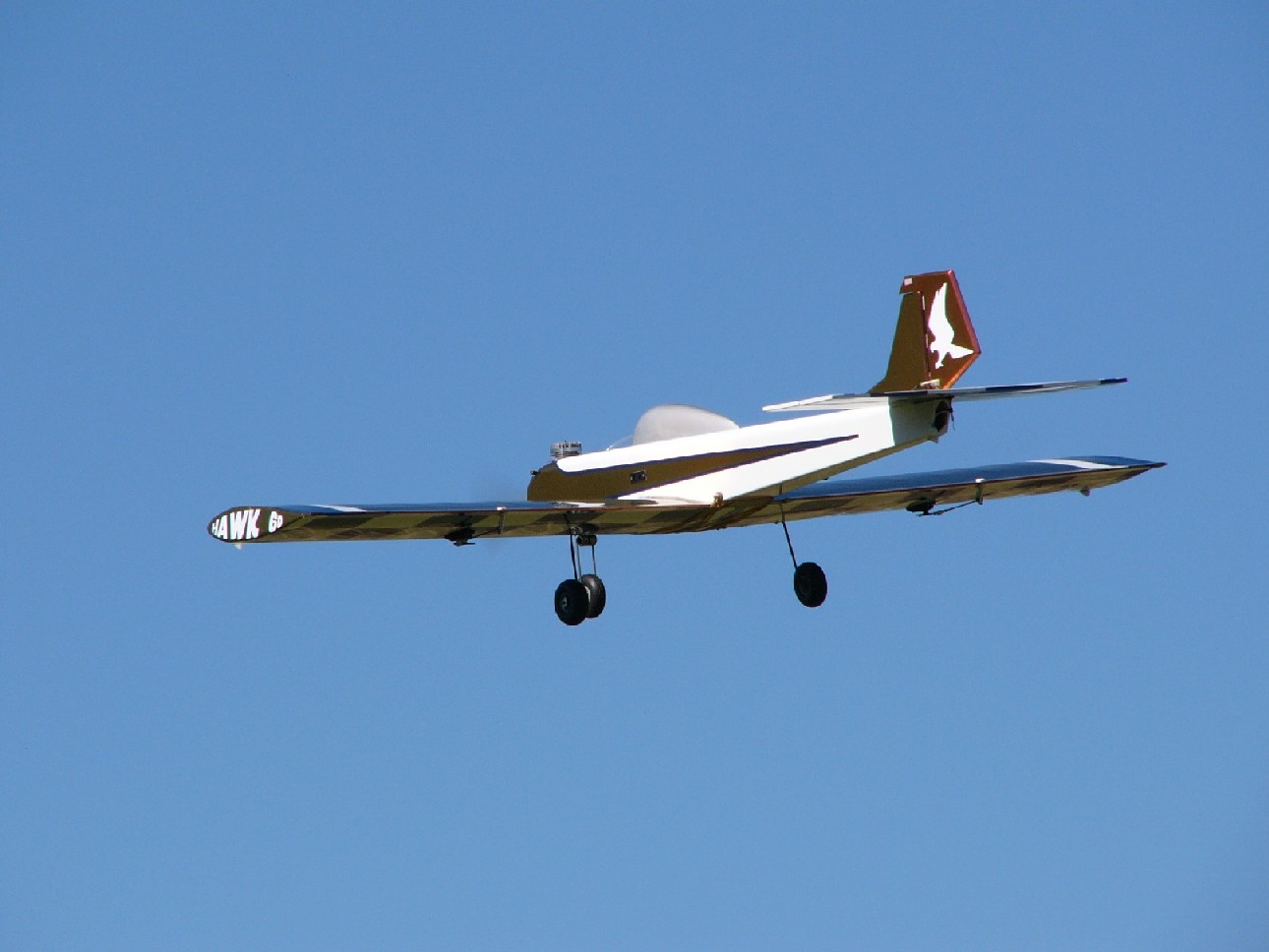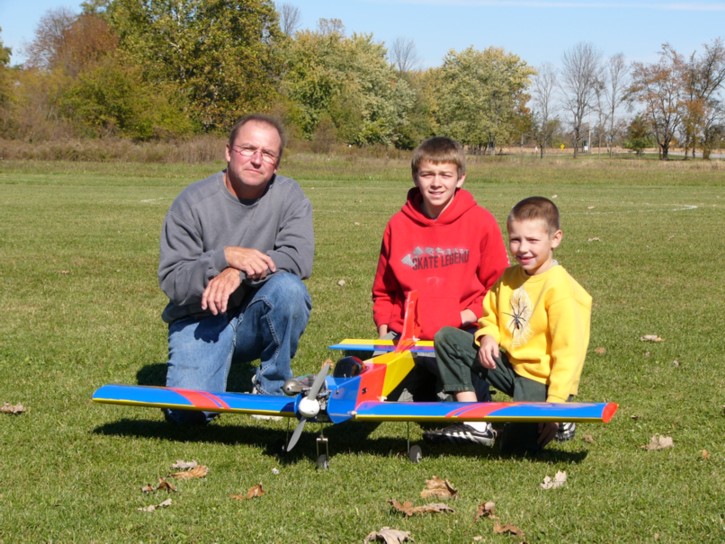 L-R: 1) Parker Hall's Magic Hawk on a dead stick landing. Could not find a plane easier to handle in this situation.
2) Ralph McBee explains the finer points of his Hawk 60 to Nick Shepler and Parker Hall.
3 & 4) Parker Hall holding his "Magic" Hawk 60. Covered with Ultracote magic that changes colors. Powered by a Magnum XLS .61.
6) The McBee Family, newest Team Hawk members. A surprise from Dillon and Blake to dad Ralph, powered by a Tower .61 and a very attractive and bright color scheme.
L-R: 1) Joe Kosiba with his first Hawk, finally got one and loves the way it flys.
2) Rege Hall hovering Parker's Magic Hawk. Thunder Tiger .61 w/pipe and 6 1/4 pounds.
3) John Louden with new Hawk. Powered by a Tower .75, very nice flying plane and tons of power!
4) John and Luke Louden with their Hawk. Flies great, I think they put over a half gallon through it the first weekend out.
5) Rege Hall flying Window Limbo event. Very windy with strings 30" apart.
6) Deene Vanmeter with Hawk 60 powered by a Thunder Tiger .61.
L-R: 1) Dan McVey with his new Hawk. Man, is it bright!
2) Kyle Bain with his Hawk
3) Bill England with his Stewart Little Hawk. Powered by a .46, flies great, would make a good trainer.
4) Bill England with his new Hawk, powered by a Tower .75. Very attractive multi blue and white scheme.
5) Parker Hall with his first Hawk, powered by an ASP .61 and done up in Tony Stewart's IRL car scheme.
6) Luke Louden with the first Louden family Hawk, powered by a Tower Hobbies .61.
George Louden's tail dragger Hawk 60. Powered by a K&B .61 and has two wings, one 60" and one stretched.
---
Here are the Big Hawks. The Big Hawk is a 140% size Hawk 60, 84 - 87" wing span, 1500 sq in wing area and in the 13 - 16 pound range. The fuse builds just like a 60 size and the wing is foam core with 1/16" or 3/32" sheeting. Several are flying as a tail dragger and a couple as tricycle. The tail dragger versions have a RV-3 or similar full size home built look. How do they fly, great!

John Louden with his recently finished Big Hawk. 87" wing span, 1500 sq.in. wing area, powered by a converted 41 cc former chain saw engine. Flies great and looks great with the smoke on a sunny blue sky day!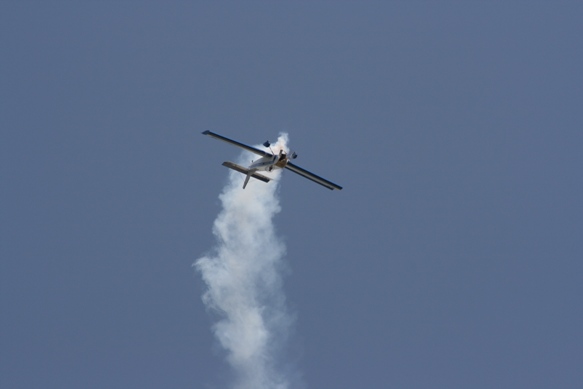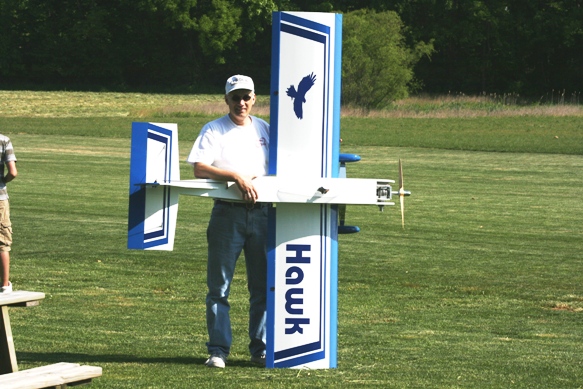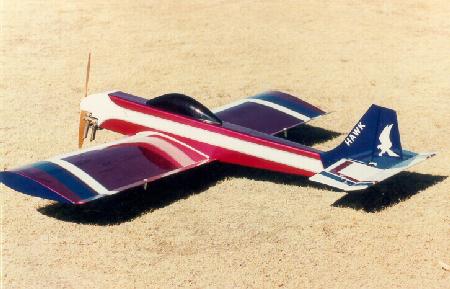 Rege Hall's Big Hawk has an 84" wing span and is powered by a Webra Bully with smoke. Weighs 15 pounds and has lots of wing area.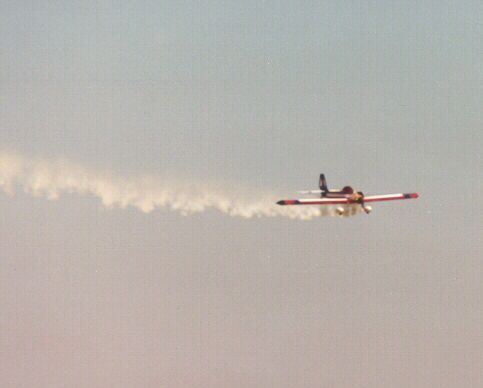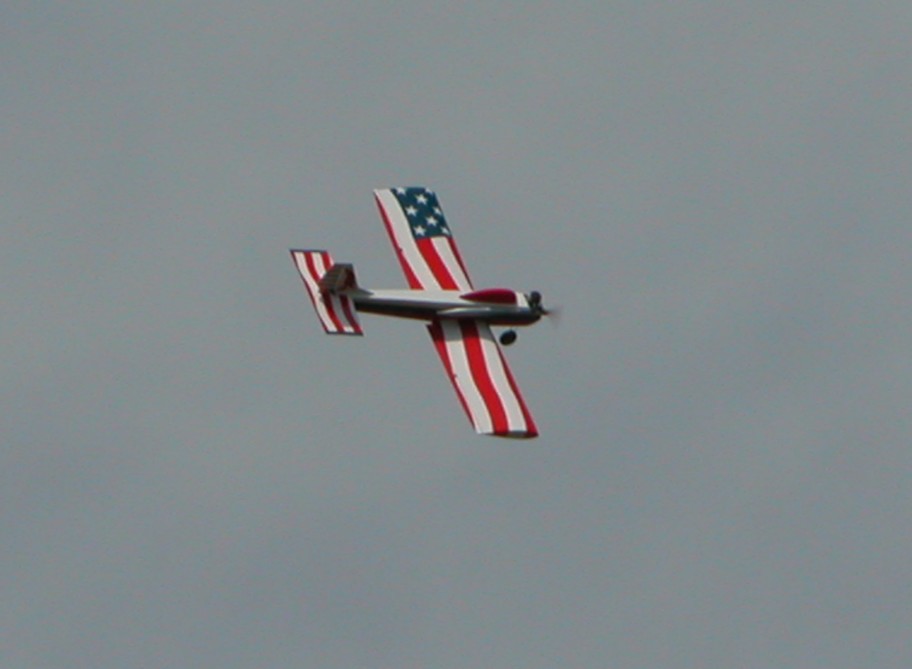 Stu Riebolt's Big Hawk. Man, what a plane! Beautiful American Flag monocote scheme. Powered by a OPS 1.80 with pipe, flies just like the .60 size.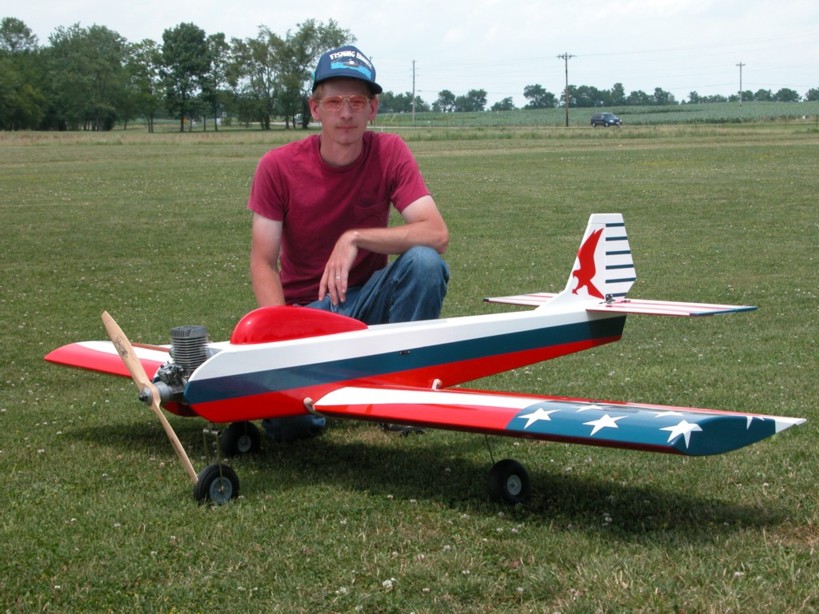 Another hovering Hawk, just to prove the first was not a mistake.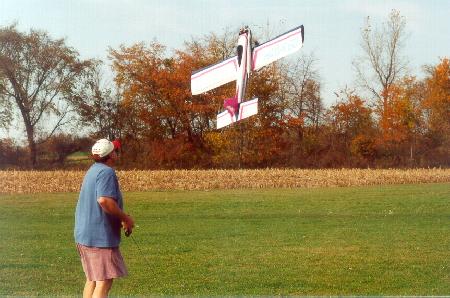 ---
History of the Hawk 60
After competing in many fun fly's from 1981 into the mid 1980's flying many different sport / fun fly airplanes, it was decided to design a plane that would perform well in all regimes of fun fly competition. In the mid 1980's the HAWK 60 was born on a southwestern Kansas building board. The plane had to be simple, easy and quick to build and most of all, have a very large flight envelope. The fuselage was designed as a simple box type construction with no formers and a flat top deck. It has proved to be a very tough fuselage. The tail feathers are all sheet balsa and only need the edges sanded to be ready to cover. The wing is a simple "D" tube type construction with ½ x ½ sq. spars and leading edge. The wing also features a combination landing gear brace / dihedral block, which has proved to be a very sound design. The airfoil for the wing looks common, but is a very unique design from the high point of the airfoil to the shape of the leading edge. With a 60 inch wing span producing 720 square inches of wing area, the large thick wing is very controllable at high angle of attack flight and able to perform very snappy maneuvers. After several different test models, the HAWK 60 turned out to be a very potent competitor as well as an excellent sport plane. The speed envelope ranges from 10 mph to over 100 mph. A 6 pound HAWK 60 with a good .61 sized engine is capable of flying unlimited 3D maneuvers to behaving better than most trainers. This latest configuration has been tweaked to attain maximum performance, fully capable of any 3D maneuver possible, including knife edge loops, to nearly hovering in light winds. By setting the control surface throws to the mild side, new pilots with only small amounts of trainer time have found the HAWK 60 very easy to fly. Many variations have been built and flown including a .40 size, a bi-plane, a profile version, a tail dragger and an 84" inch version. They have all performed well.

---