Event Calendar
---
---
Other events will be added as we become aware of them.
---
2019 events
---
May 27 - Memorial Day Sig Wonder Show & Fly. Lunch and fly.
---
June 5 - Monthly club meeting, at the clubhouse, 7:30 pm

June 13 to 16 - EDF Jet Jam at Elizabeth, IN, hosted by Rosewood RC Club.

June 21 to 23 - National Electric Fly In at AMA headquarters, Muncie, IN

June 29 - 12th Annual Blacksheep Warbird Fly In, AMA sanctioned event #1710. Click the logo to visit to our 2018 Warbird Fly In page.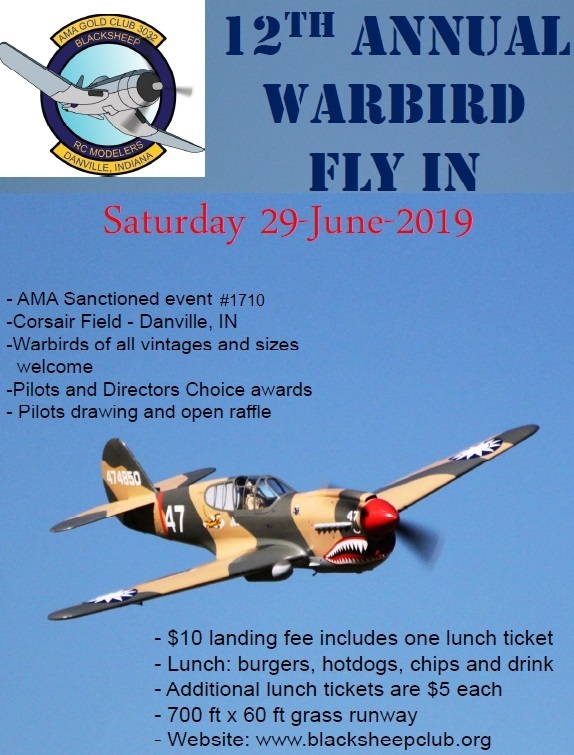 ---
July 3 - Monthly club meeting, at the clubhouse, 7:30 pm

July 4 - Annual Independence Day cookout and evening activities
---
August 10 - NMAD rc airshow and fund raiser to support HVAF. Click here for details.
---
Directions - Take Hwy. 36 (Rockville Road) West 12 miles and just before entering Danville, turn left at the stop light like you are going to Kroger's, then take an immediate left on Twin Bridges Road (Shady Lane) and follow the road 3/4 mile. You will go past the Fire Station and wind around Twin Bridges recycling facility. The flying field is on the north side of the road just before the road curves to the south.
---