Event Calendar
---
---
2018 Events
---
Other events will be added as we become aware of them.
---
June 22 thur 24 - National Electric Fly In at AMA National Site
June 30 - 11th Annual Blacksheep Warbird Fly In. click the thumbnail for an event flyer.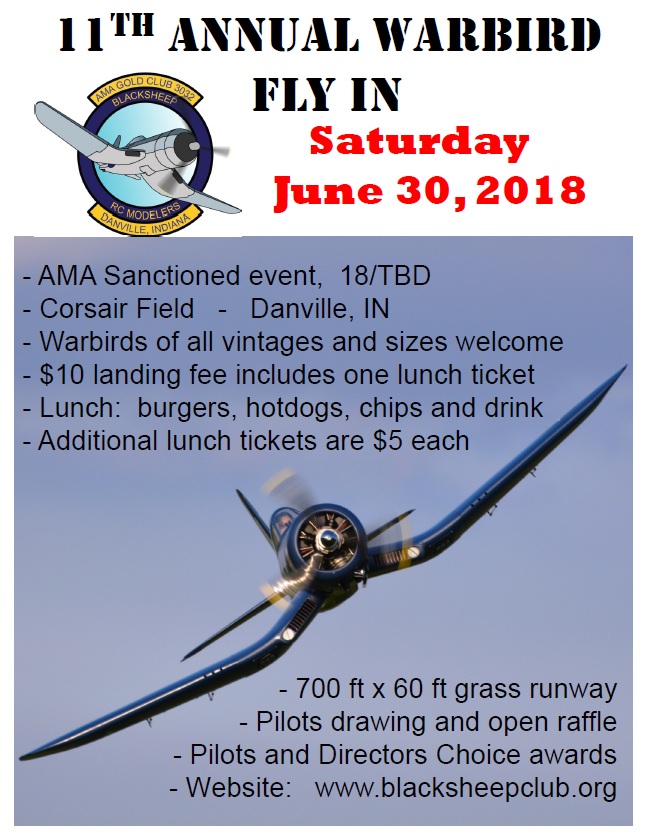 ---
July 4 - Independence Day cookout at Corsair Field and monthly club meeting.
July 14 - Indy RC Modelers Fly Anything Fly In
---
August 1 - Monthly club meeting
August 11 - 6th Annual Blacksheep / NMAD R/C Airshow to benefit HVAF (Hoosier Veterans Assistance Foundation).
August 18, 19 - Terre Haute Airshow featuring the Blue Angels
August 25 - Indy RC Modelers Toys for Tots Fly In
---
September 1 - Warrior Day at AMA National Flying Site -NOTE date change.-
September 5 - Monthly club meeting
---
October 3 - Monthly club meeting
---
November 7 - Monthly club meeting
---
December 5 - December meeting and Christmas dinner.
---
Directions - Take Hwy. 36 (Rockville Road) West 12 miles and just before entering Danville, turn left at the stop light like you are going to Kroger's, then take an immediate left on Twin Bridges Road (Shady Lane) and follow the road 3/4 mile. You will go past the Fire Station and wind around Twin Bridges recycling facility. The flying field is on the north side of the road just before the road curves to the south.
---