.
Black Sheep Pictures
---
n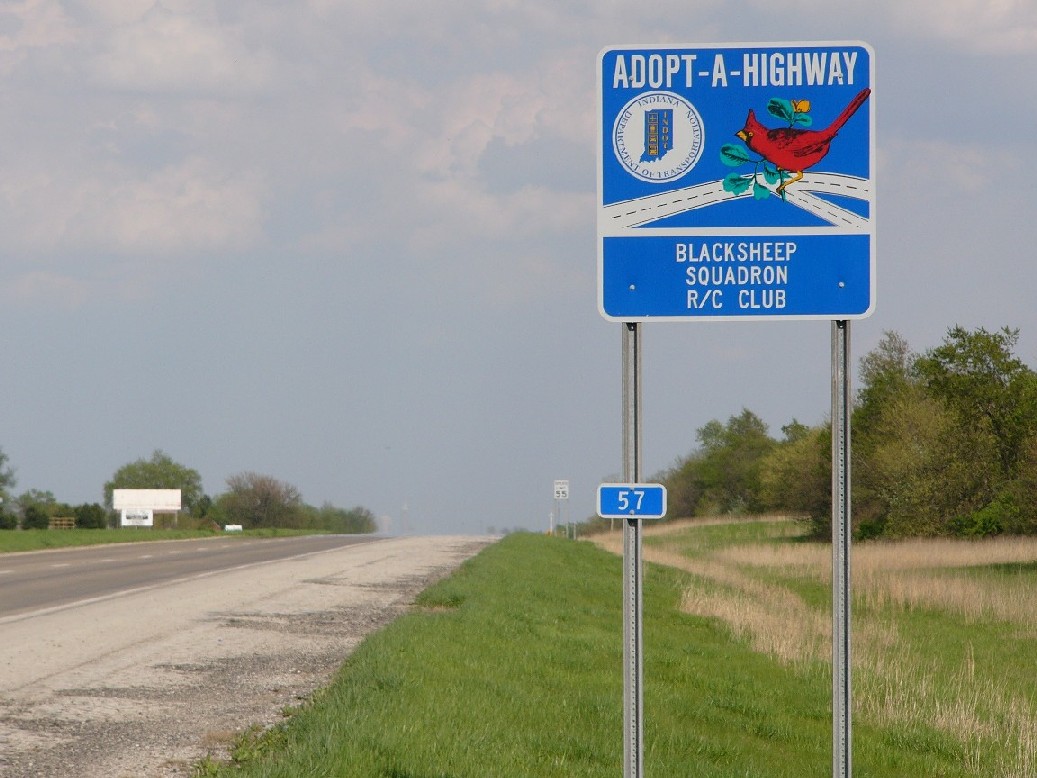 Blacksheep community project, our two miles of Hiway 36, mile marker 57 to 59.
---
Click on the thumbnails for a larger view.

1-Jan-2020, our first event of the New Year, and what a good one it was. The day started out in the lower 30's and by 1 pm, we experienced 44 degrees for a high. The winds were mostly light with moments of gusts, but certainly flyable. Today saw the largest New Years Day crowd I memory. Lots of flying, lots of food and lots of hangar flying. The field is a little mushy from rains over the weekend, but generally I good shape. We also welcomed several new members to our club. Congratulations if you got a flight in today, means it is going to be good year!
---
Photos from the December meeting held at the Danville United Methodist Church. A great venue, great people and great food! We had 80 people enjoy a wonderful dinner and fellowship. Ashlee Walls from HVAF joined us and we were able to present our big check to her from our NMAD fly in. She shared words with us about HVAF and some of the items they are doing to assist Hoosier veterans. We had a bunch of happy "participation" raffle winners again this year as we were able to have 15 drawing prizes. The highlight of the light was all the hats, mittens, scarves and gloves we were able to provide for Christmas items to church's outreach program.
---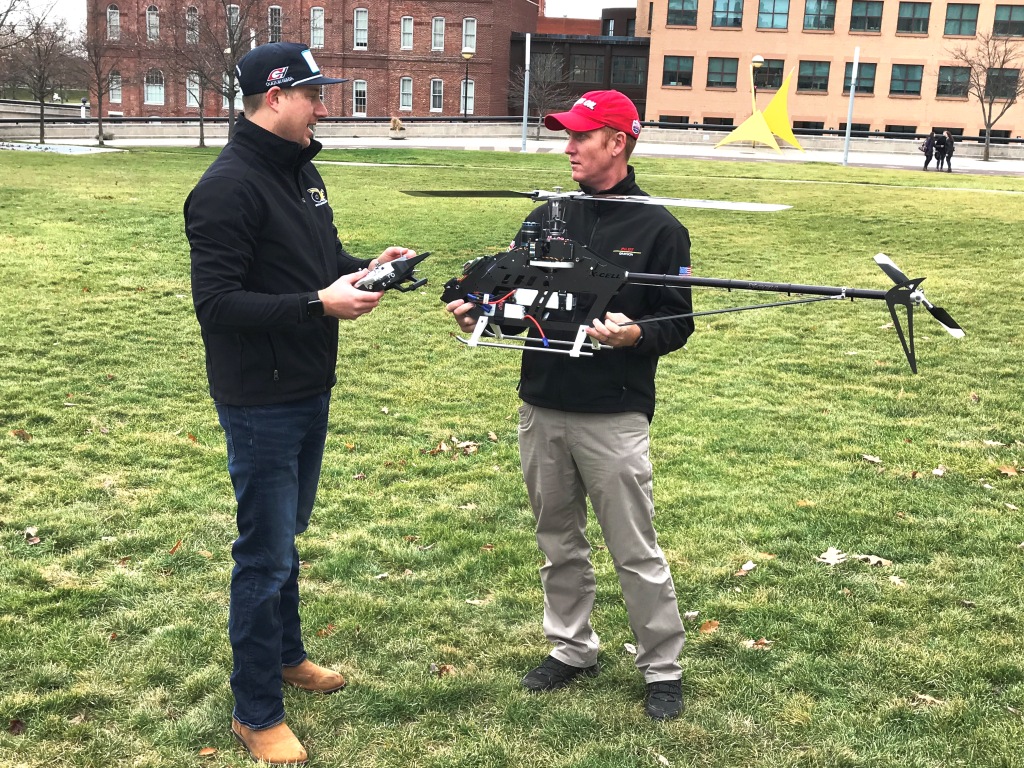 Parker Hall discussing rc helicopters with Lucas Oil helicopter pilot Graydon Lower.

A few photos from Saturday 19-October, a really nice fall day.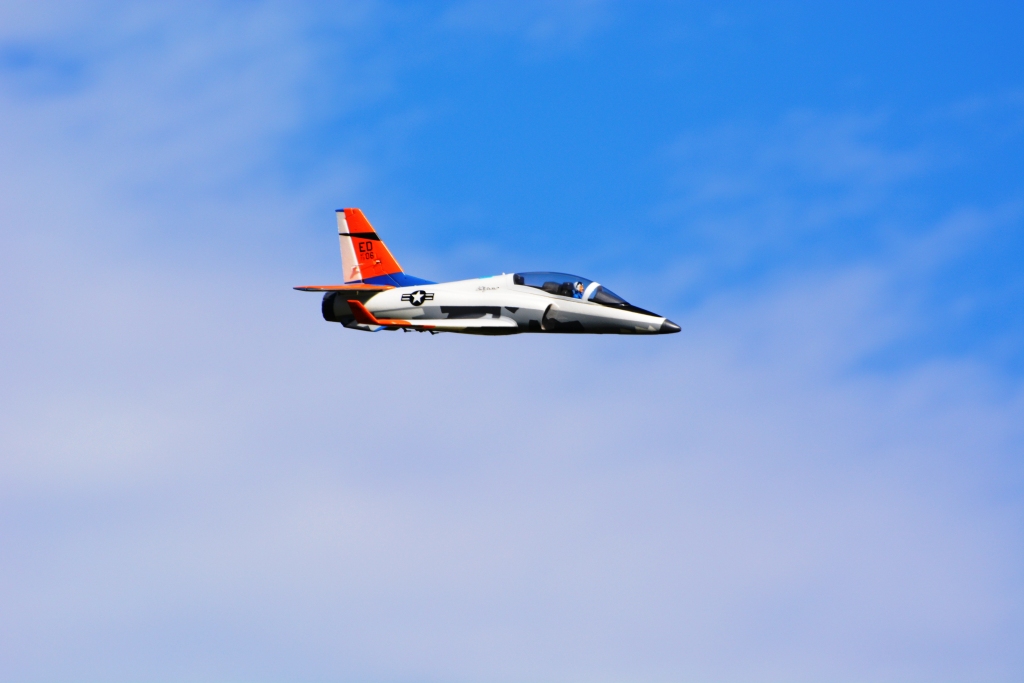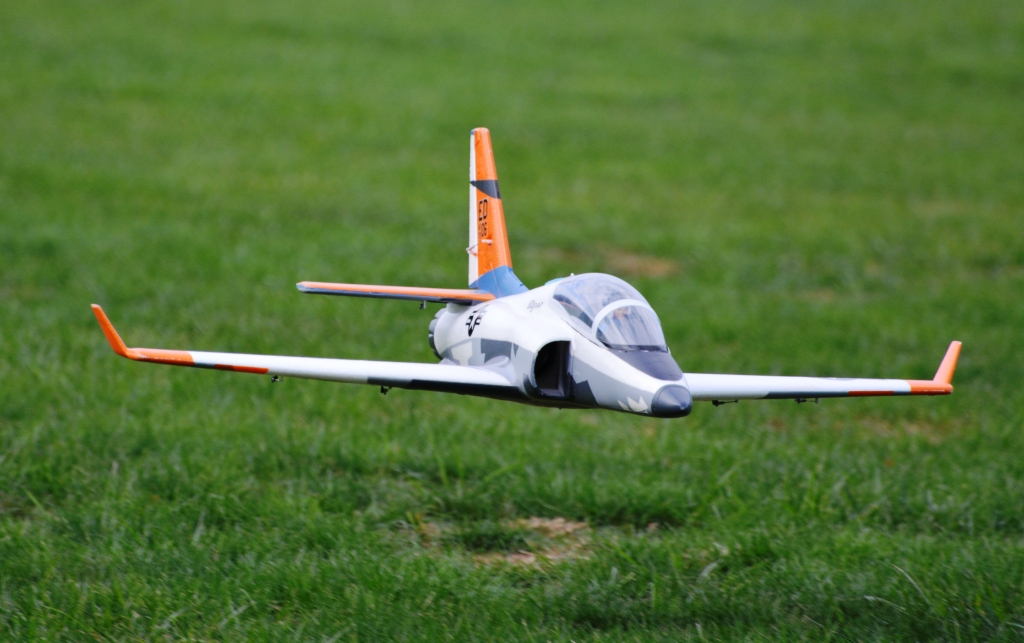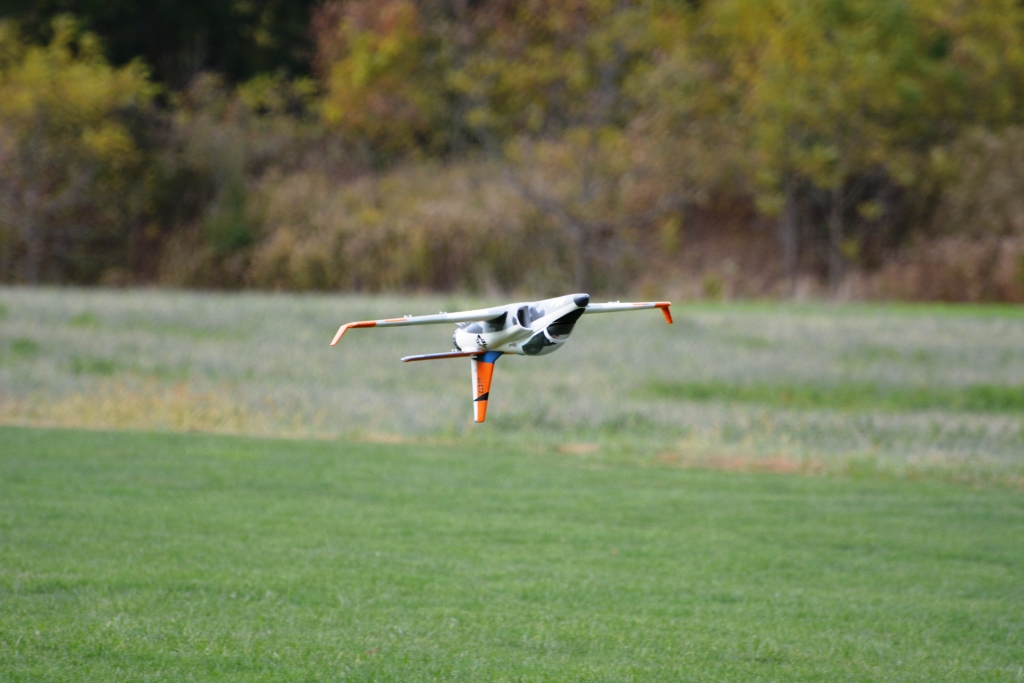 Parker Hall flying his 70mm E-Flight Viper Jet, beautiful blue skies.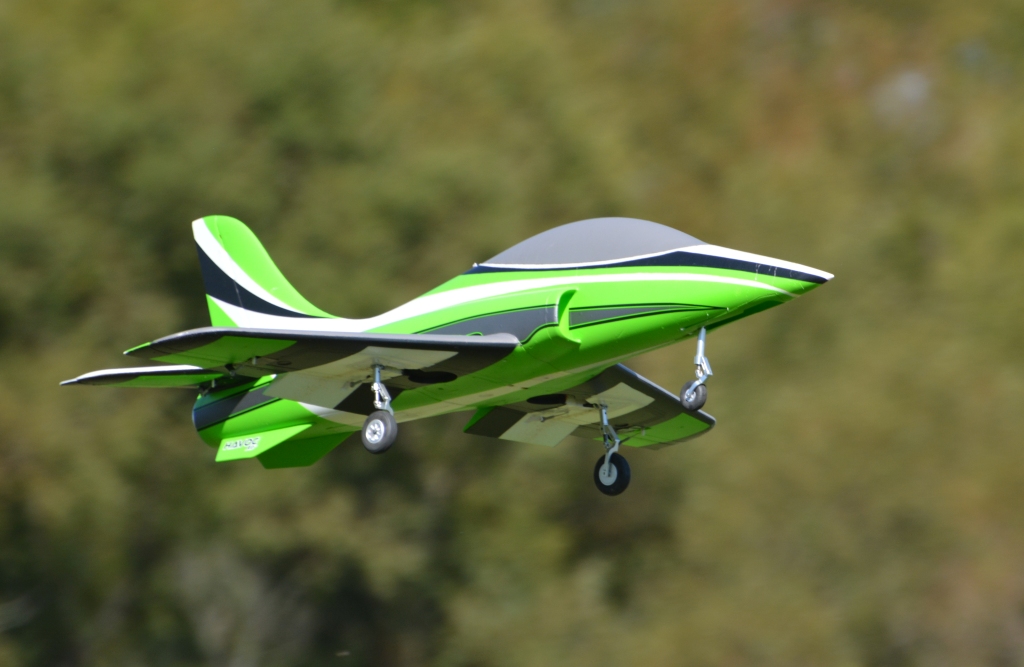 John Killinger's E-Flight Havoc taking to the air.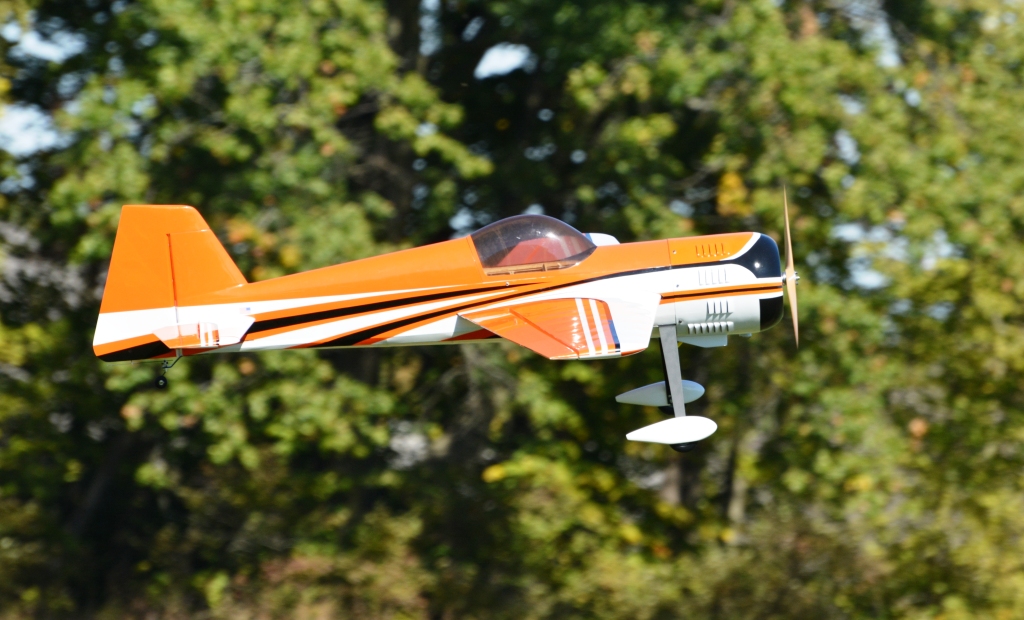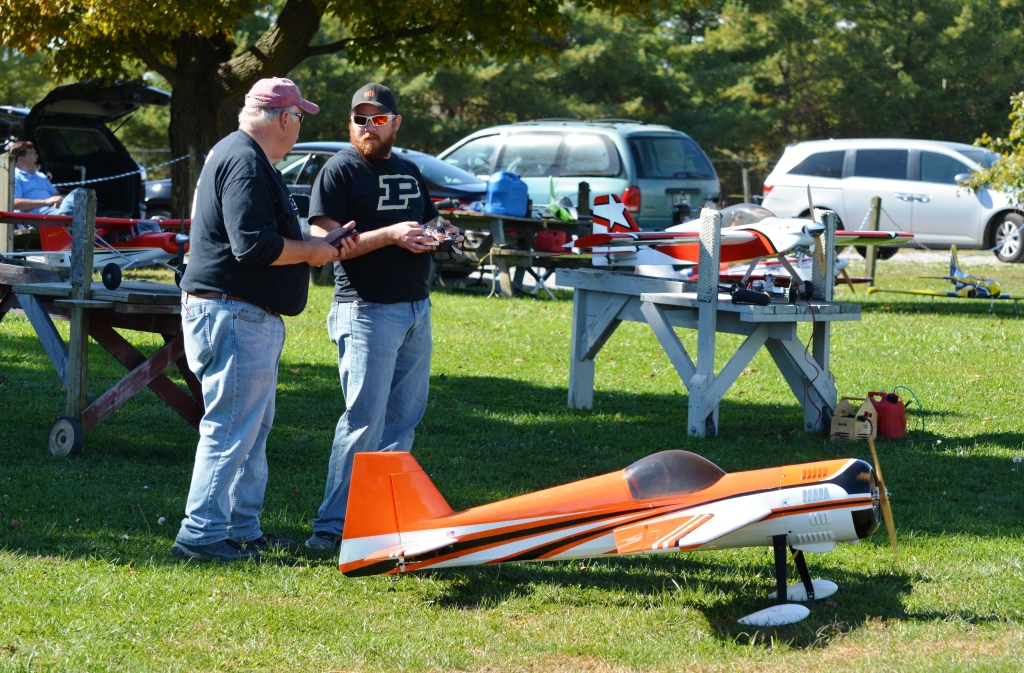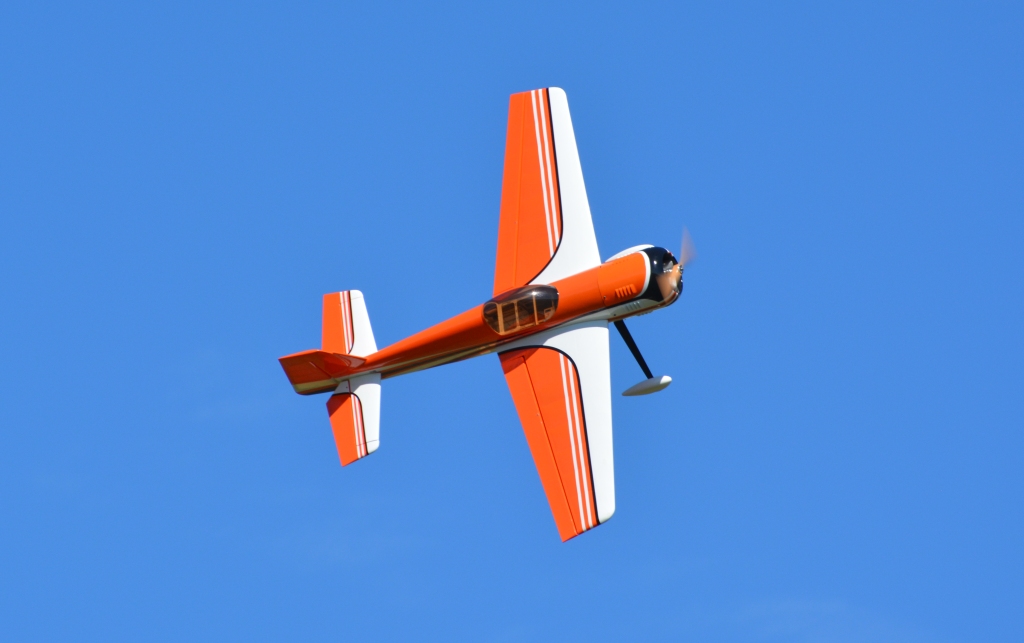 Steve Bushman's Dawg House RC Yak 55M, powered by a DLE 61.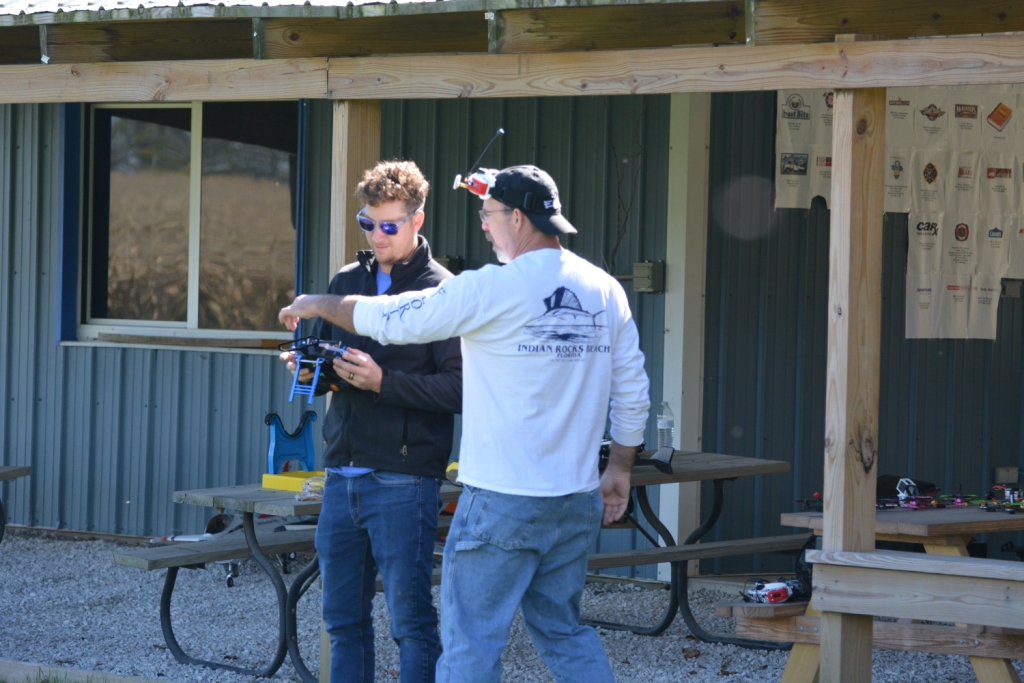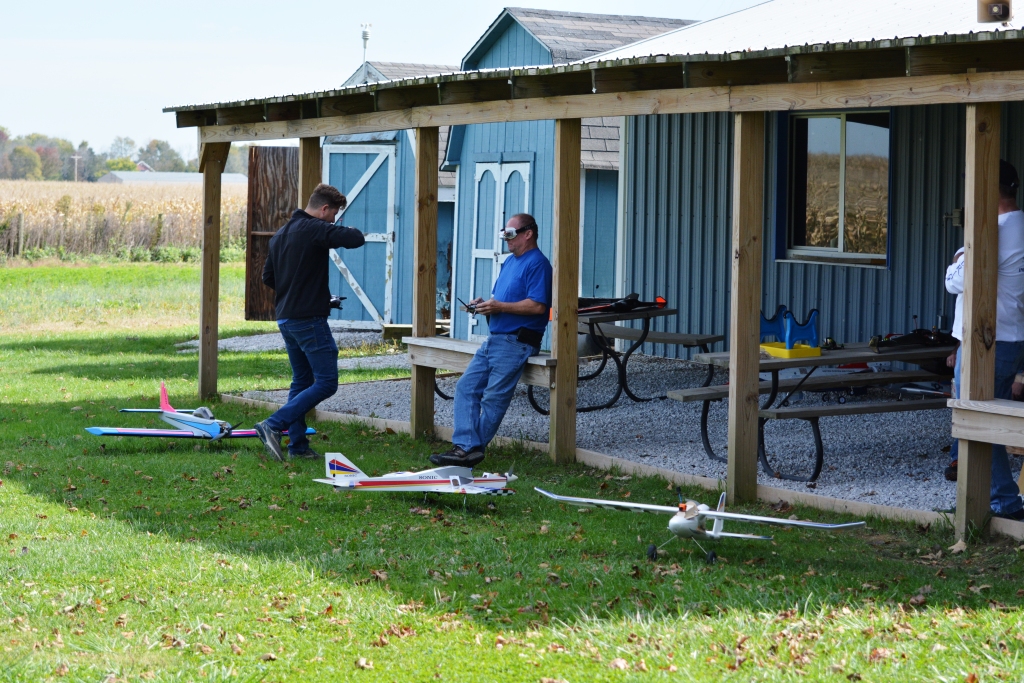 The FPV gang enjoying a very nice fall day.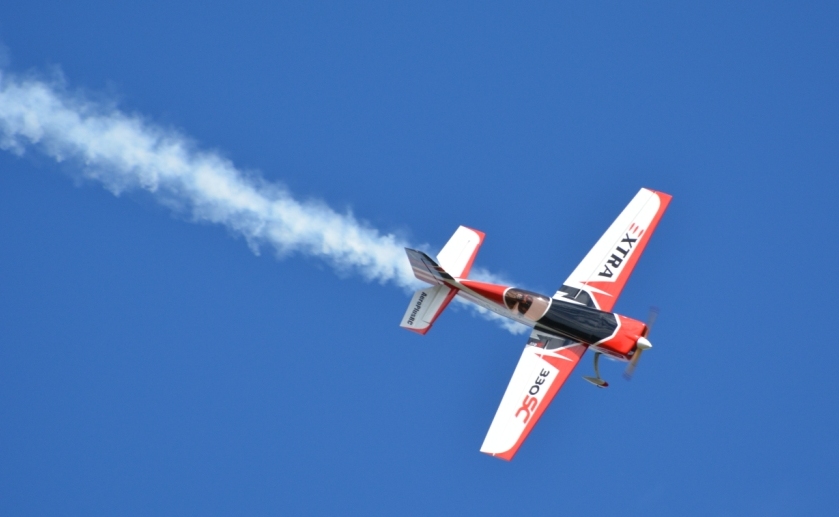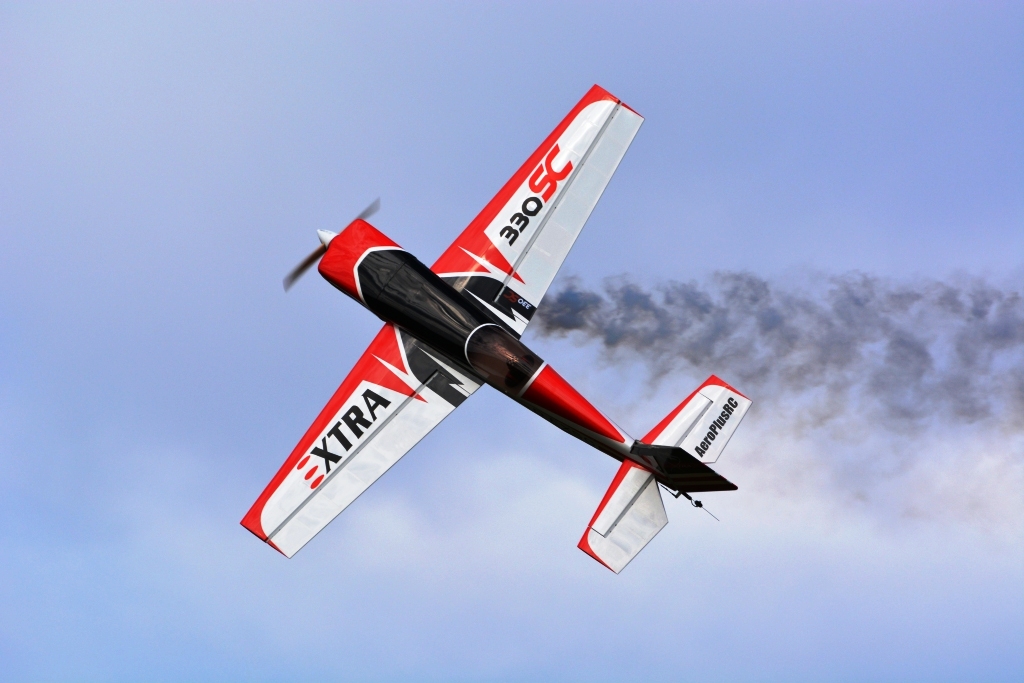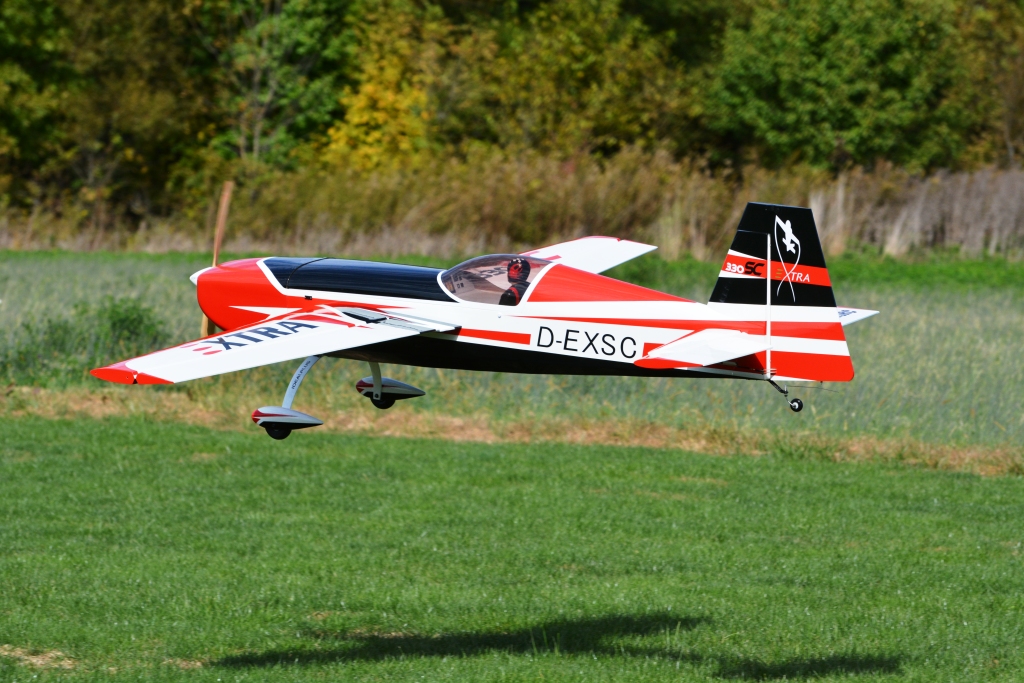 Rege Hall's Aero Plus Extra 330SC powered by a DLE 55RA. (photos courtesy of Parker Hall).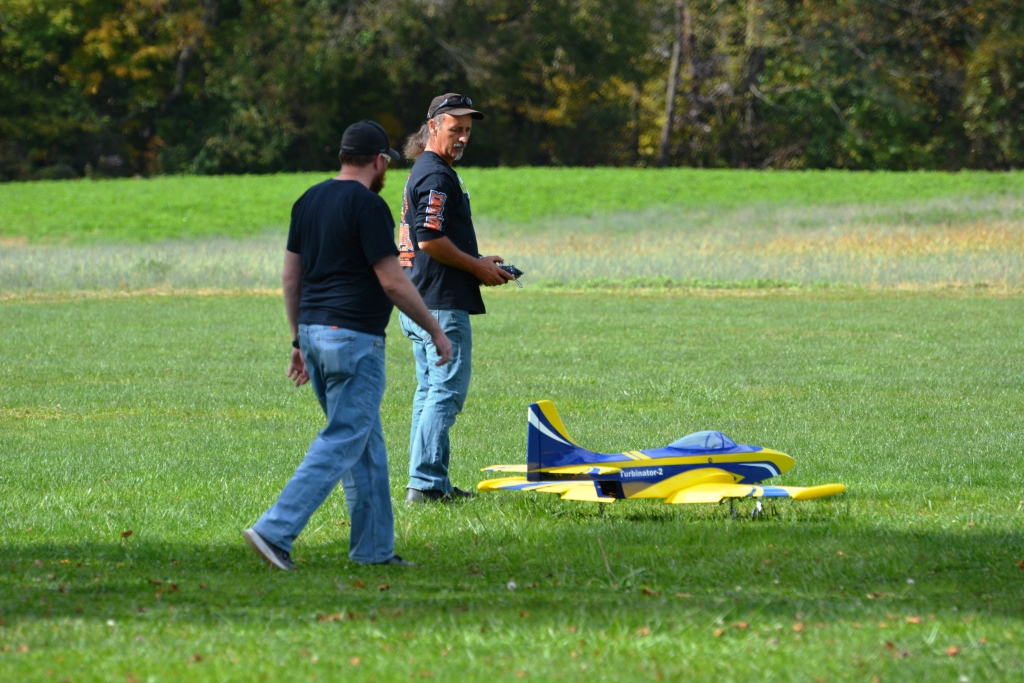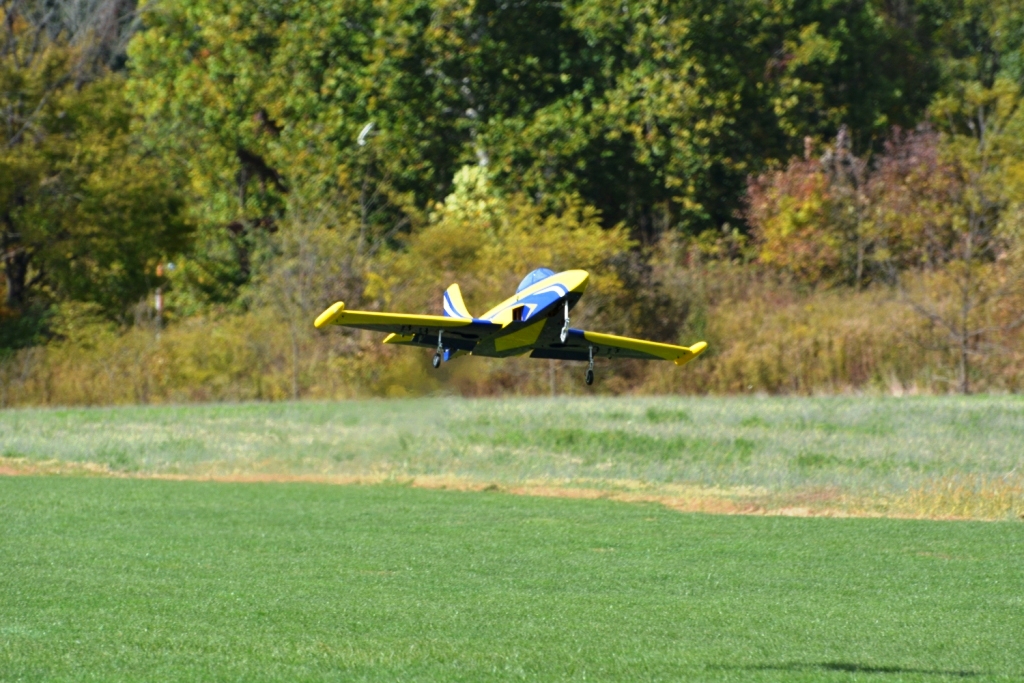 John Killinger's Boomerang RC Turbinator 2, powered by a King Tech 80.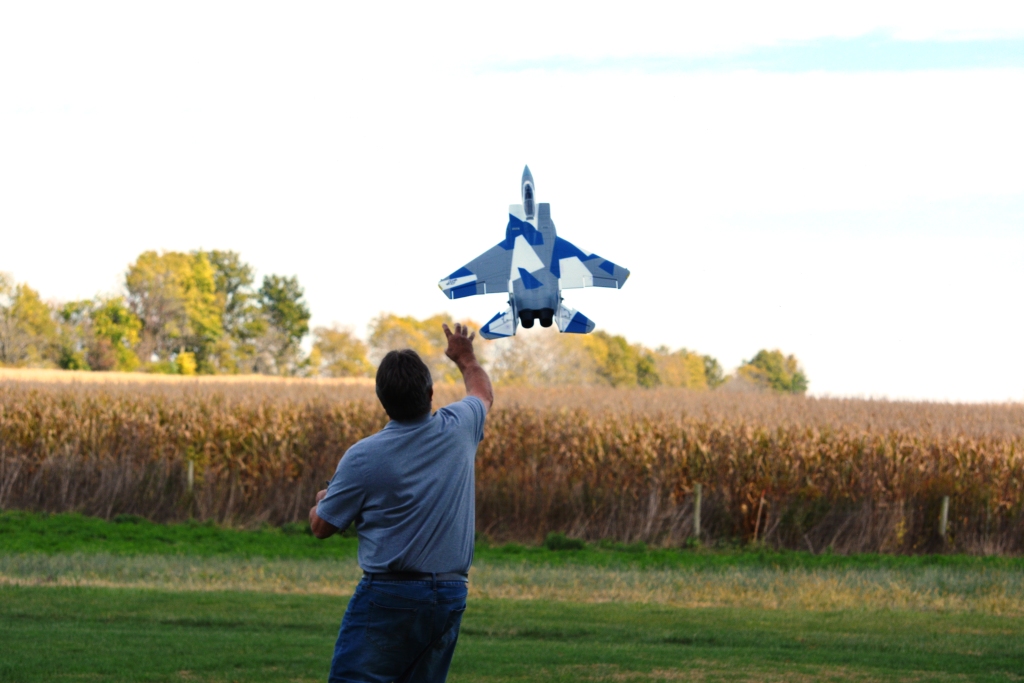 Warren E-Step launching his E-Flight F-15 64mm EDF.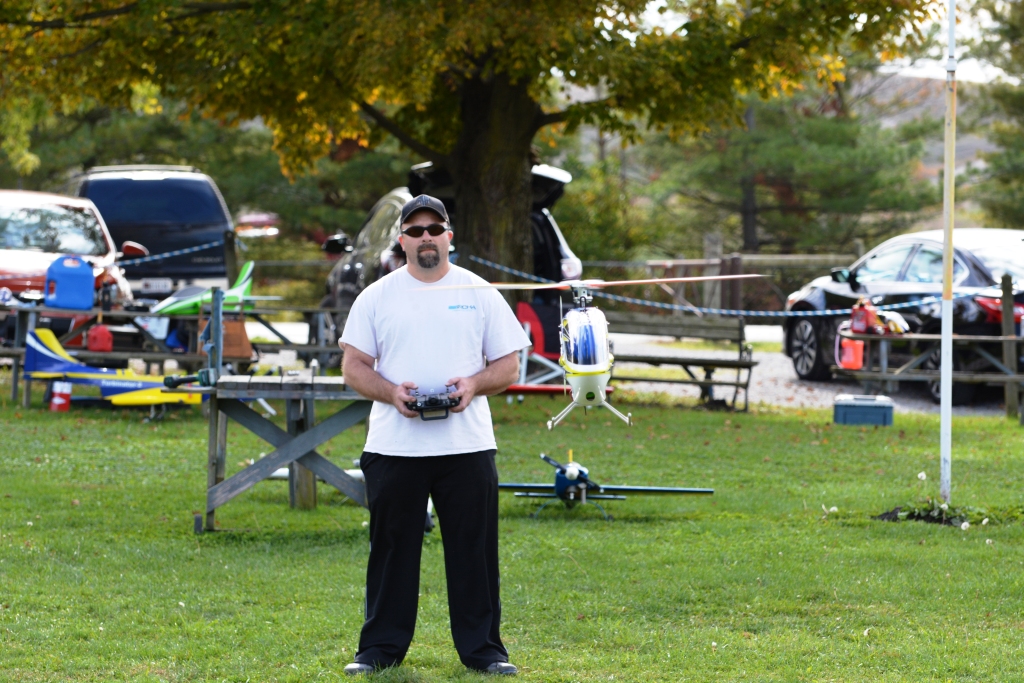 Justin Hartsock hovering his latest heli.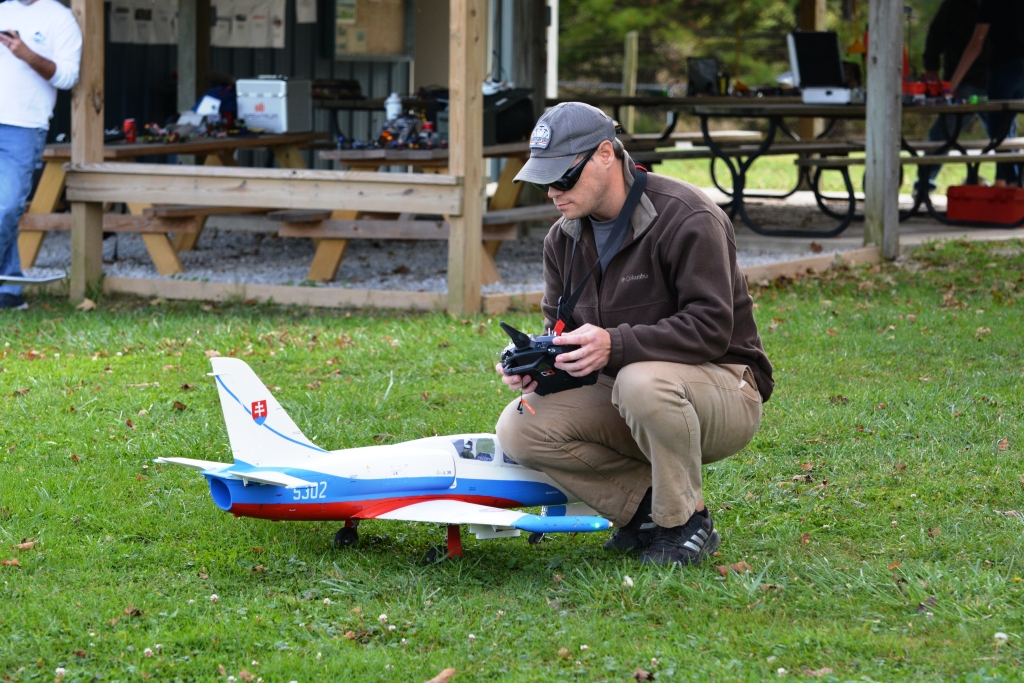 Ryan Jones getting ready for a flight on Warren's L-39 EDF.
---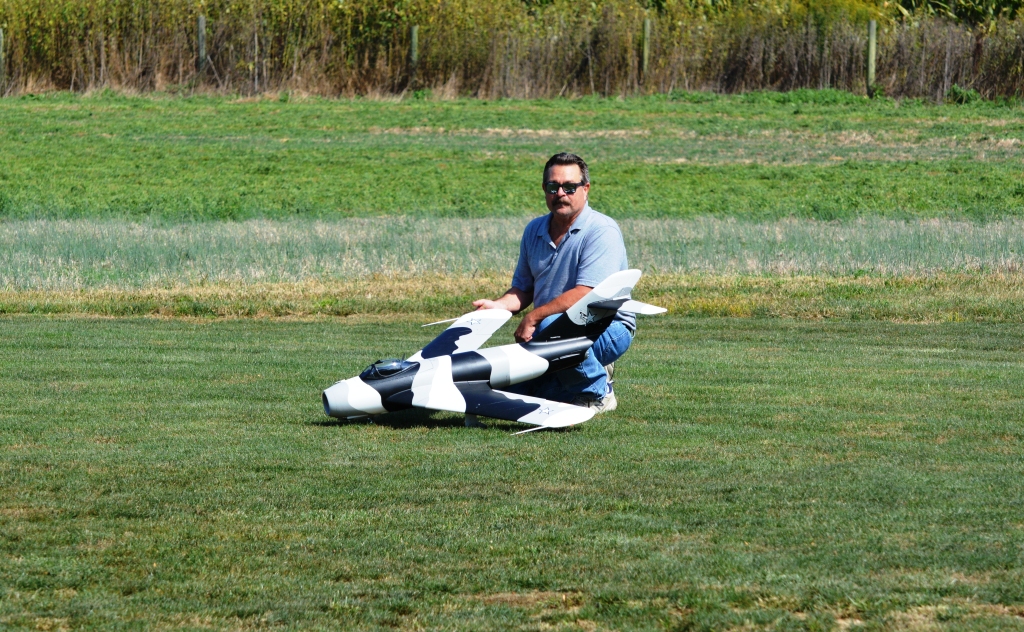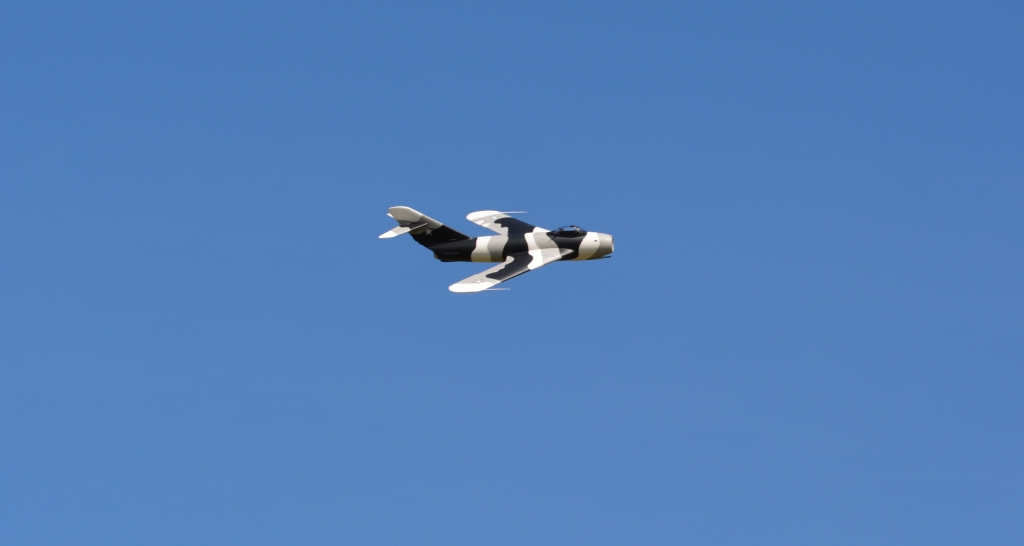 Warre Estep with his 90mm EDF Mig 15.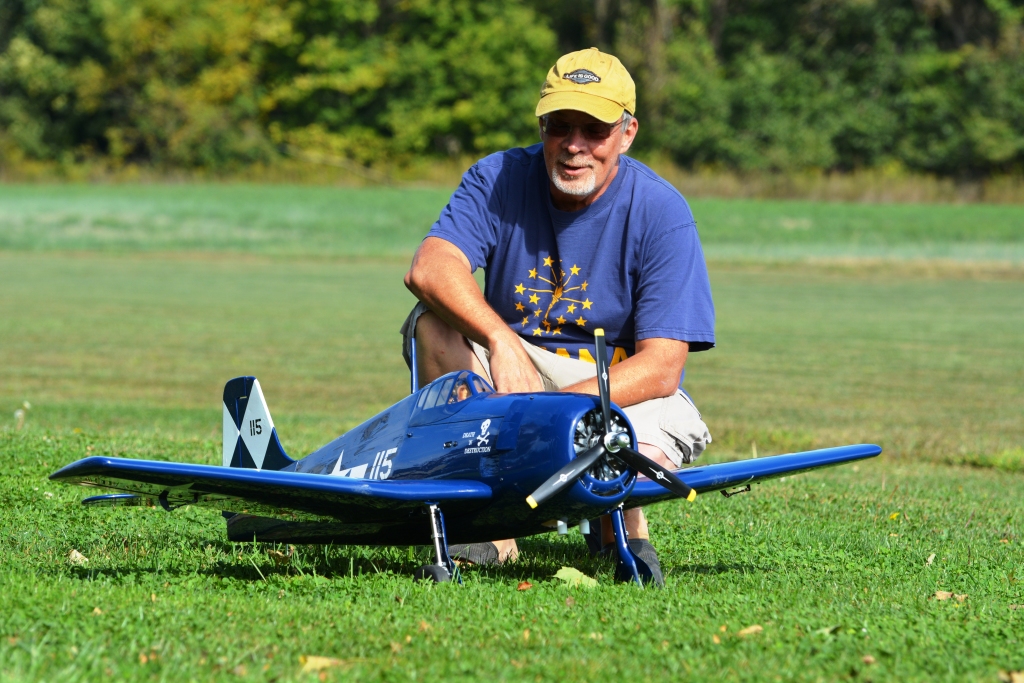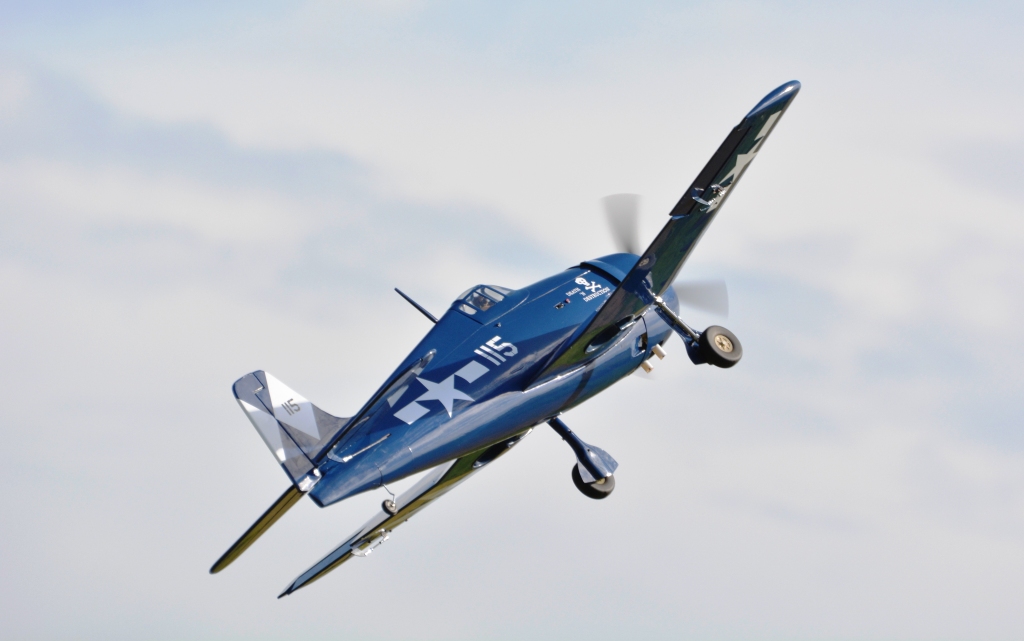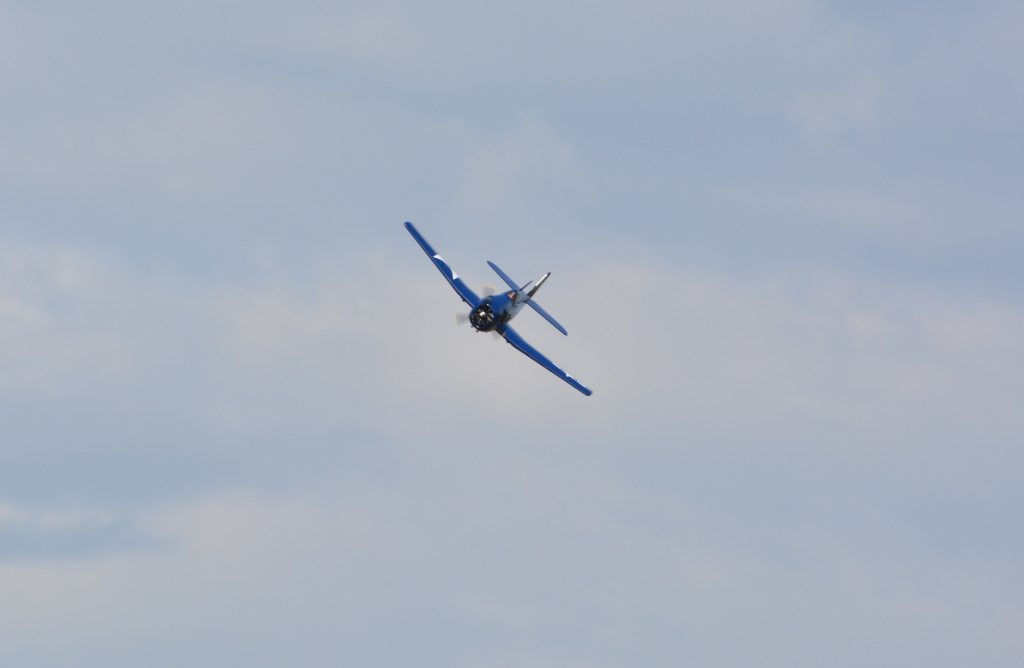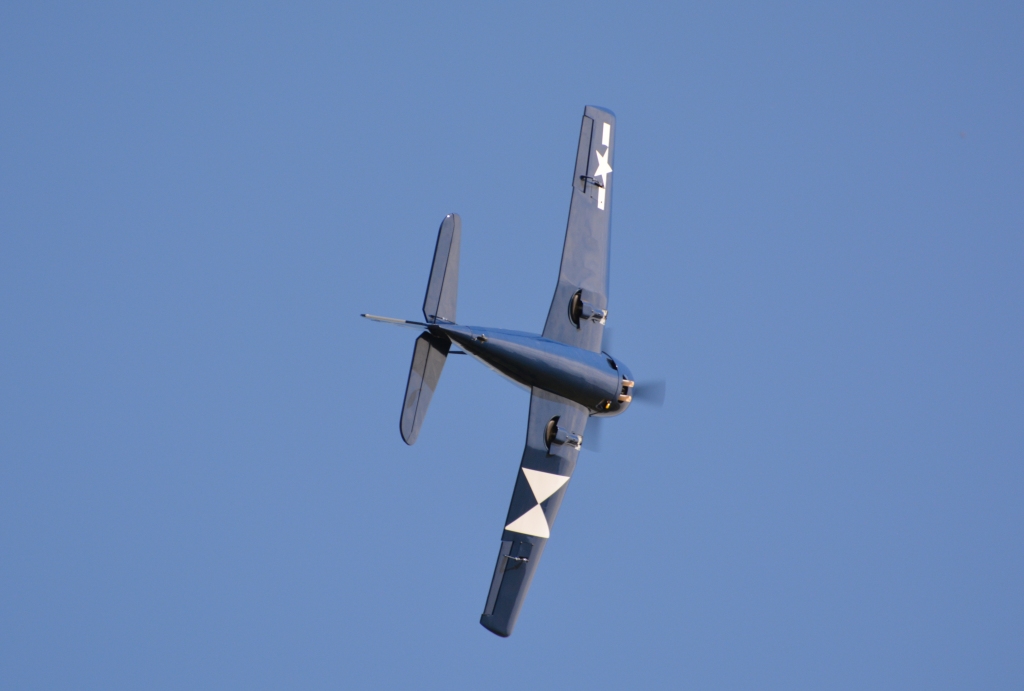 Bryan Baumer's H9 20cc Hellcat. Looks great in the air.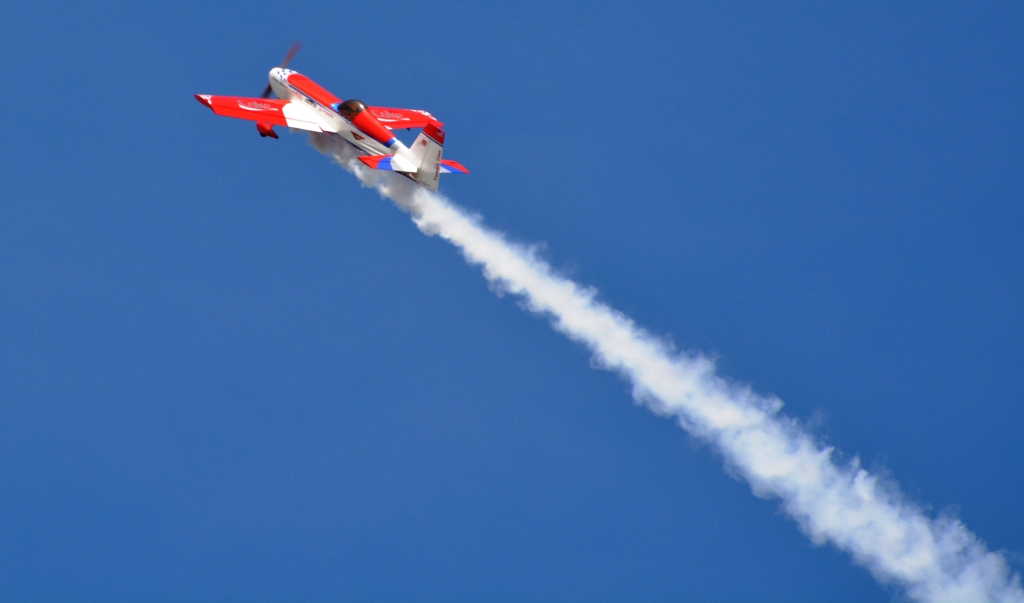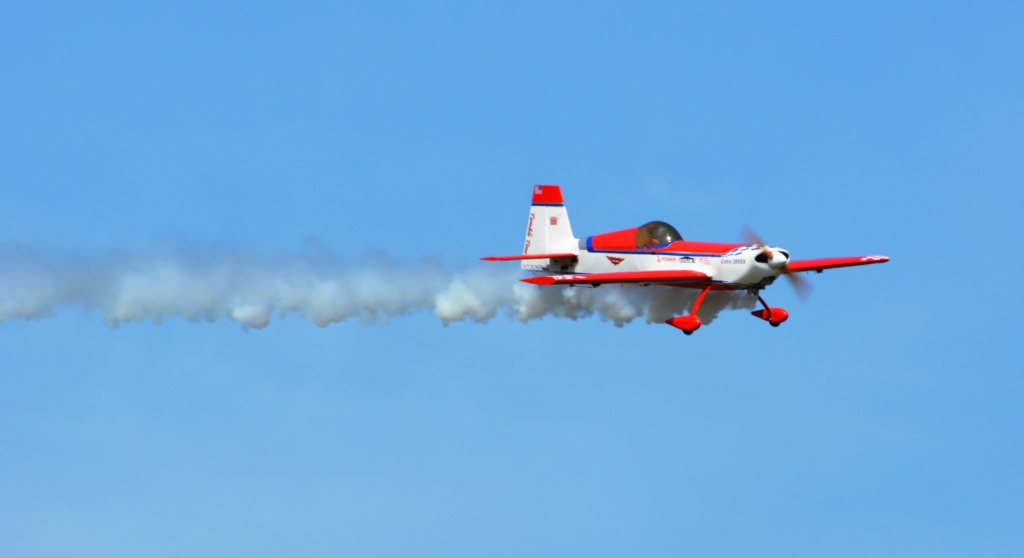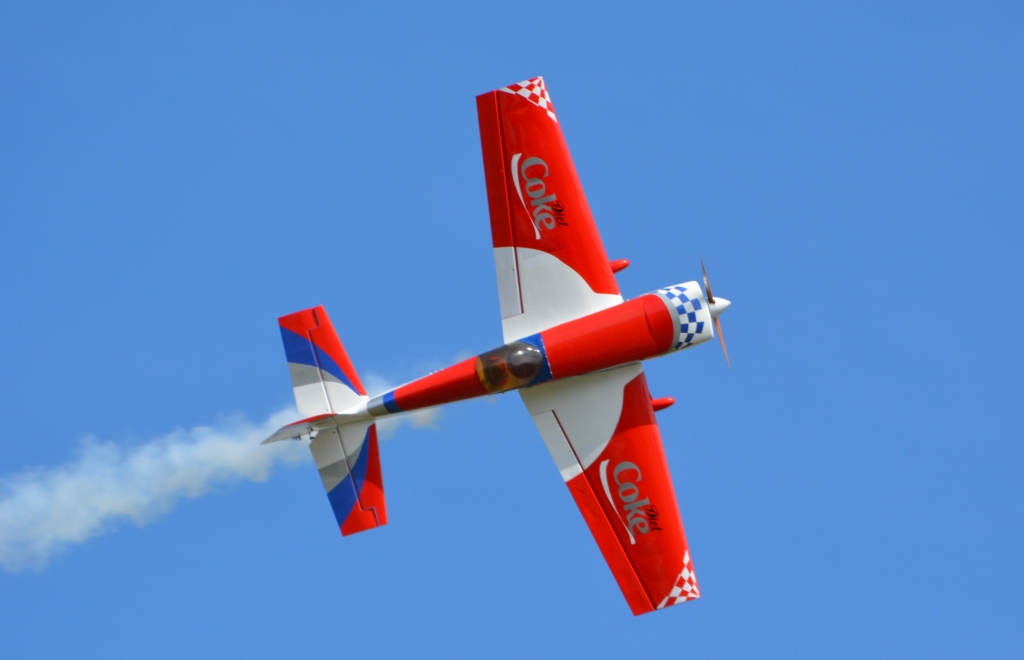 John Killinger H9 Extra 300SX smokin' in the clear blue sky.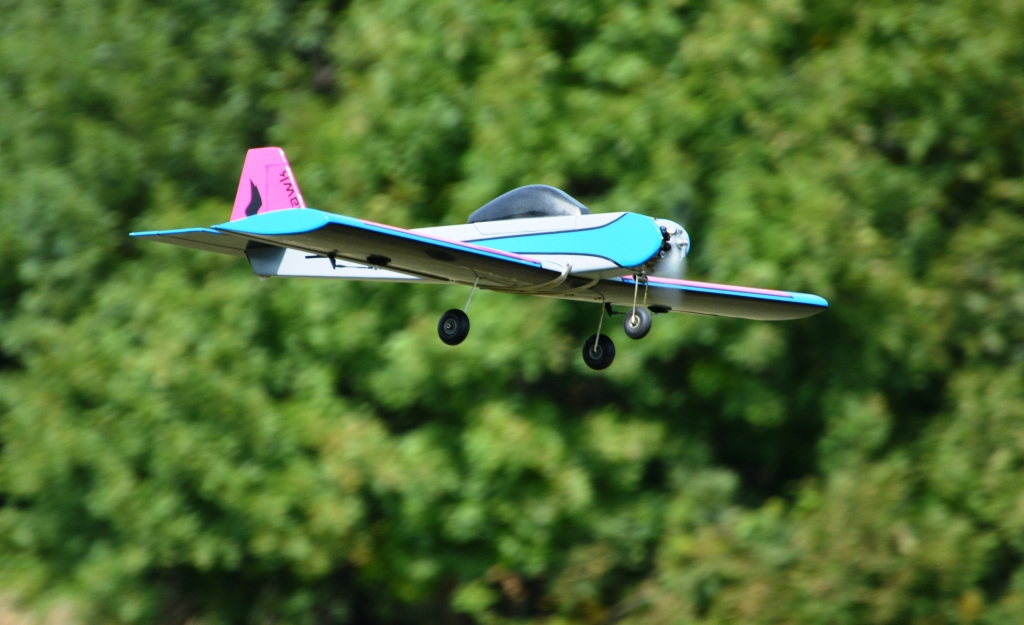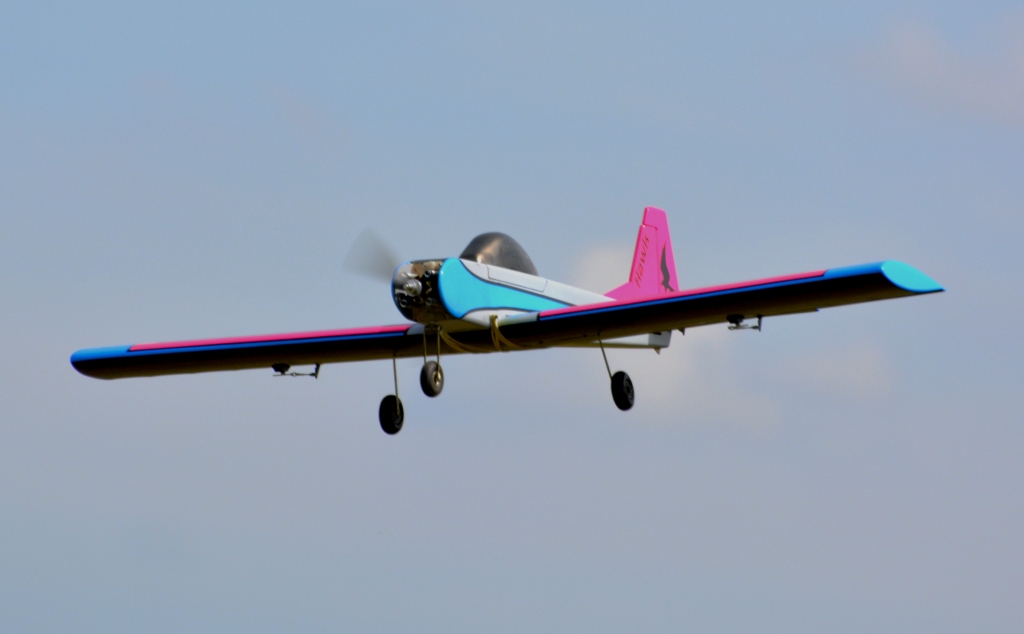 Parker Hall's Hawk E, powered by a Scorpion helo motor, it is able to turn an 11x7 prop with authority.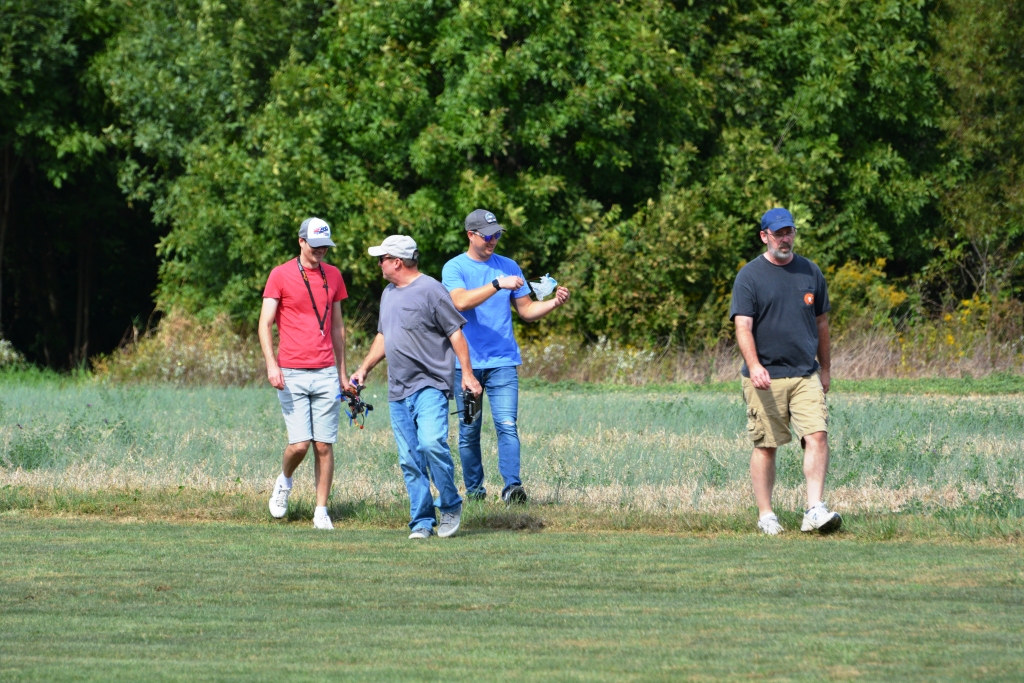 The FPV gang returnig from a FPV quad hunt.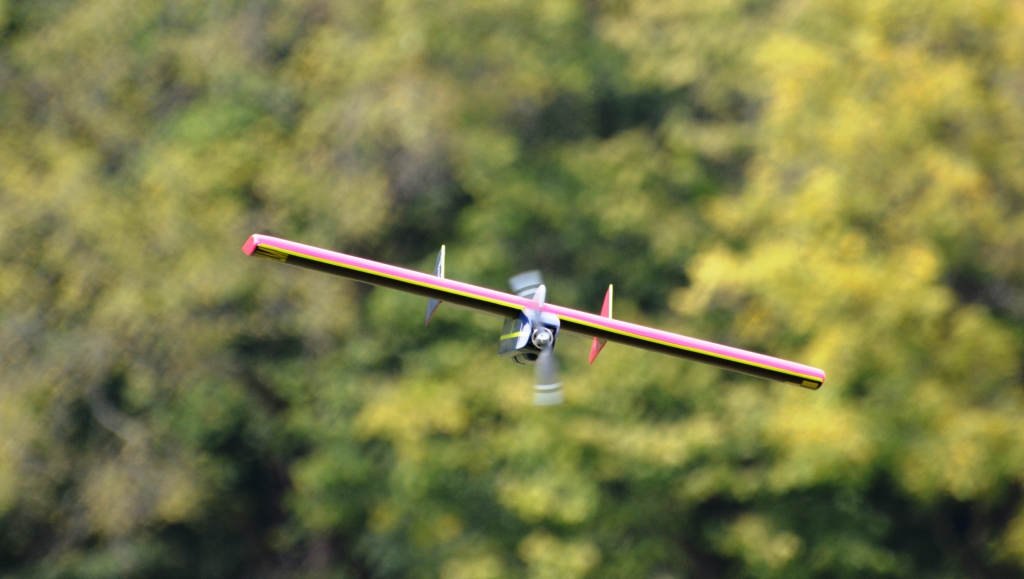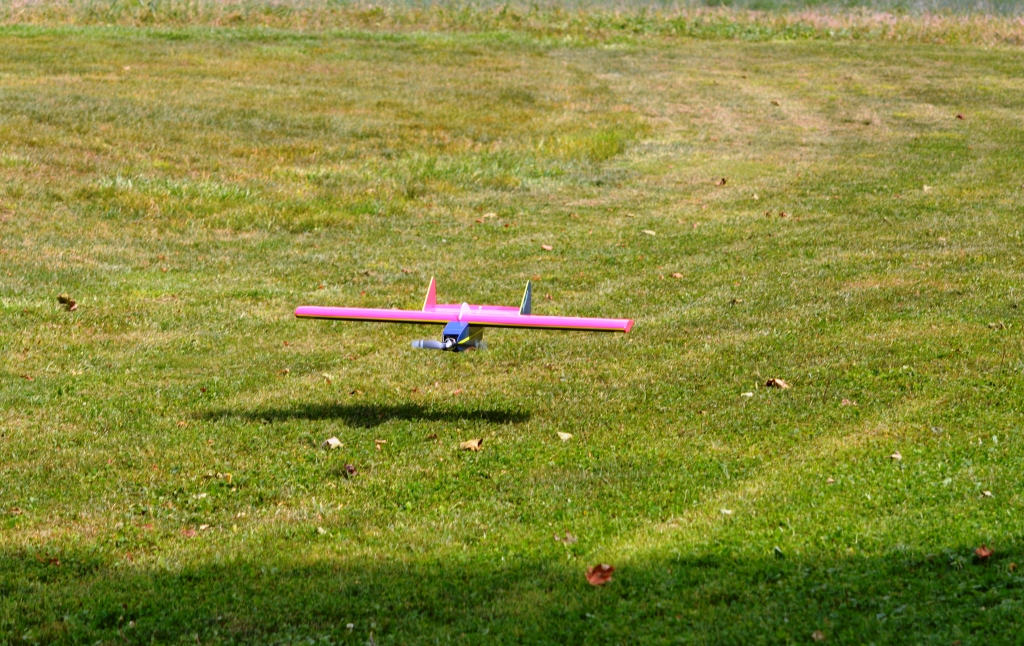 Rege Hall's Sig Wonder, same as Parker's Hawk E, pictures don't show the neon colors.
---
Labor 2019 turned out to be a great flying afternoon. Shortly after lunch time, the skies turned blue as the cloud cover disappeared and the light winds meandered through all compass settings.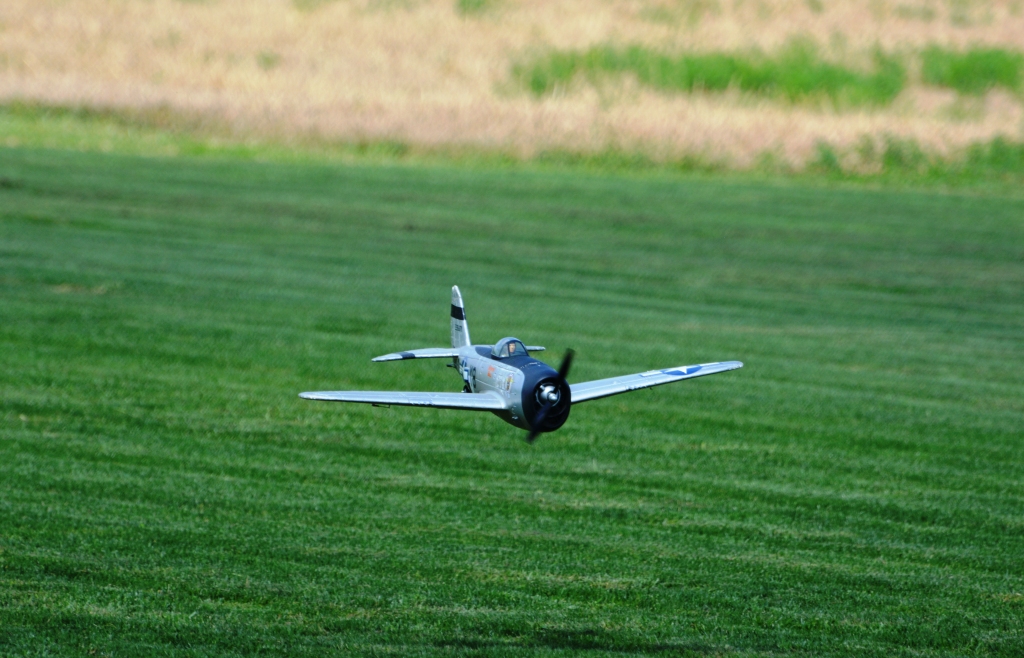 Bryan Baumer's E-Flite P-47.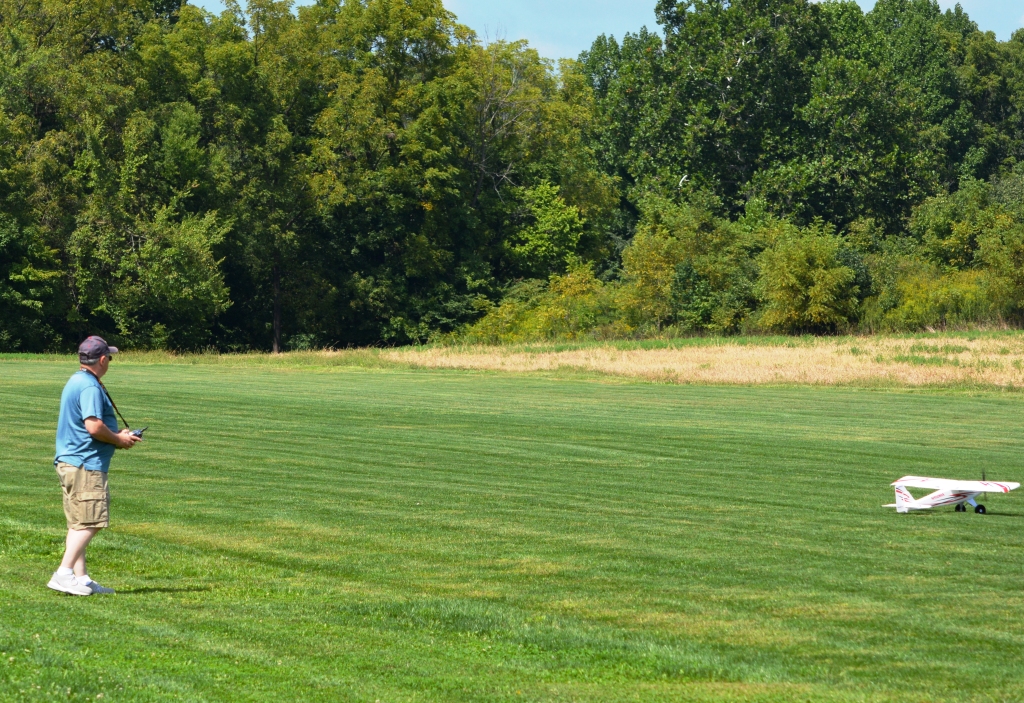 Tom Carlyle getting a flight in with his Timber.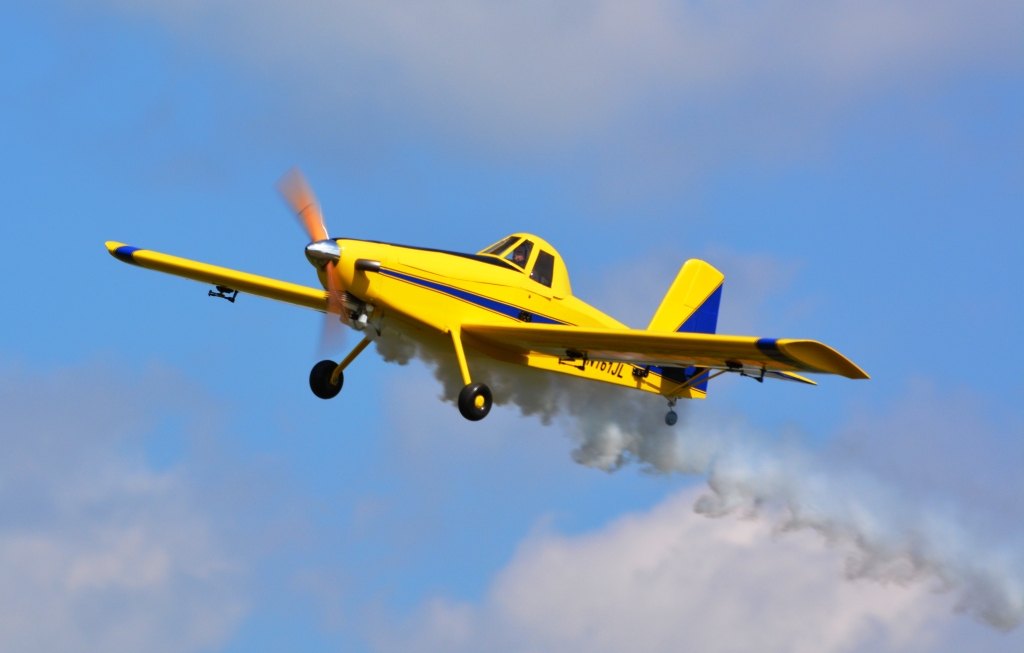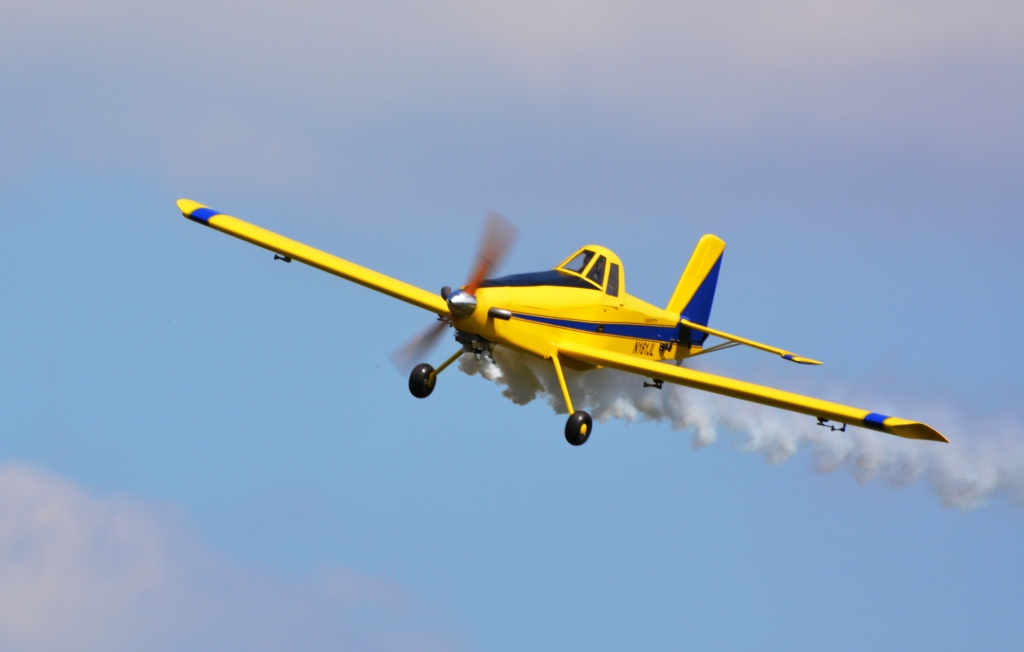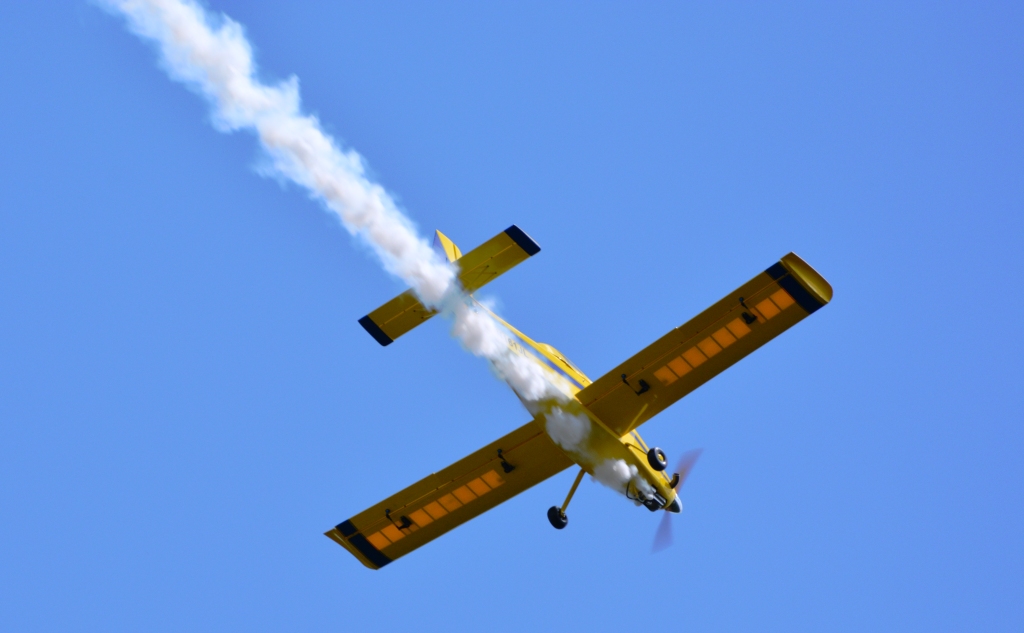 John Louden's 100" Turbo Duster, really looking good with smoke today.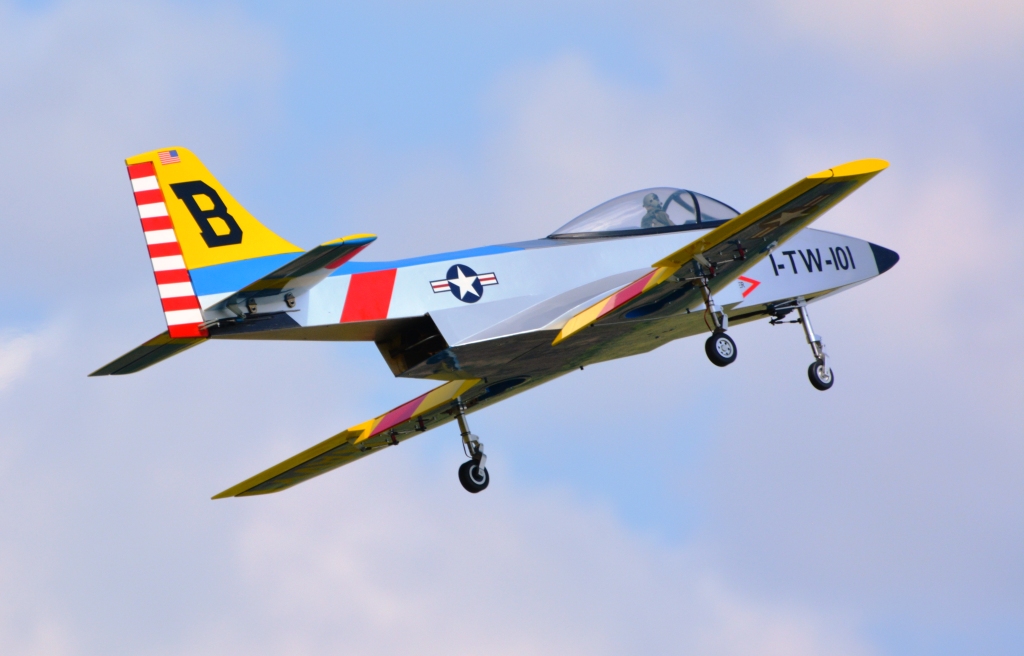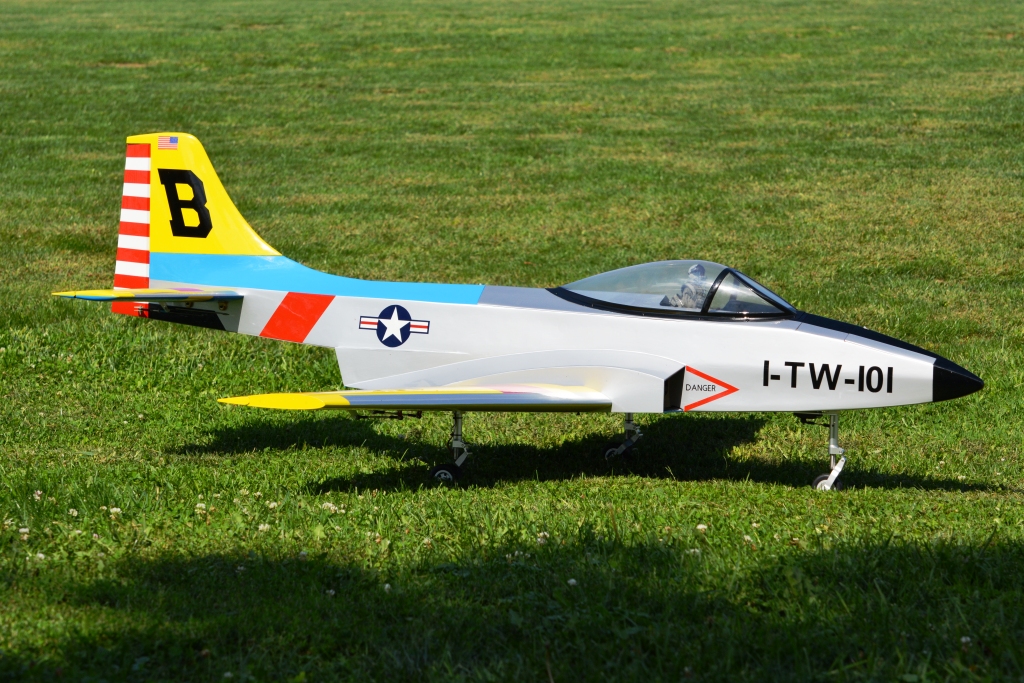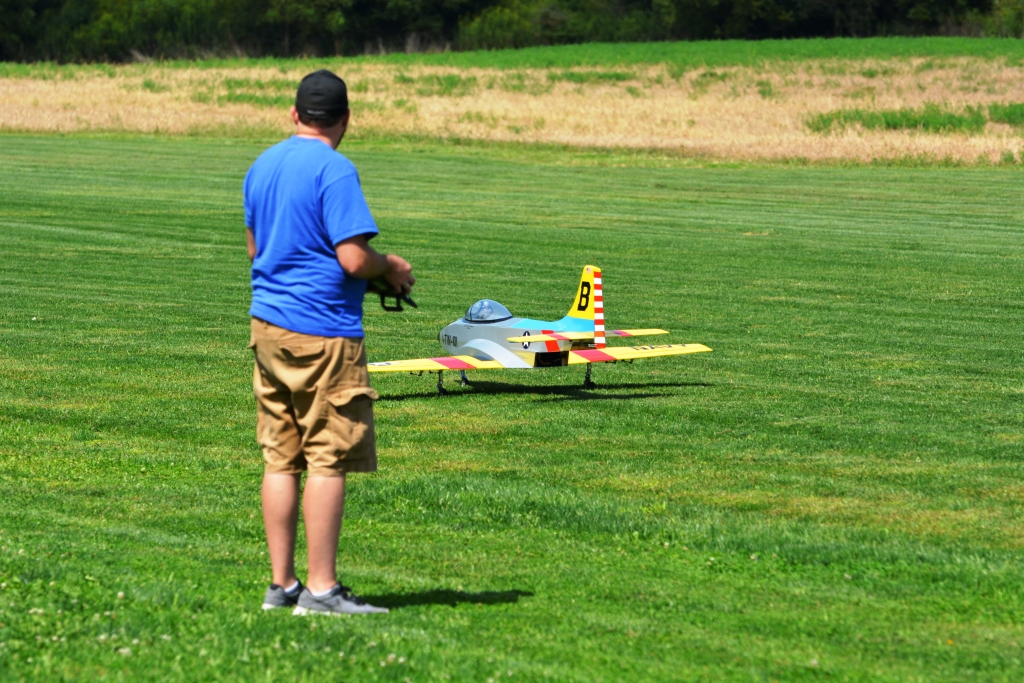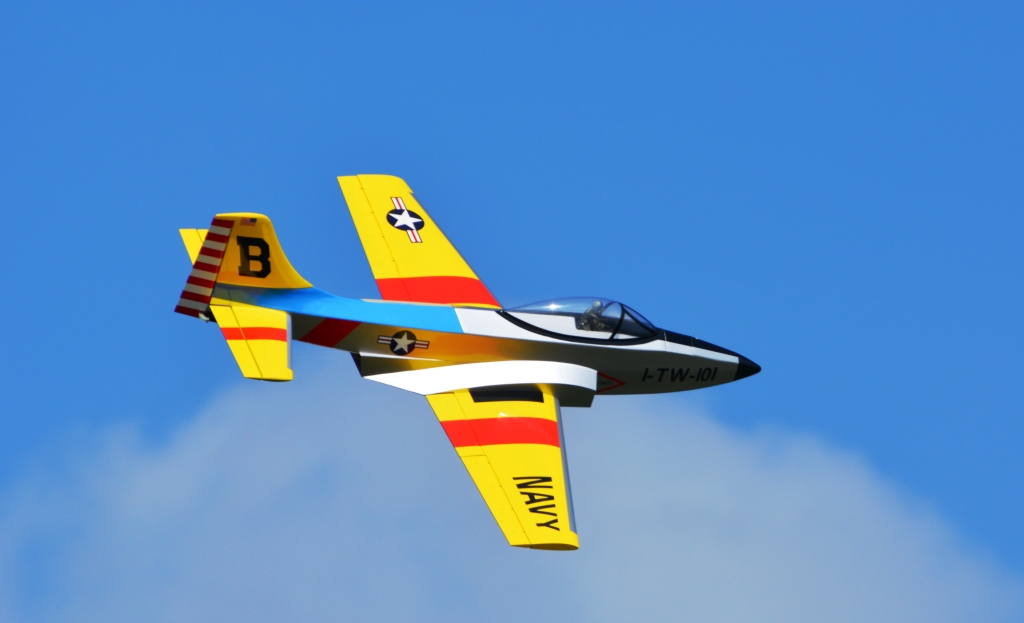 Kyle Bushman's maiden flight day for his King Tech 100 powered Turbinator. Flew really nice.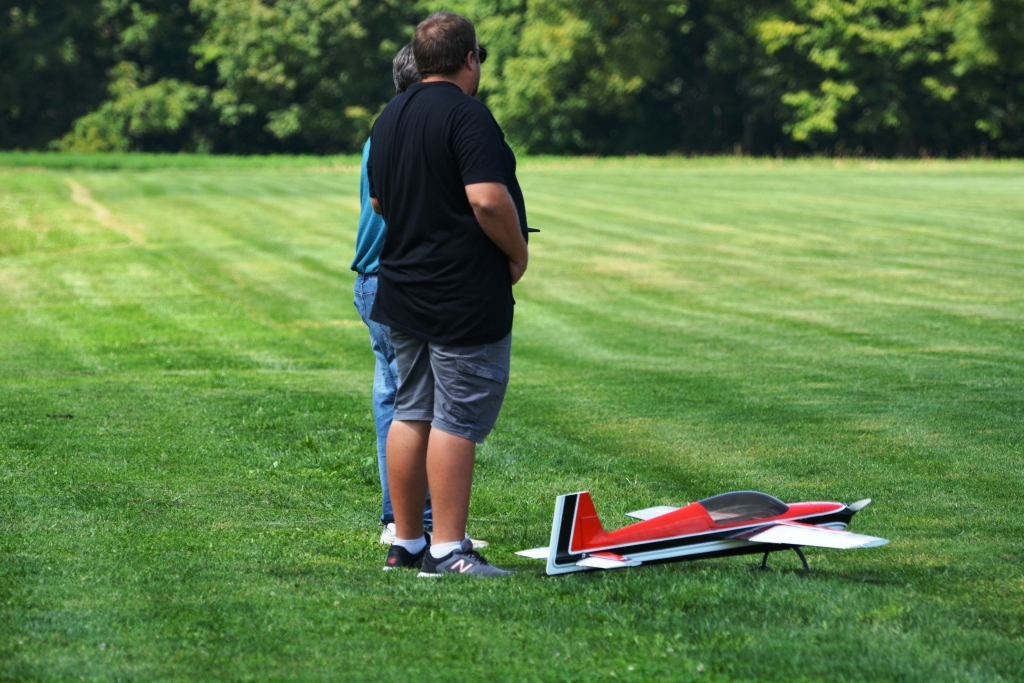 Jon Dieringer ready with his Extreme Flight Extra 300.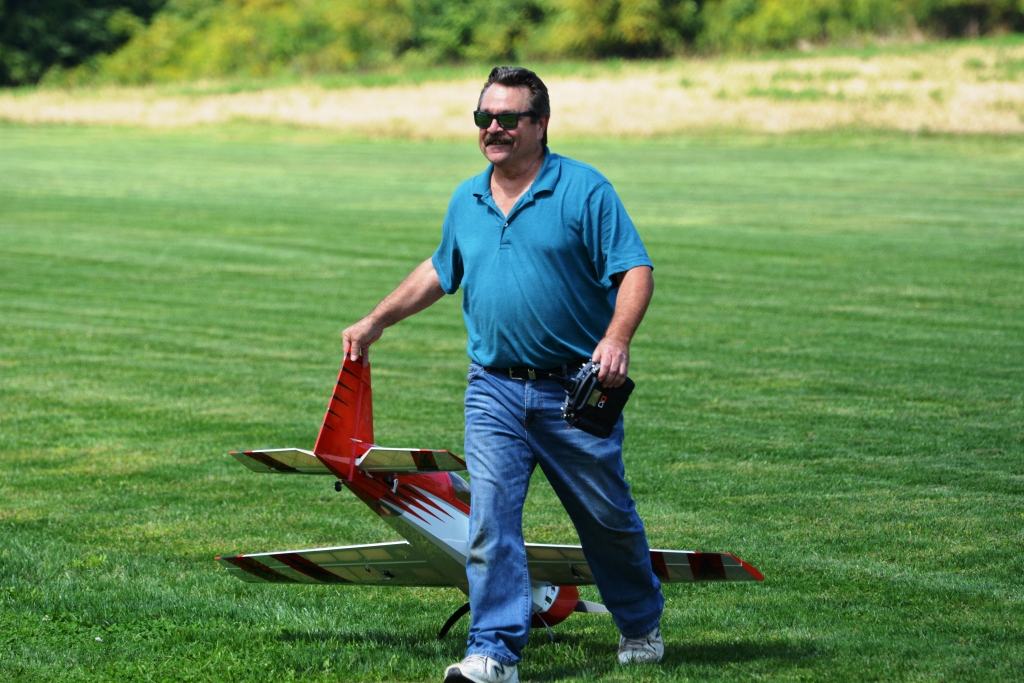 Warren Estep with his H9 Extra 300, after a flight practicing pattern maneuvers.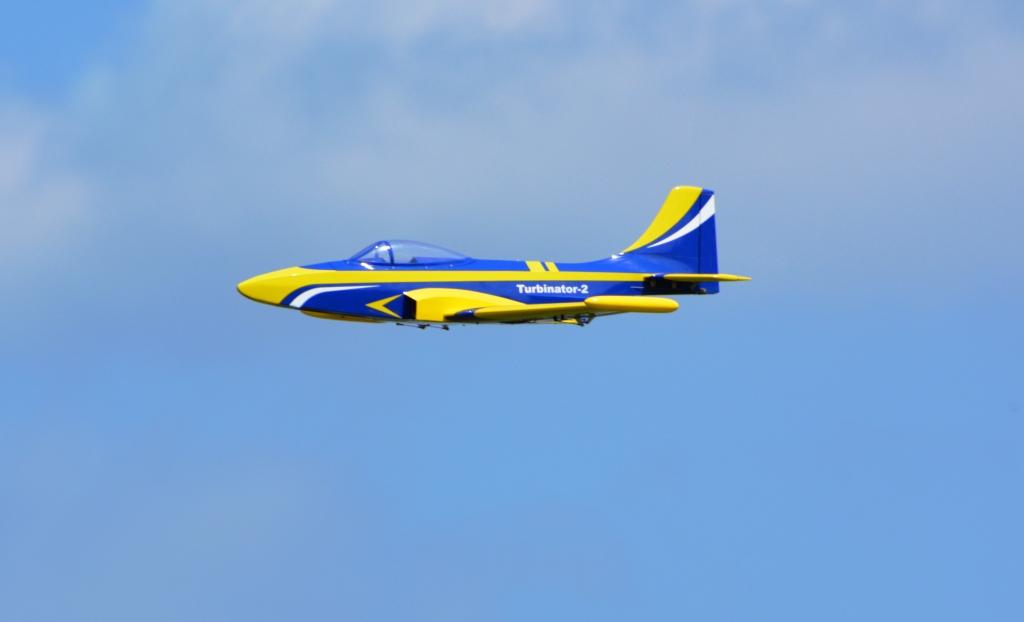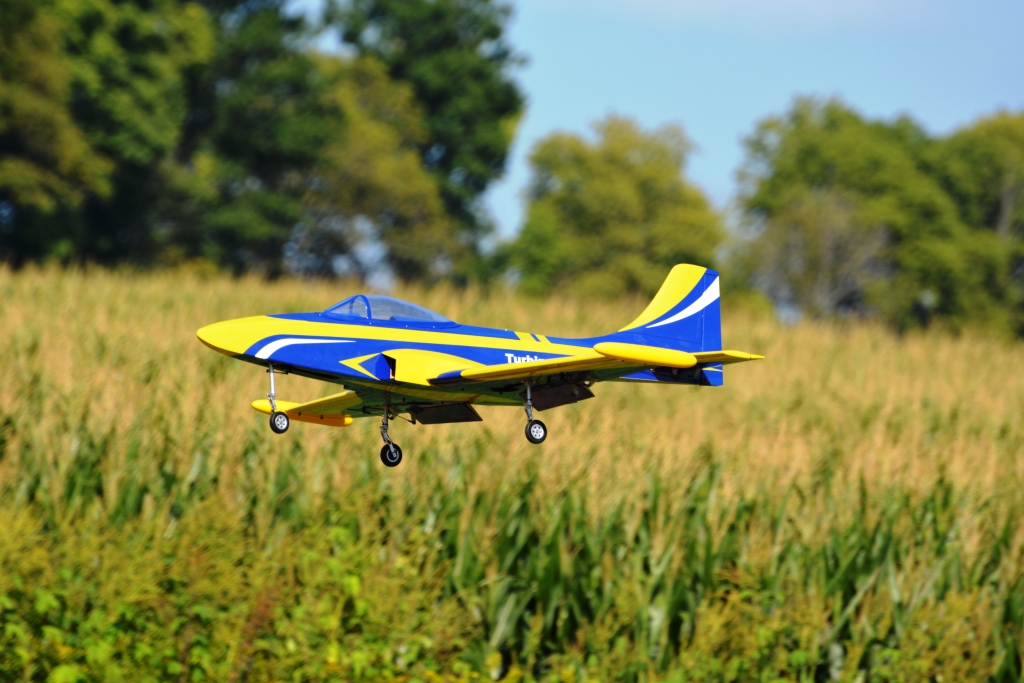 John Killinger's Turbinator 2, powered by a King Tech 80.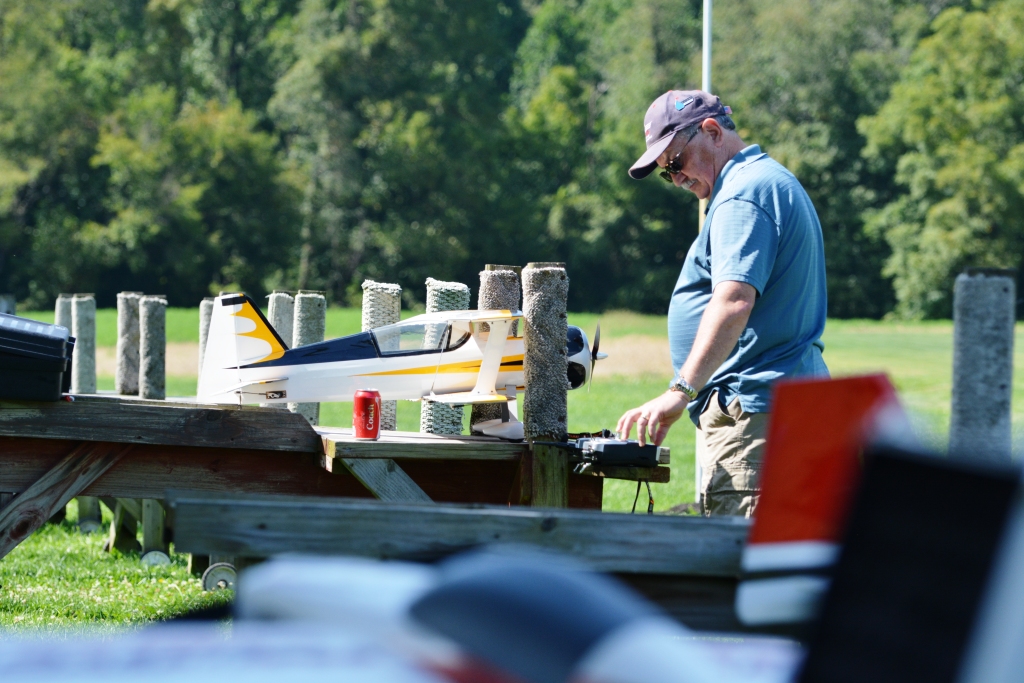 Tom Carlyle with his Pitts M12 biplane.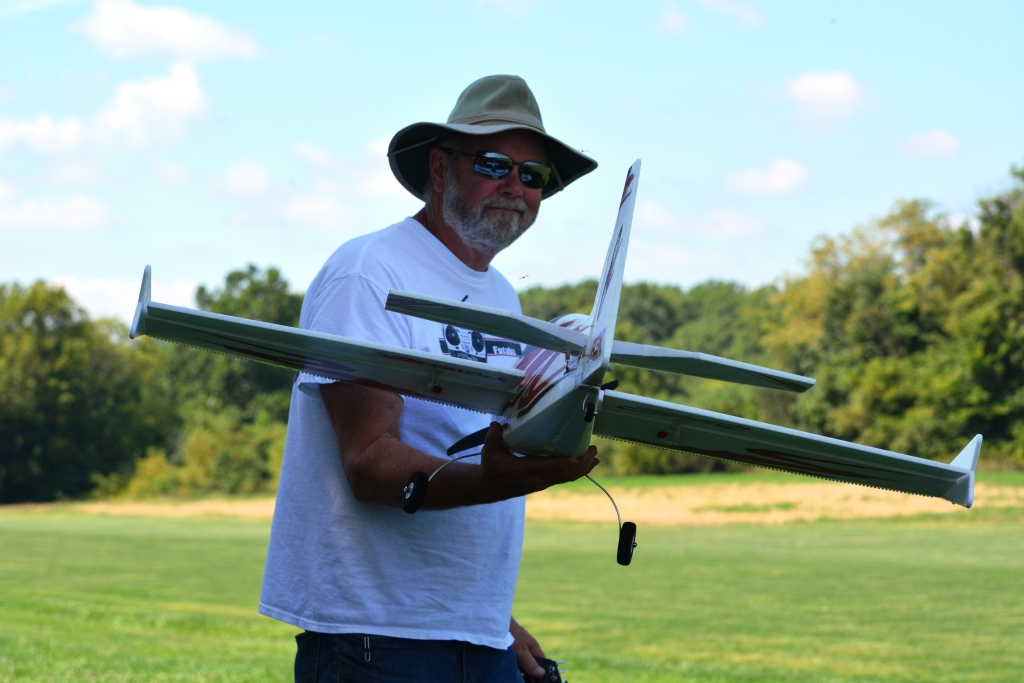 Rick Gilmore with his Flex Innovations QQ Extra 300.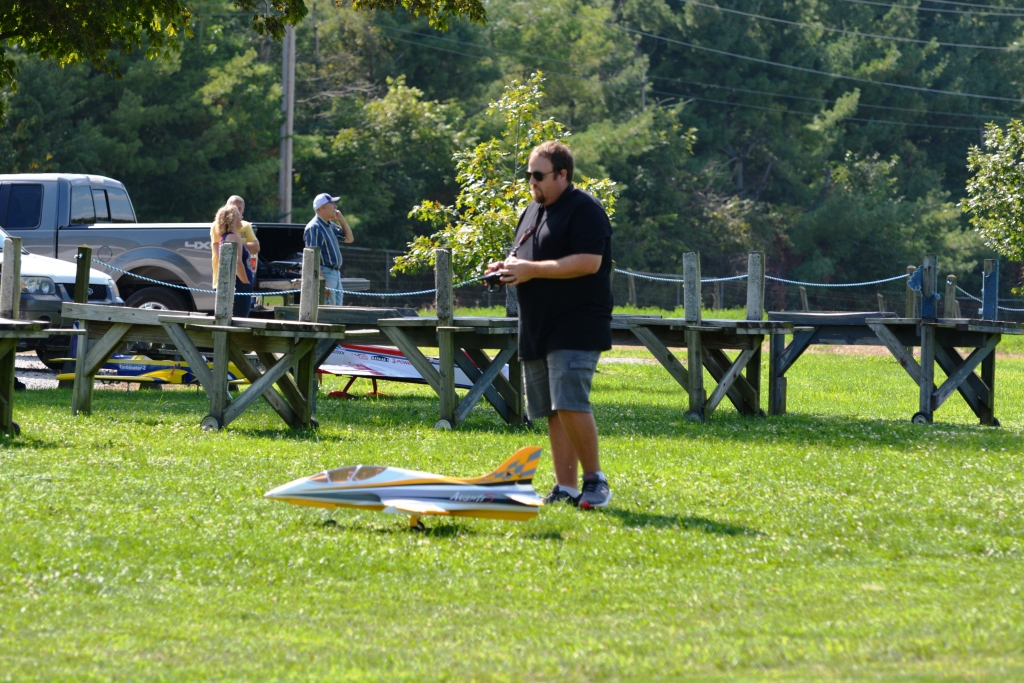 Jon Dieringer taxiing in after a flight on his 80mm Avanti.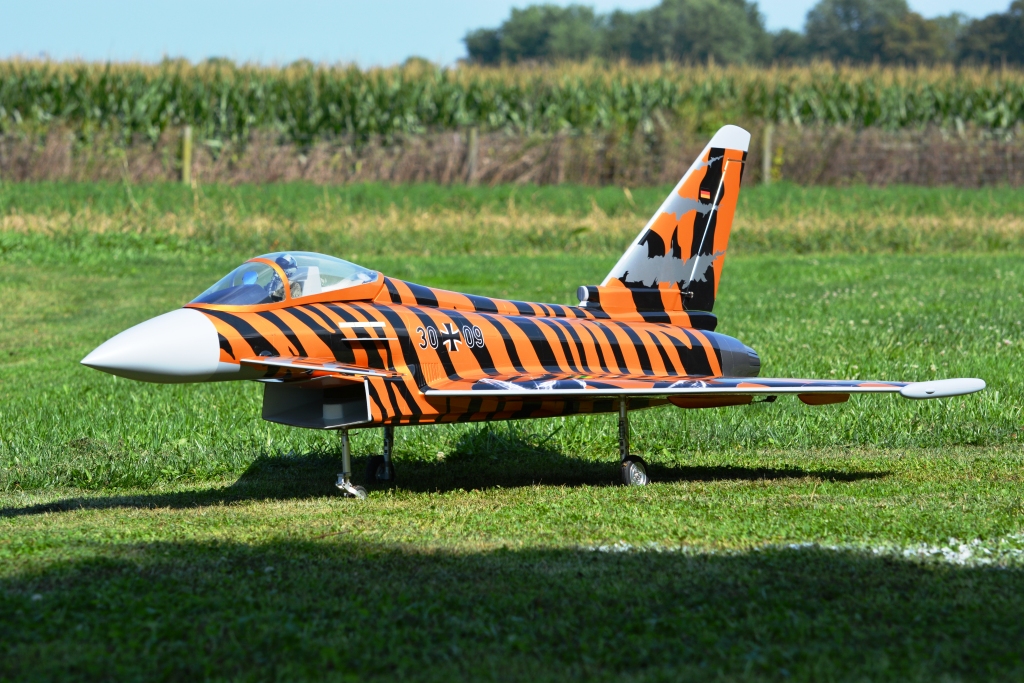 Rege Hall's CARF Eurosport powered by a Jetsmunt 200.
---
Our 2019 MAD R/C airshow to benefit Hoosier Veterans Association is a success! This is probably the best weather we have had for the 7 years we have held this event. The day started with Bernie Kruse, VP of support for HVAF, and a veteran, joining a group of our members who are also veterans to raise the flag. Specially cool was that we have a WWII veteran in our club, Leo Tarplee, it was a breath taking moment to see Leo stand at attention and salute during the national anthem ad flag raising. Also attending our event from HVAF was Ashlee Walls, VP Advancement, Raden Miller, Supervisor and his grandson. Senator John Crane and his two sons also visited. The two young me both got a chance to fly a Apprentice trainer plane. Hendricks Couty Sheriff Brett Clark also paid us a visit.

THANKS to all who helped make this event a success and to our guests who came to fly with us. We had 39 pilots register to fly and over 100 aircraft either flying or on dispaly. We had a large number of spectators all throughout the day and sold over 150 pulled pork and pulled chicken lunches. A lot of youngsters got a chance to fly a trainer as well as watch a large variety of r/c aircraft during noon airshow demos. Check back for an account of how much money we were able to raise for the HVAF.

The photos below are courtesy of Navy veteran Mike Grider:
---
Just in, Jon Dieringer wins first place in Intermediate class at West Virginia pattern contest!

Rege Hall & John Louden visited the Indianapolis RC Modelers All Electric Fly In. Descent turnout for 20 - 30 mph crosswinds. They were certainly good hosts.

Memorial Day photos of a very nice day at the field (courtesy of Ryan Jones).

The field is open, still a little wet, but looking much better. Several guys got in many flights on race day as depicted below. Also, we had a good turnout for hot dogs and hamburgers on Memorial Day.
---
The 2019 Avon Spring Fling is now in the history books. The event started a week late, sunny and a little cool. Good turnout for this event today. There was lots of spectators at various times during the day and a huge variety of planes. Timbers were the most numerous, 3 Maules and a couple warbirds. Largest was Dave Miller's Cessna 150 and John Louden's Turbo Duster. All in all, there were many flights logged today and everyone enjoyed the day. Thank you to Ron Thompson for bringing his gator like vehicle and hauling everyone and thier aircraft to and from the parking lot. Alos, thanks to Avon Parks and Scott Black for promoting this event.
---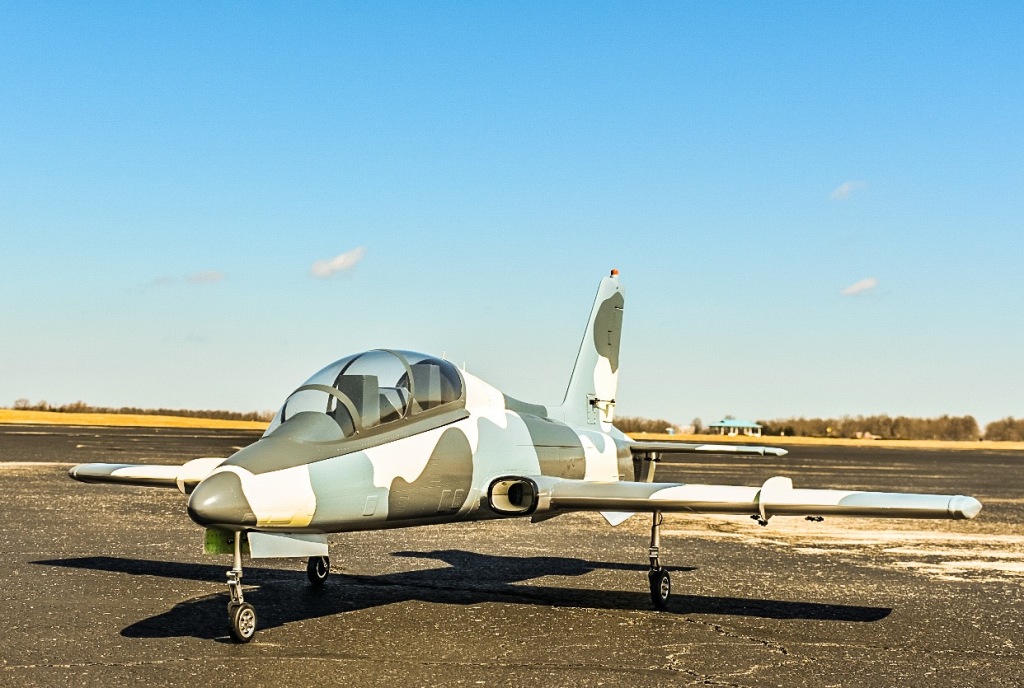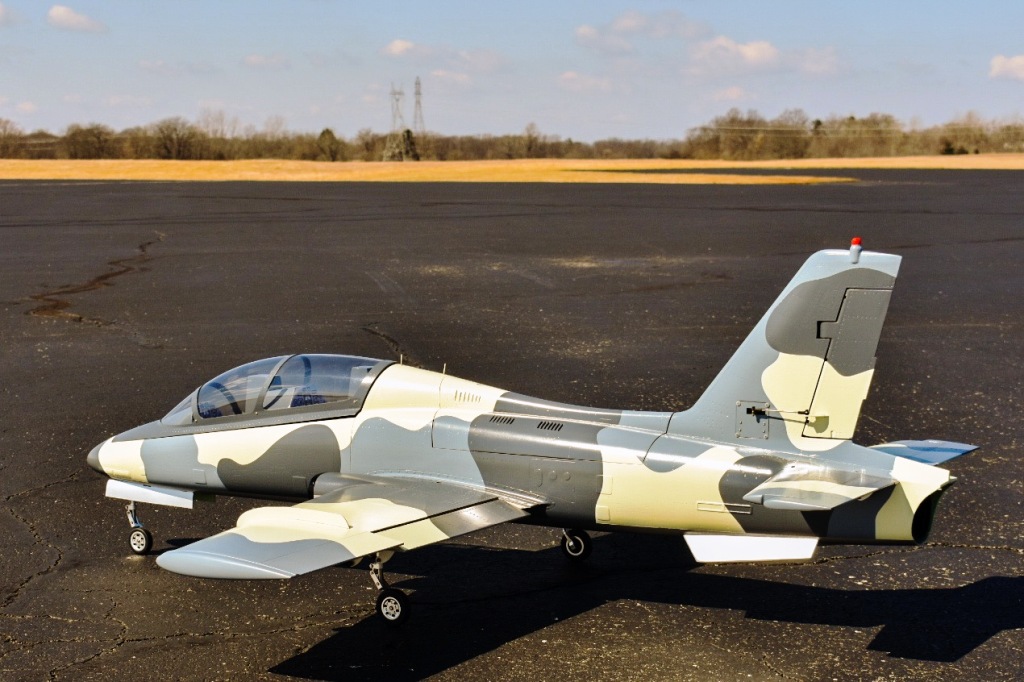 Ryan Jones' new MBB 339 rc jet. Powered by a KT120 turbine, very successful first flights recently.
---
---