Congratulations to Rick Gilmore and Kyle Bushman, winners of the Sig Wonder build off Hobby Town USA $25 gift card drawing. Thanks to Jon Dieringer for arranging this.

Photos here are Bryan Baumer's Sig Wonder, just about ready to cover. He may be the first to complete as he already has the electric motor mounted.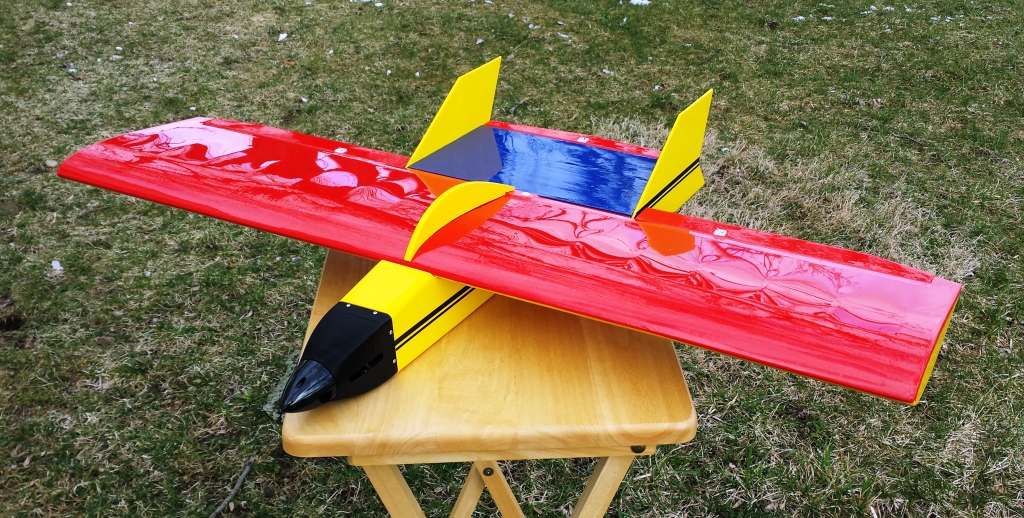 John Louden's Sig Wonder, almost ready to fly, very nice covering scheme.
Building notes and tips:
These photos are provided by Parker Hall, please note two items on the first photo:
1) large circle, wing instructions, step 3, call for the 1/16"x3"x36" balsa sheet to the cut to 2 3/4" in order to get a straight edge for glueing to the leading edge, measure closely before you cut to be sure the sheet will reach the spar.
2) small circle, you may have to carve on the trailing edge special piece to get it so the trailing edge sheet lays flat.
TIPS:
1) When ready to fly, the CG is critical! If tail heavy, it is wild, if nose heavy tends to porpoise.
2) Keep the elevator throw at the recommendation in the instructions. And use expo if your radio has it. The planform of the Wonder makes the elevator very sensitive.
3) Old trick for glueing down sheetig on the wings, paint the tops of the ribs and leading edge spar where the sheeting meets the spar with white glue. After it has dried, lay your sheeting down and usig an iron, go over the areas to be glued.
Blacksheep Club,
As discussed at the December meeting/Holiday Party, I am organizing a build and fly event for the winter of 2019 ending in a flying event on Memorial Day. I chose the Sig Wonder kit for the event, it is small and easy to build, it flies great and it is inexpensive. There are no rules for how to build the plane, just that you should start with a Sig Wonder kit. Nitro or electric and feel free to modify the fins and cowl to your liking.
Click on the Wonder to learn more about the kit: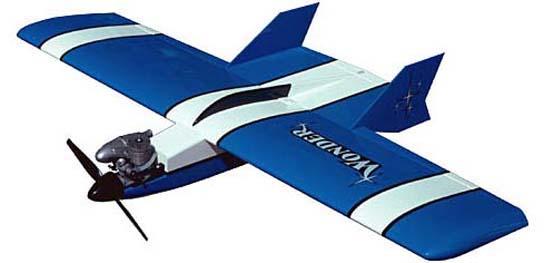 Details:
Where to get a kit: I have arranged a group purchase of the kit from Hobbytown Castleton for $60 a kit (including tax). If you want in on this option, let me know when you sign up and I will add you to the order. You can pay me by cash, check or paypal. You can also buy direct from Sig for $66.50 or other various online retailers.
Incentive: If you plan to participate and you buy a kit, you will be entered in a drawing for one of two $25 Hobbytown Gift Cards to help you buy covering or glue or whatever you might need. You are eligible regardless if you buy the kit through Hobbytown or get it on your own.
How to sign up: email me at jon@dieringerfamily.com and let me know you are participating, if you want to use the group kit option or if you will get your own kit. I will create an email list that people can use to communicate throughout the winter. Please let me know by December 16th so we can get orders in.
At the event: Cut streamers, fly fast, or just fly solo. There is no flying competition, just the fun of seeing everyone's creations. There will be some prizes such as Best Wonder or Most Unique.
We already have people with kits in hand and many more signed up for the group buy; there was also a lot of verbal commitments at the Holiday Party. I am hoping this will have a great turnout and lots of fun.
Thanks, Jon
Send pictures as you go or ideas we can post on this web page.
 

Blacksheep webmaster.
---
Here are a few shots of other modelers Wonders found on the web, the photo with the Iron Cross is our own Scott Black's Wonder.
---
The preferred glo set up is a .10 up to a .19, some are using a .25, but you will need to consider it may be nose heavy. Current engine choice seems to be an OS .15LA. Electric set ups are all over the place for size. Below is a couple set ups for electric I have found searching the web. Regardless of power choice, THE CG is CRITICAL, gets really wild if tail heavy and porpoises if nose heavy. I have flow several over the years ad with proper CG, they are a pleasure to fly. Watch elevator throw, short coupling does not need a massive amount of elevator.

Motor: 2212-6 2200 Kv

Battery: 2200 3S

ESC: 30-40A

Prop: APC 6x4E

AUW: 26-25 oz.

C.G: 2 1/8" back from LE of wing

AUW: 33oz

Motor: Turnigy TR 35-36B 1300kv

WOT test with 9x6 Master Airscrew: 24 amps/247 watts => ~ 121 watts/lb

Battery: 2200mAh 3S 30C

Motor's max. efficiency current: 15~25A

Power equivalent: .25 to .30 IC glow engine

ESC: TURNIGY Plush 40amp

Servos: 2 x TS-53 standard (needlessly large)

RX: AR6100

Dubro Heavy Duty Wing Mount Kit 1/4-20 ($2.69): http://www3.towerhobbies.com/cgi-bin...?&I=LXE099&P=7
---