Join the Blacksheep RC Modelers and the Academy of Model Aeronautics Foundation in celebrating model aviation for the third annual National Model Aviation Day, August 15, 2015. National Model Aviation Day was created to encourage clubs to celebrate the hobby and share it with the public. Our chartered clubs have also been asked to conduct a fundraiser to provide assistance to a worthy cause. For the third year in a row, all club efforts will support the Wounded Warrior Project. Together, approximately 200 of AMAís clubs have contributed a total of $176,000 to support the Wounded Warrior Projectís full range of programs and services for this generation of injured veterans and their families.

Last year we suffered rain most of the day, however we still had a good event, but we fell short of our goal. We raised $2,837.12 that all went to Wounded Warrior Project. We raised the most amount from our small town club in our District. This year we are aiming higher and have a great bunch of donations, both monetary and products for our raffle. We will have all types of model aircraft on display and flying. We have some great raffle prizes and a great BBQ lunch
---
Here are our 2015 supportors and sponsors, when you have a choice, please support them.

- Danville Waste Management - Estes Rockets - Bill Clonz Heating and Cooling

- Tempur Sealy, Plainfield - Brennamen Farms, Clayton - Oliver Winery, Bloomington

- Techcom - Bassett Heating and Air - Henry Deveeney

- Rege Hall - GreenCycle McCarty Danville - Hobbytown USA Indy

- Curtis Garage and Wrecker, Stilesville - Duncan Supply Company, Indianapolis - RM Larkin Custom Homes, Danville

- Mark Marshall - Durabilt Racing, Clayton - Duncan Supply Company, Plainfield

- Ace Hardware, Brownsburg, - Oscar Nails, Brownsburg - Brownsburg Muffler, Brownsburg

- Brownsburg Cleaners, Brownsburg - Marsh, Brownsburg - Don Schumacher Racing, Brownsburg

- Hendricks Power Cooperative, Avon - Regal Cinamas, Avon - La Hacienda, Avon

- Bagger Dave's Burgers, Avon - Outback Steakhouse, Avon - McAlister's Deli, Avon

- O'Charly's, Avon - DJ's Hotdogs, Avon - City BBQ, Avon

- Charbono's, Avon - Frost Bite, Avon - Westside Loan & Pawn Shop, Indy

- Southside Harley Davidson, Indy - R.E. Michel Supply Company, Indy - Robert Dalton, Indy

- Starbucks, Brownsburg - Carmike Theaters, Plainfield - El Meson Mexican Restaurant, Plainfield

- Allen Insurance, Melbourne, FL - Hot Box Pizza, Plainfield - Kroger, Avon

- Mears Automotive, Brownsburg - Walmart, Brownsburg - BTA Automotive, Brownsburg

- Electrical Maintenance and Testing, Indy - Hines Bindery System, Plainfield - Cox's Mower Shop, Plainfield

- Torch Wear, Twinsburg OH - Hines Self Storage, Plainfield - Jill Harness

- R&M Automotive, Plainfield - Sumco, Indy

- Scott's Trim Shop, Avon - Collester Plumbing, Mooresville
---
A short video of the pit area and some RC flying at our 2015 NMAD event.
---
Our 2015 NMAD to support Wounded Warrior Project is now in the record books. Our initial account of the amount we can send to send to WWP is over $5,000.00, we will have a final count later this week. FINAL COUNT = $5,870.00 Wow! Every member who helped, participated or donated, put ypur right arm out in front of you, reach for your left shoulder, now pat yourself on the back, this is fantastic!

A huge thank you goes to every member who helped make our event a huge success. Bill Clontz, Tom Carlyle, Troy Whitted, Mark Marshall, Dave Miller, Jerry Morgan and Rege Hall did a great job of getting donations . Jerry Morgan and Cindy Morgan for arranging the lunch and Jaymee Hall and Barb Dohm for helping out serve the approximate 150 meals. John Louden manned the micro phone all day and kept the spectators apprised of what was going on and entertained. John Edwards and Kathy Carlyle manned the raffle sales all day, there were a lot of raffle tickets sold! We had tons of raffle items to give away all day. And then there was Warren Estep, he spent his entire day giving trainer introductory flights. The only time he was not on the flight line was when he was running back to the clubhouse for another charged battery. I wished I would have been counting the number of flights his Apprentice 15E made!

Right after the flag raising and national anthem with the Danville Boy Scouts Troop performing our flag raising again this year, John declared we needed an aircraft in the air at all times until the end of the event. Pilots listened. We had a great variety of aircraft, from micros to 40% aerobatic aircraft. We had trainers flying, rc skydivers, gliders, helicopters, quad copters, aerobatic planes of all sizes, foamies, Cubs and many warbirds of various sizes. Below are pictures from my camera, along with photographic help from John Louden, Dave Miller and Bryan Baumer. Scott Black posted pictures on his website, with the link noted below. If you have pictures to share, please send them to me.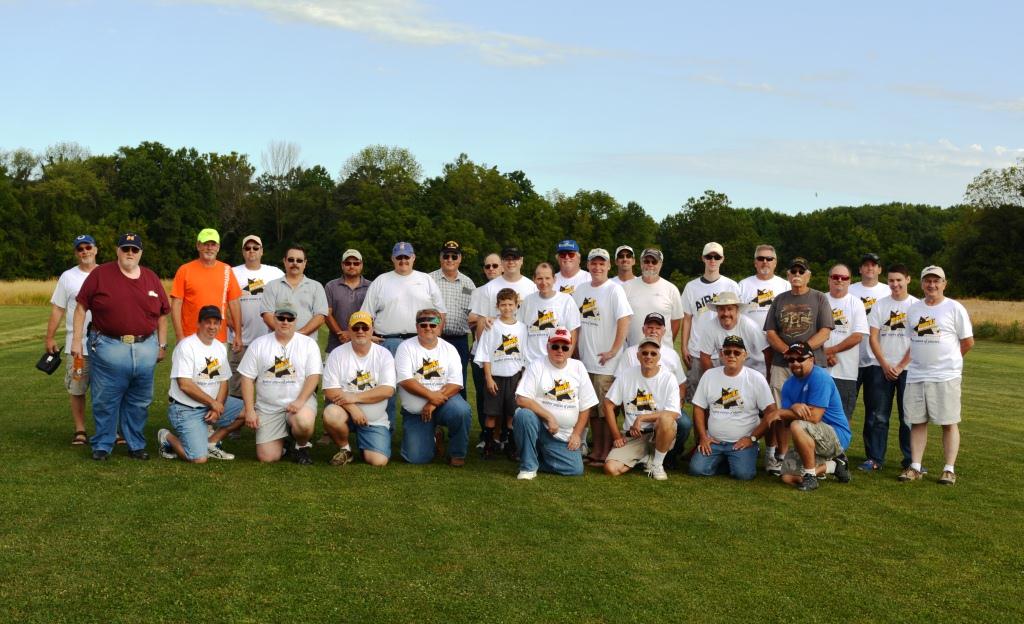 Group shot of members at 9:30 am right after the flag raising ceremony.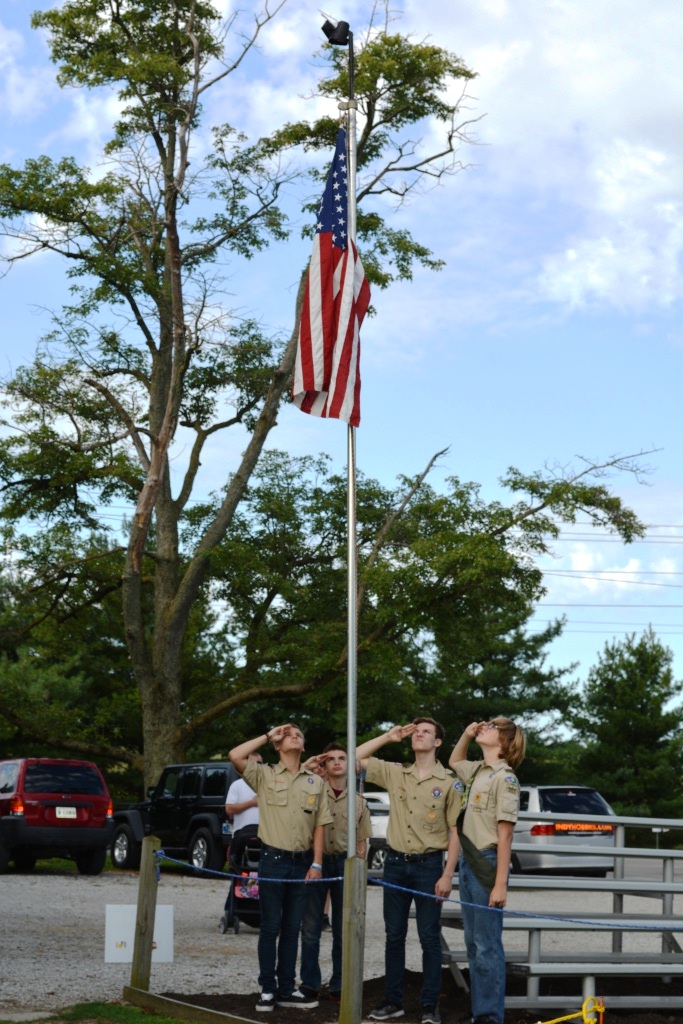 The Danville Boy Scout Troop were kind enough to provide their services in the presentation of colors.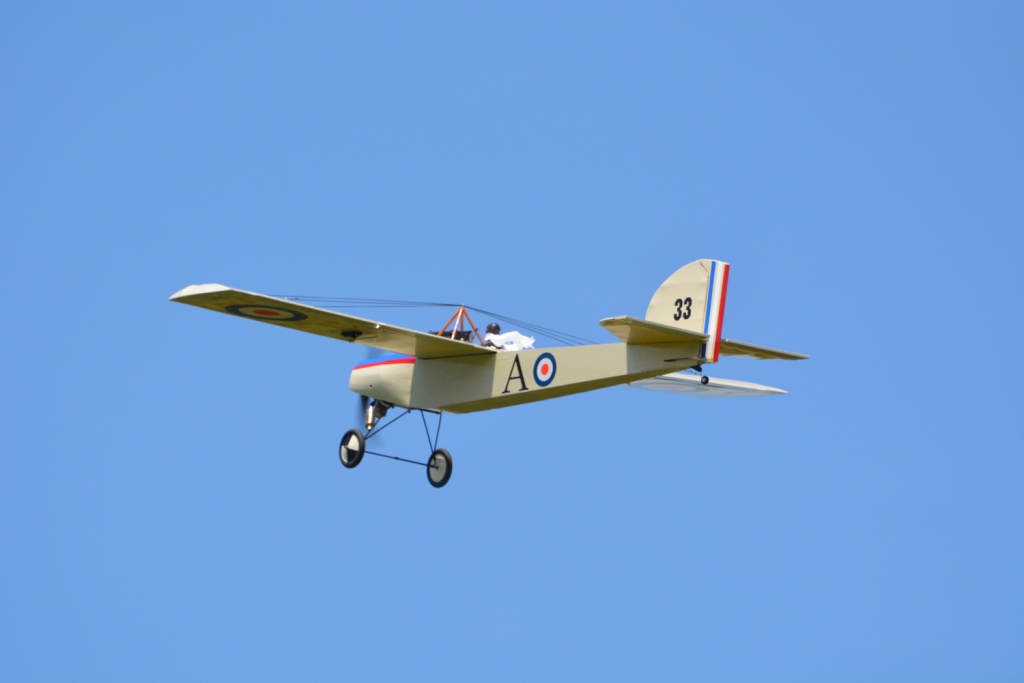 Dave Miller's Top Flite Elder on an ealry morning, bright blue sky flight. Check out the scarf in the wind.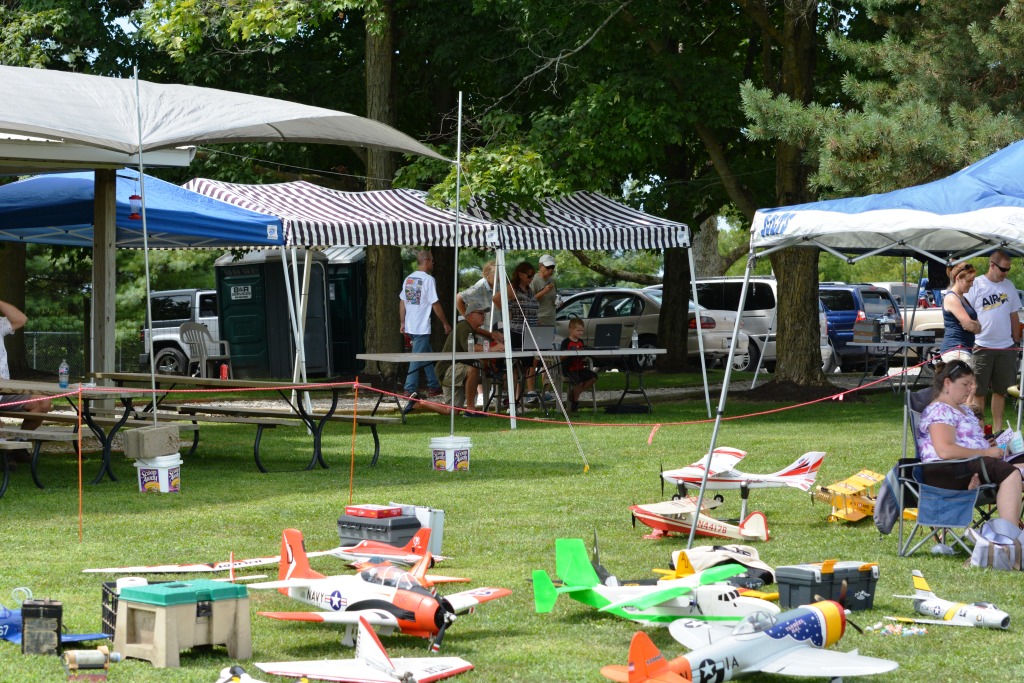 The east end of the pit area early in the event. John Louden's planes on the left foreground and Joe Miller's on the right. John flew his Outlaw delta wing many times, the sound it produces is a never forget sound.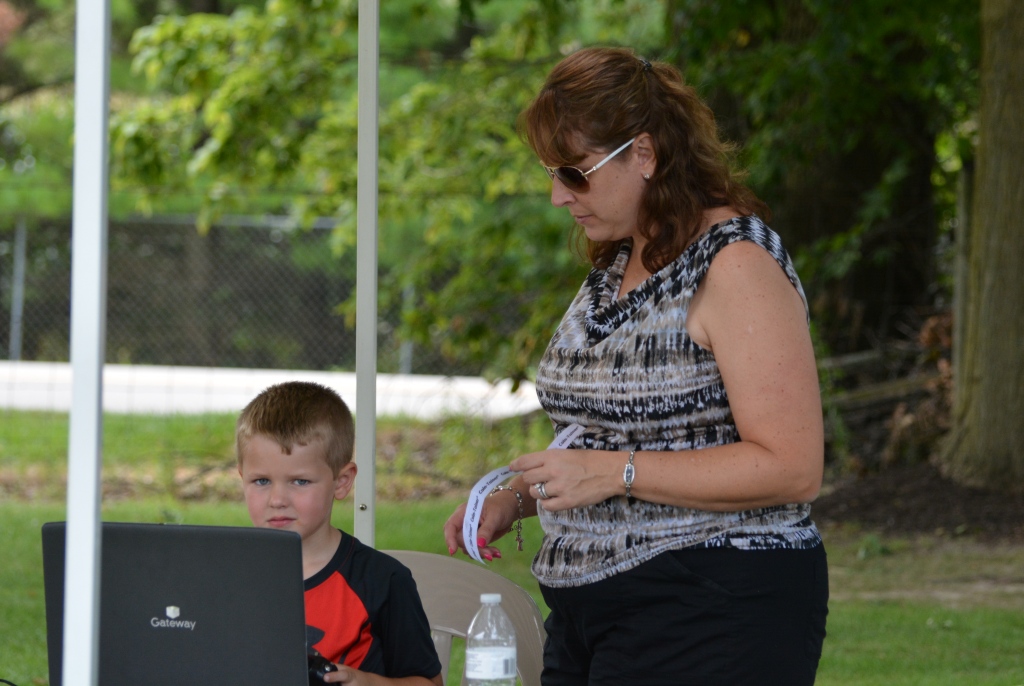 A young man flying the simulator as mom looks on.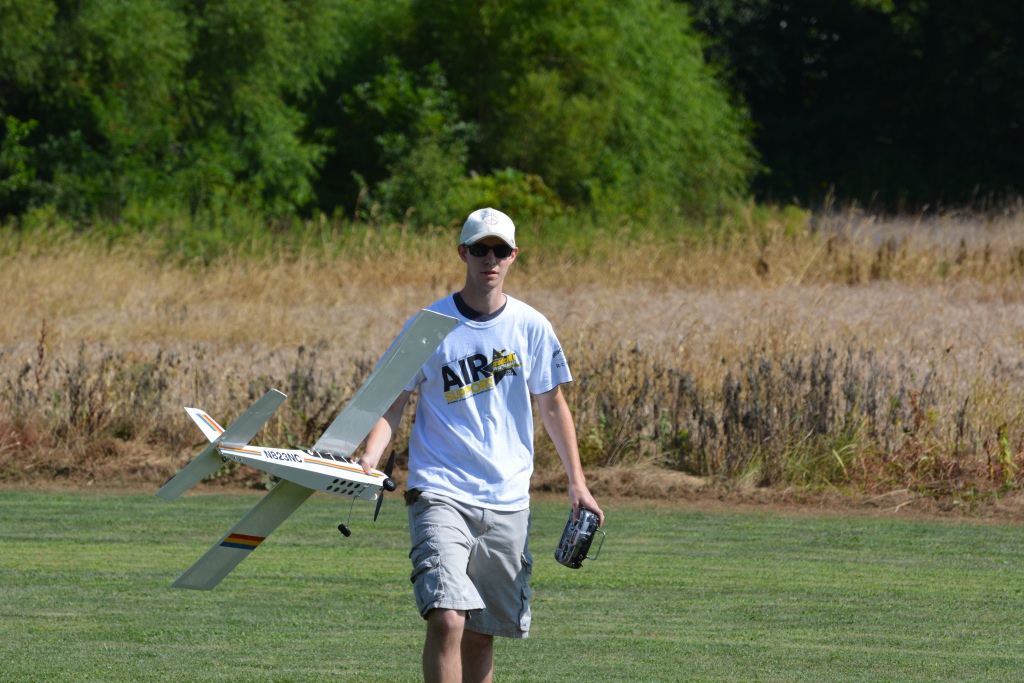 Brian Martin returning to the pit area after a flight, welcome back Brian>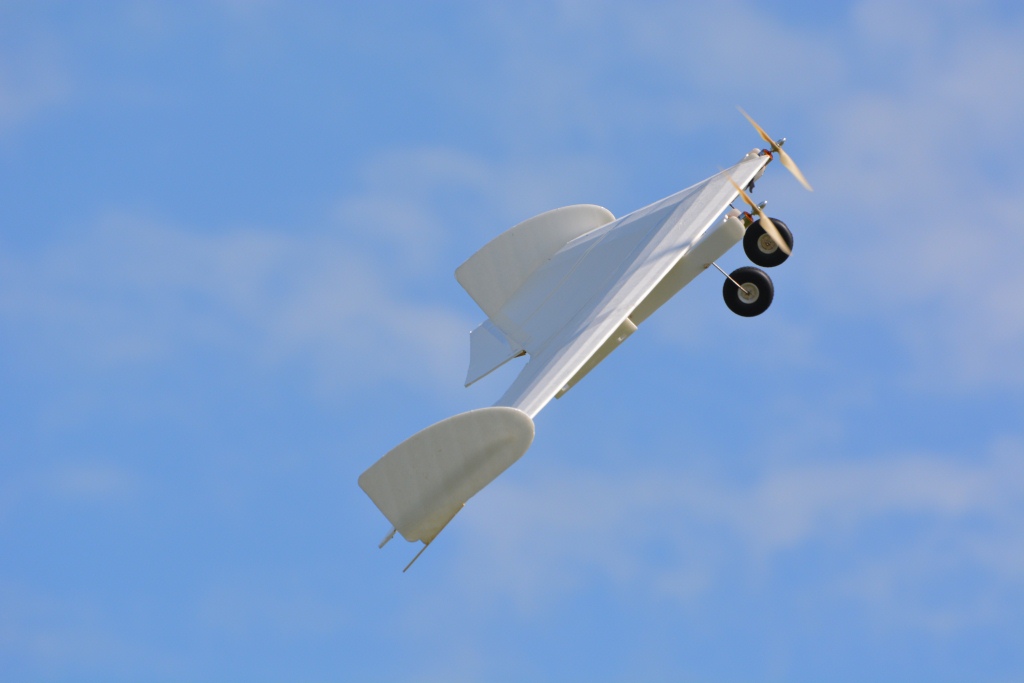 Ryan Jones' big Delta from internet plans. Looks really cool after dark, just big and slow.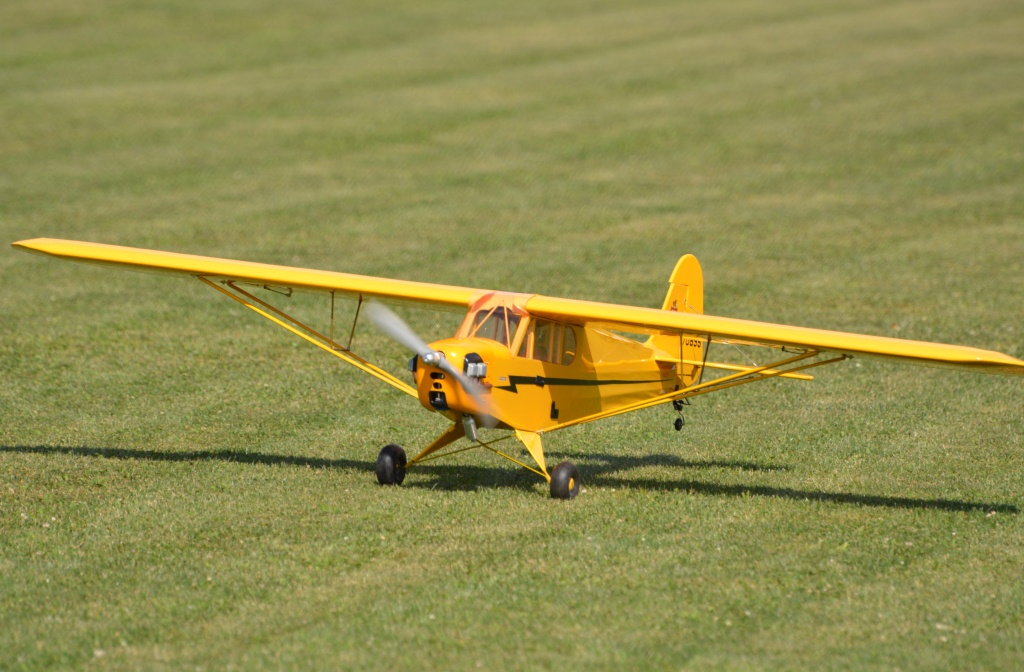 Dave Miller's 1/5 scale Cub making a nice smooth touchdown.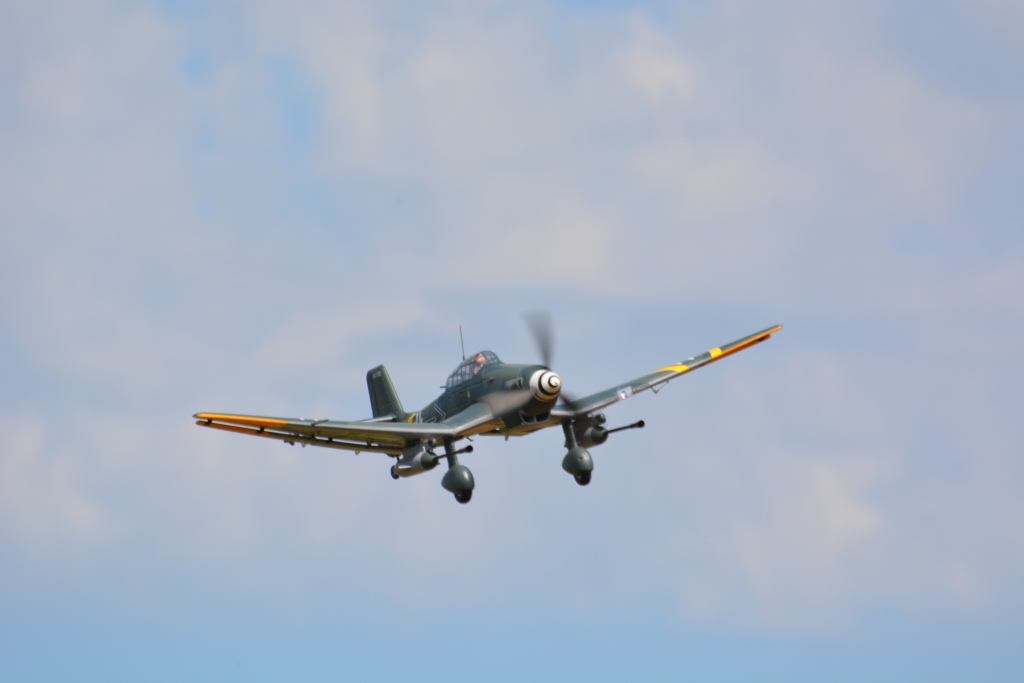 Bryan Baumer's FMS Stuka dive bomber, cool engine sounds.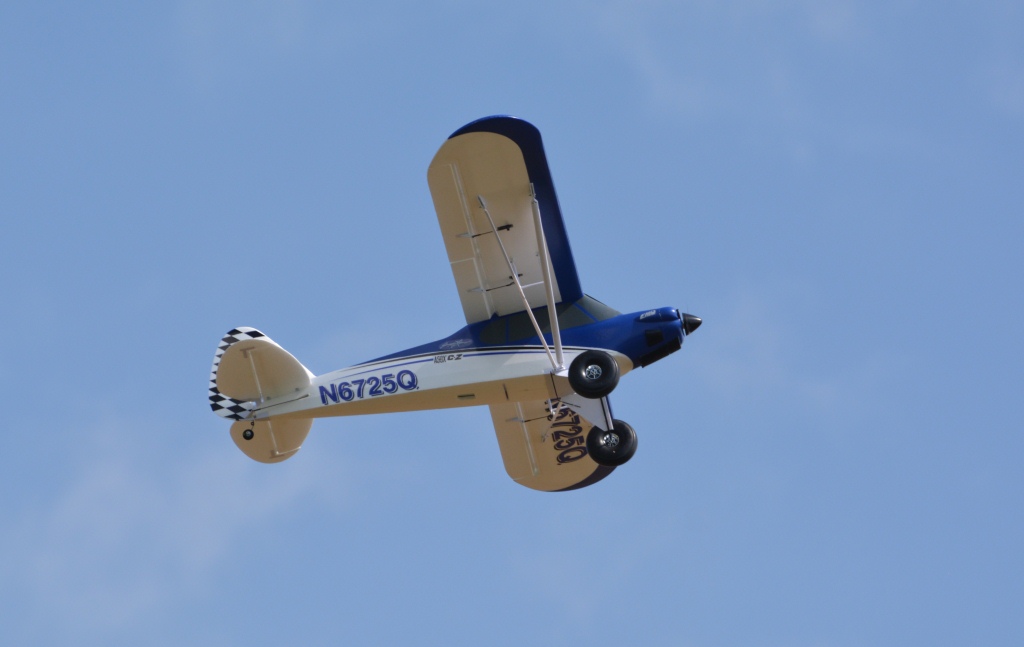 Bryan Baumer's large E-Flite Carbon Z Cub, cool Cub!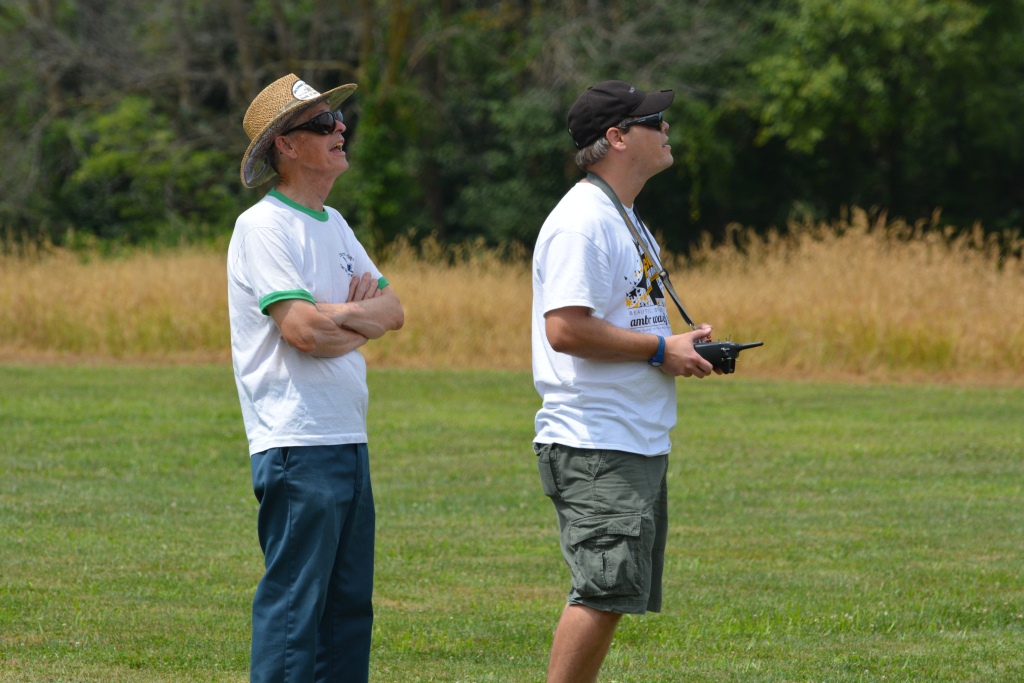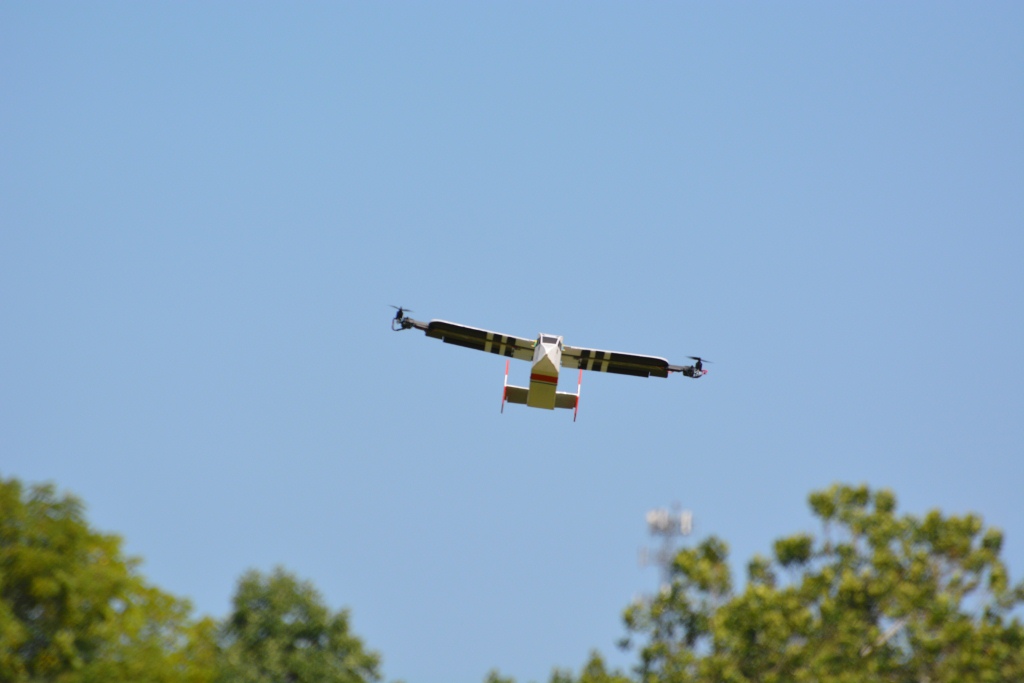 Ryan Jones piloting and Wayne Jones spotting for Ryan's scratch built V-22 like foamie. Takes off and lands VTOL and then the engines (motors) tilt for forward flight.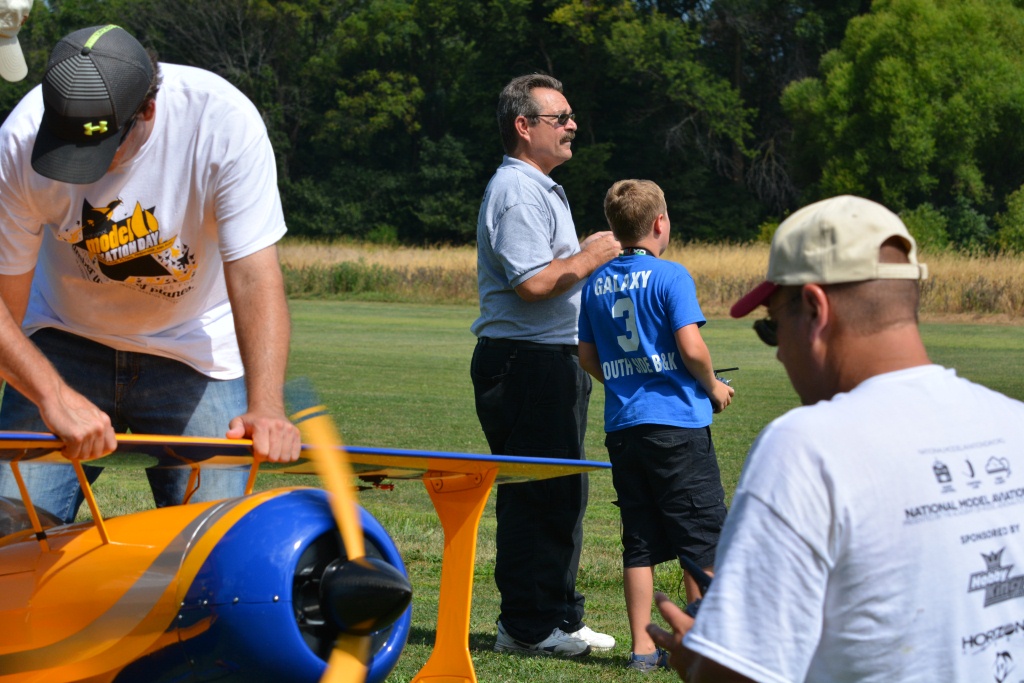 Warren Estep giving a lesson to our newest member, Fionn Flaherty.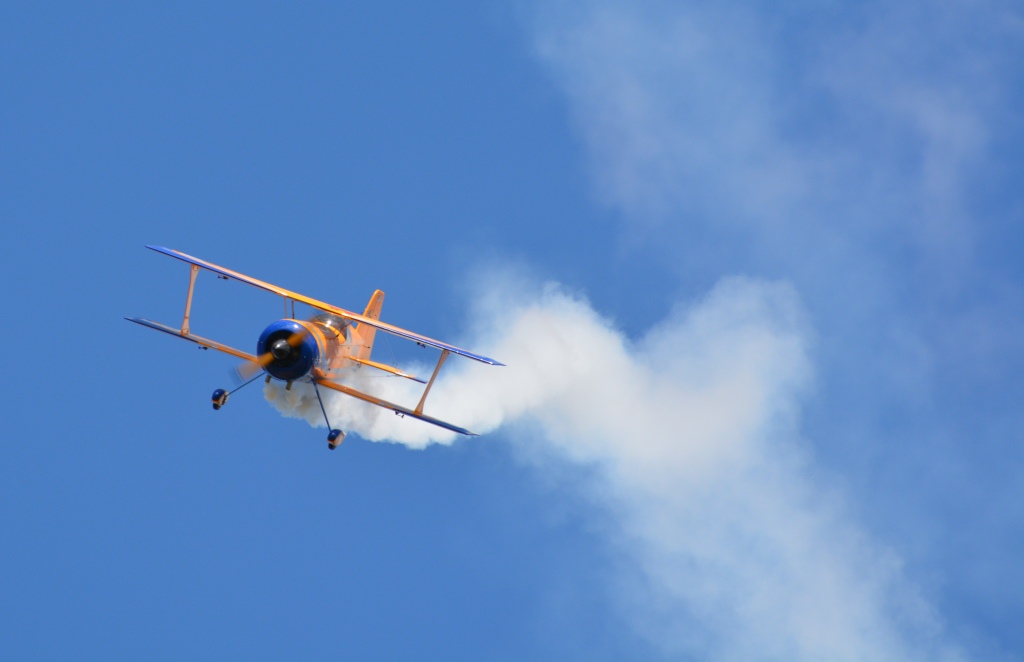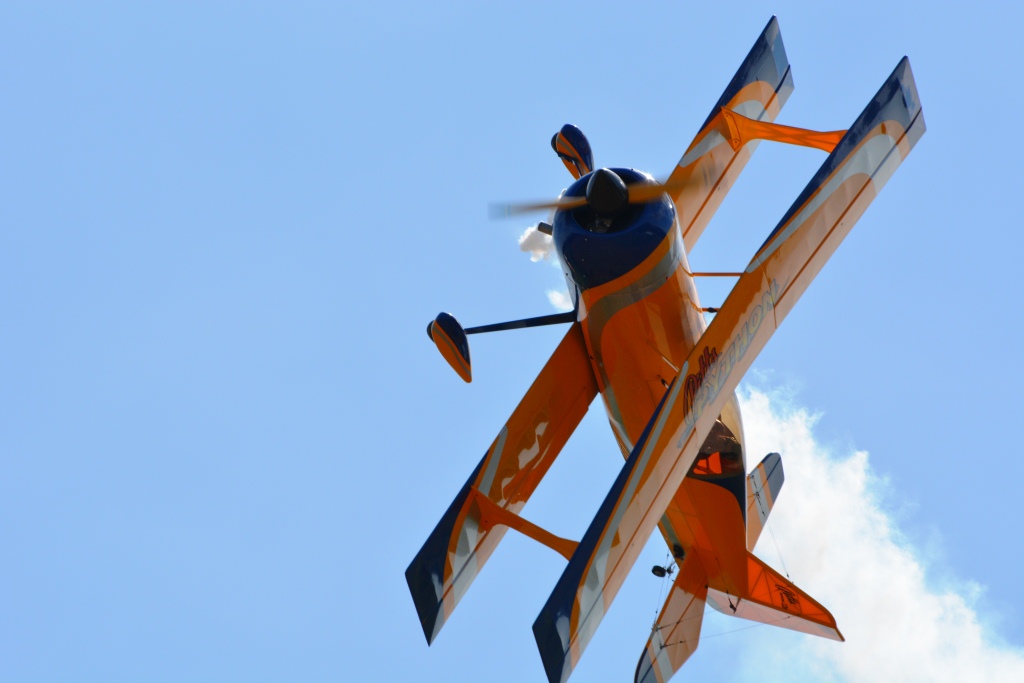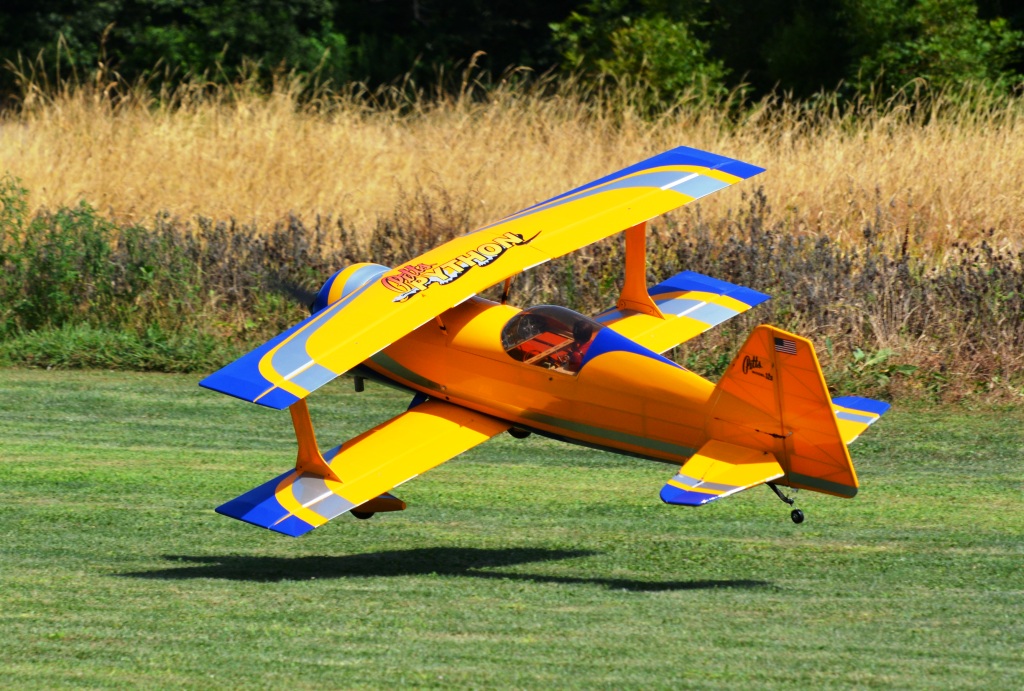 Rege Hall's QQ Aircraft Pitts Model 12S Python biplane, powered by a DA 100. Close in knife edge shot and a little slip and one wheel landing to show the Python logo on the top wing.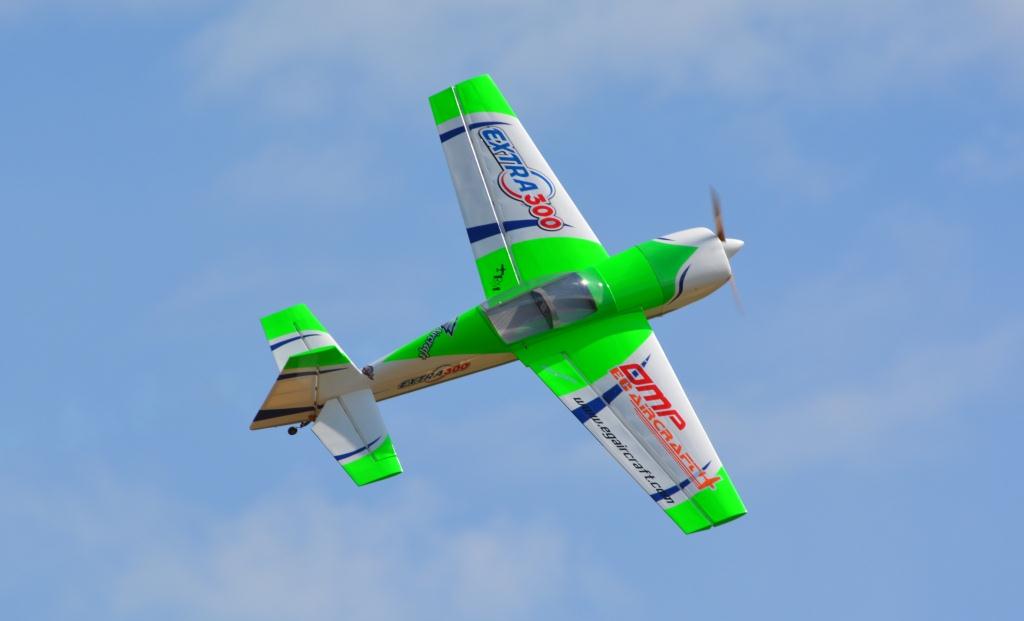 Tom Hatfield's 50cc Extra 300 from OMP, powered by a DLE 55.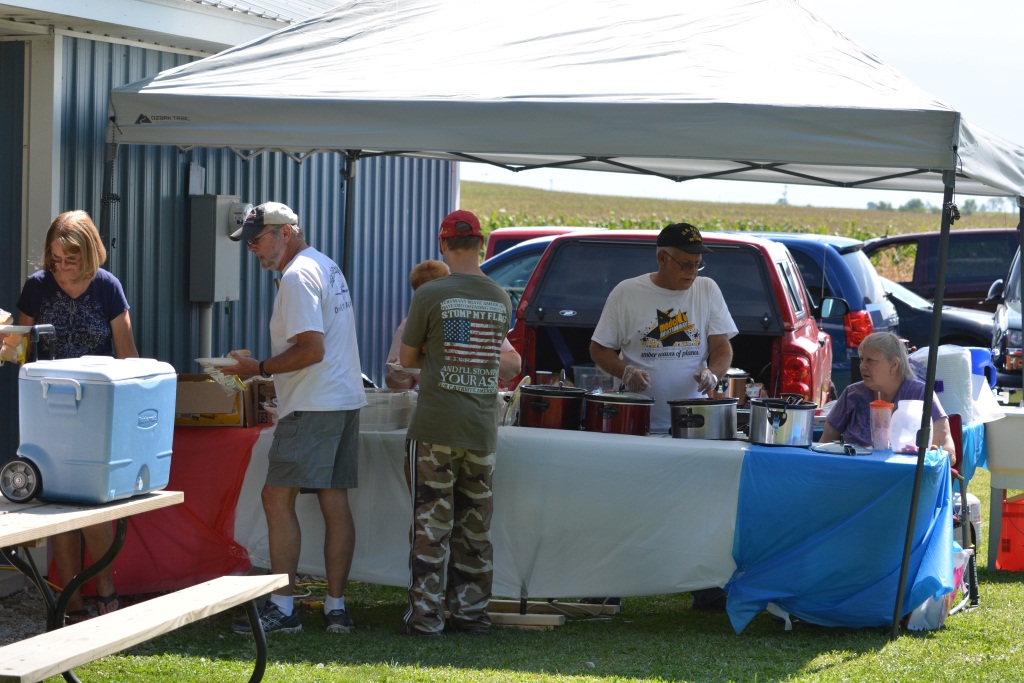 The lunch bell has been rung!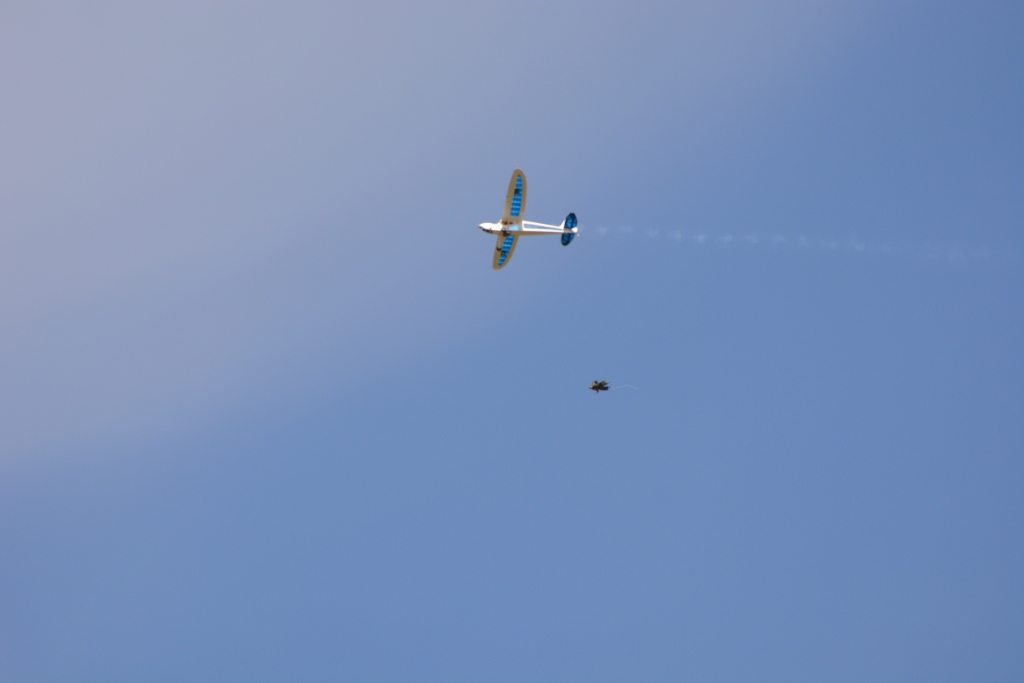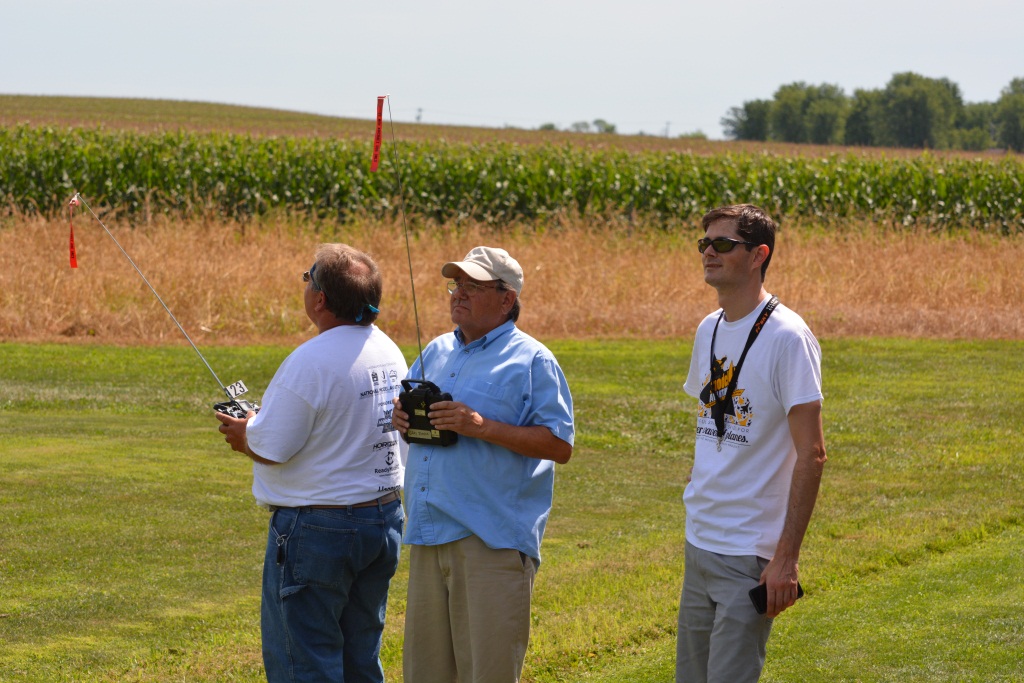 Faron Trosper's Sr. Rascal dropping Harold Etling's rc parachuter. Faron Tropser flying the drop plane, Harold Etling flying the rc parachuter with Brian Aimer spotting.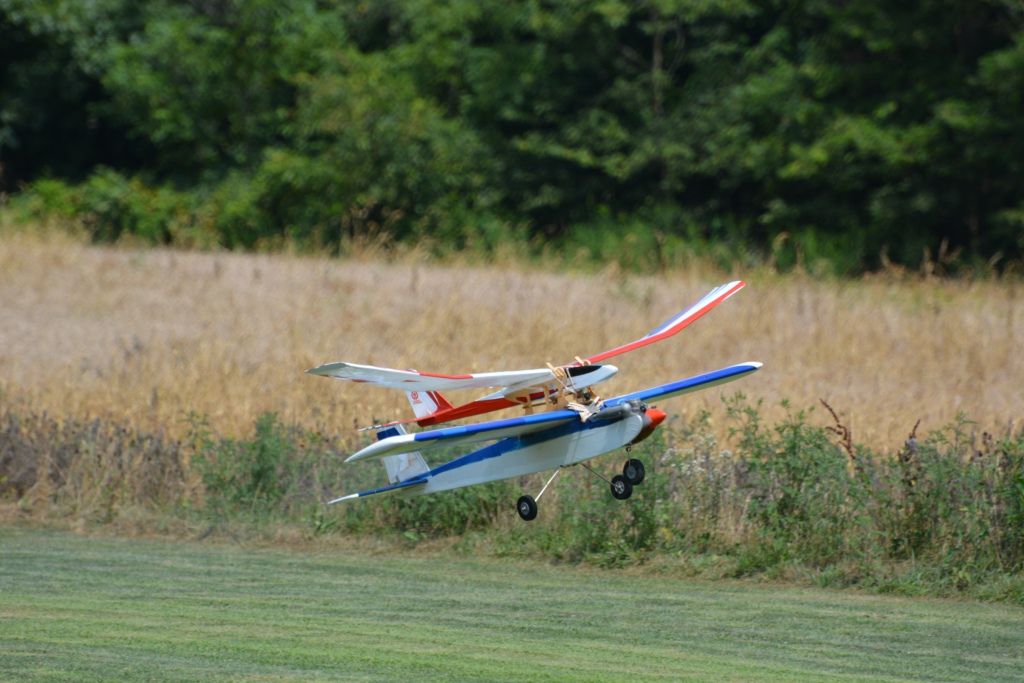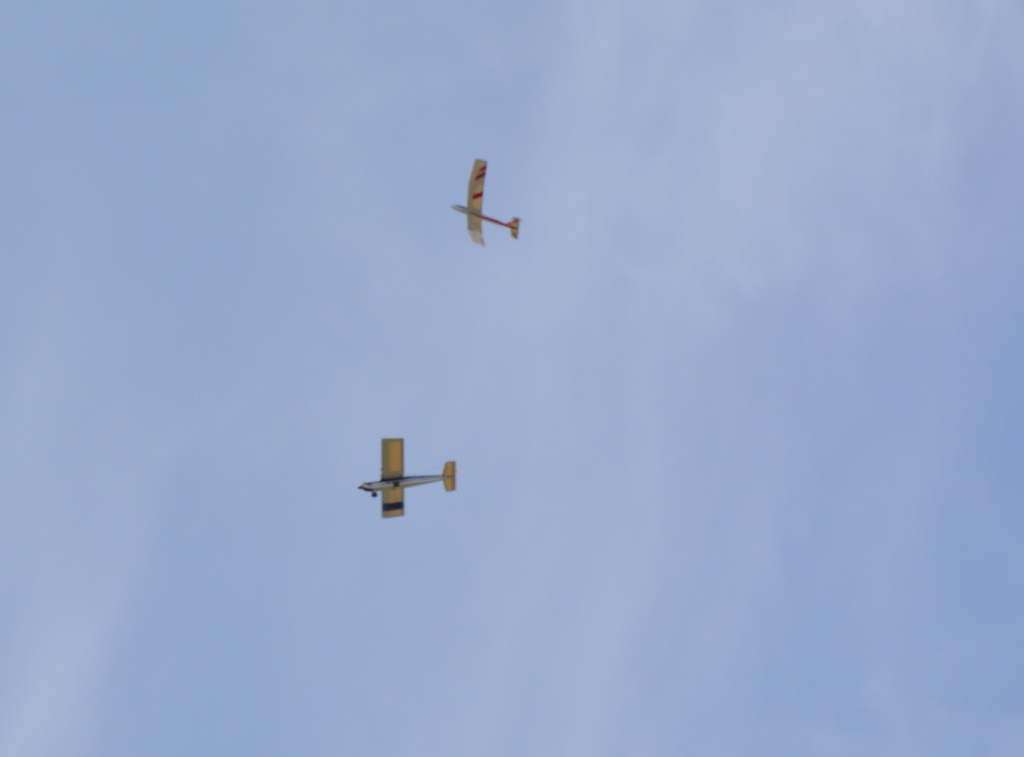 John Lawyer taking to the skies with a glider on the launch cradle. And then, glider away!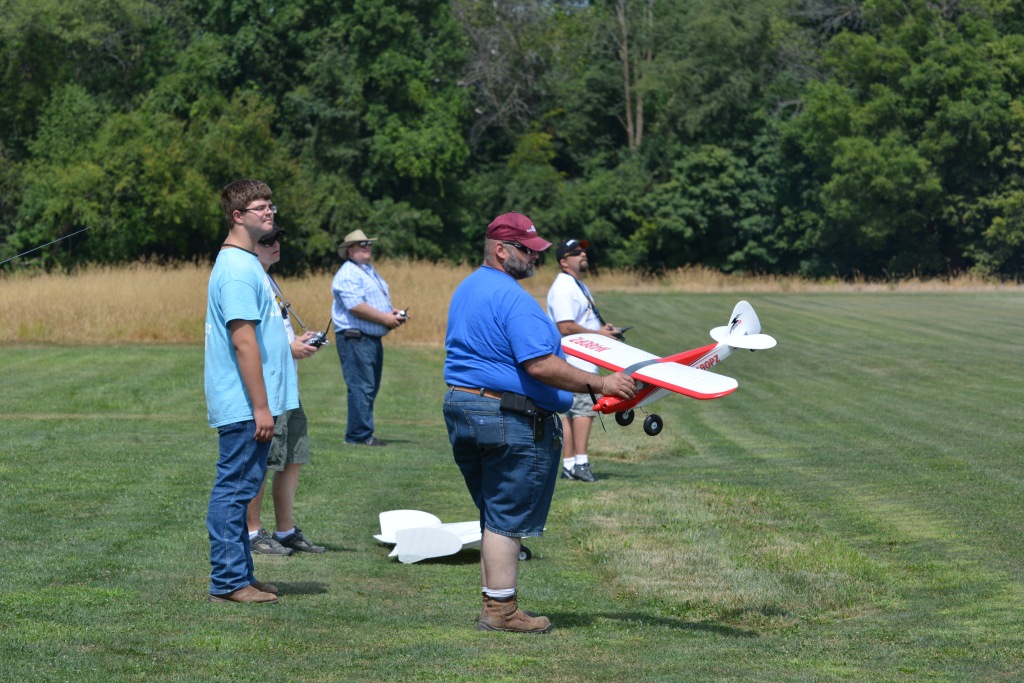 Curtis Prater with a Carbon Cub working a new prospective flyer.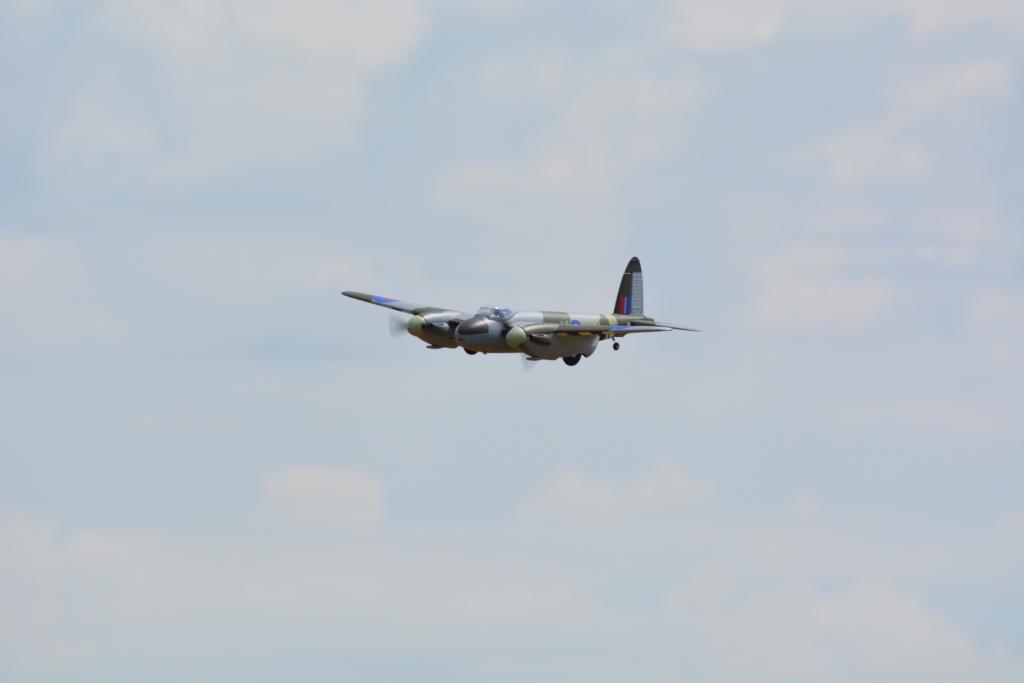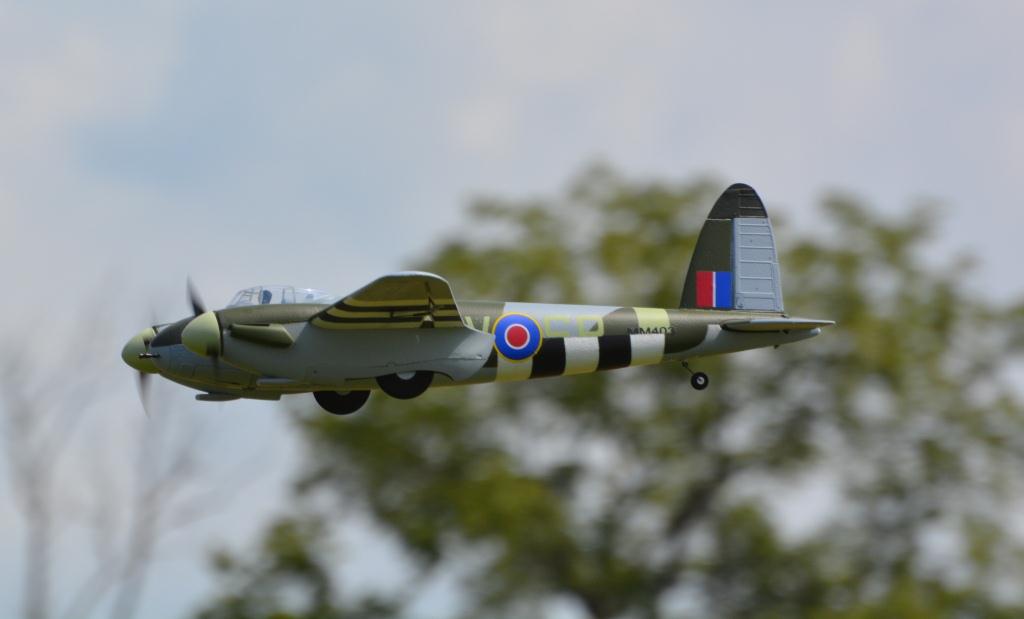 Steve Greer's E-Flite Mosquito. Very nice looking plane in the air.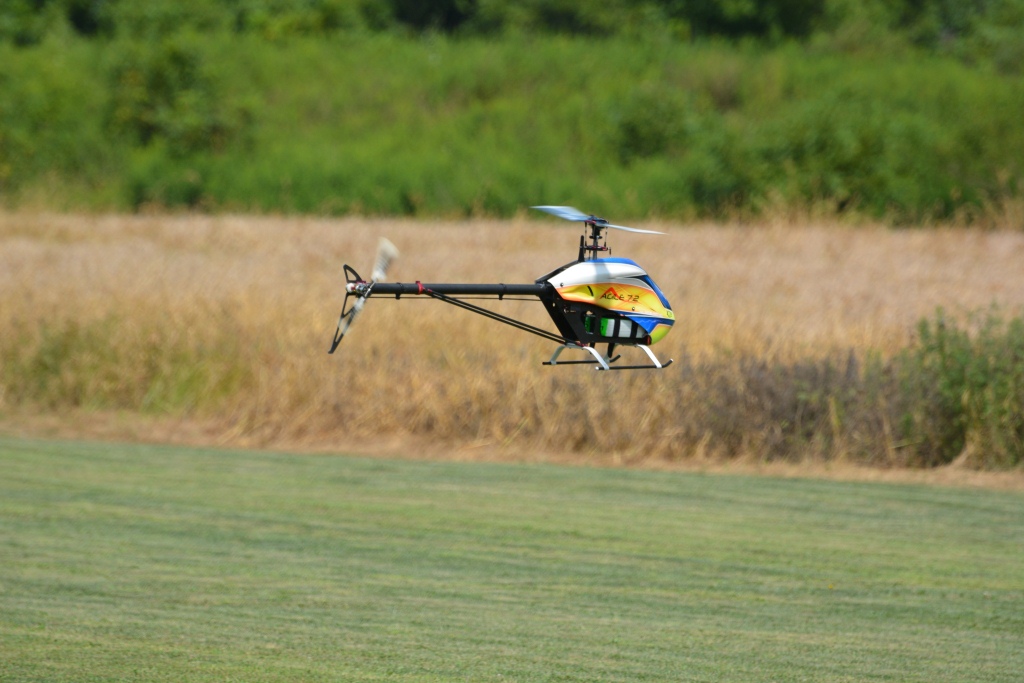 Justin Hartsock flying his 600 sized electric helicopter.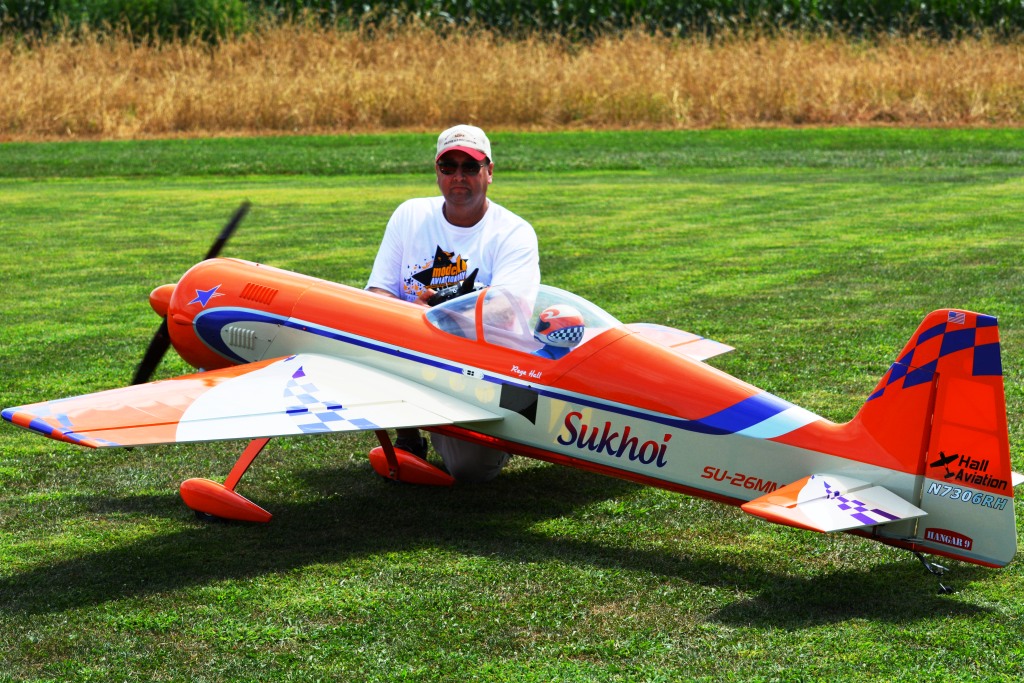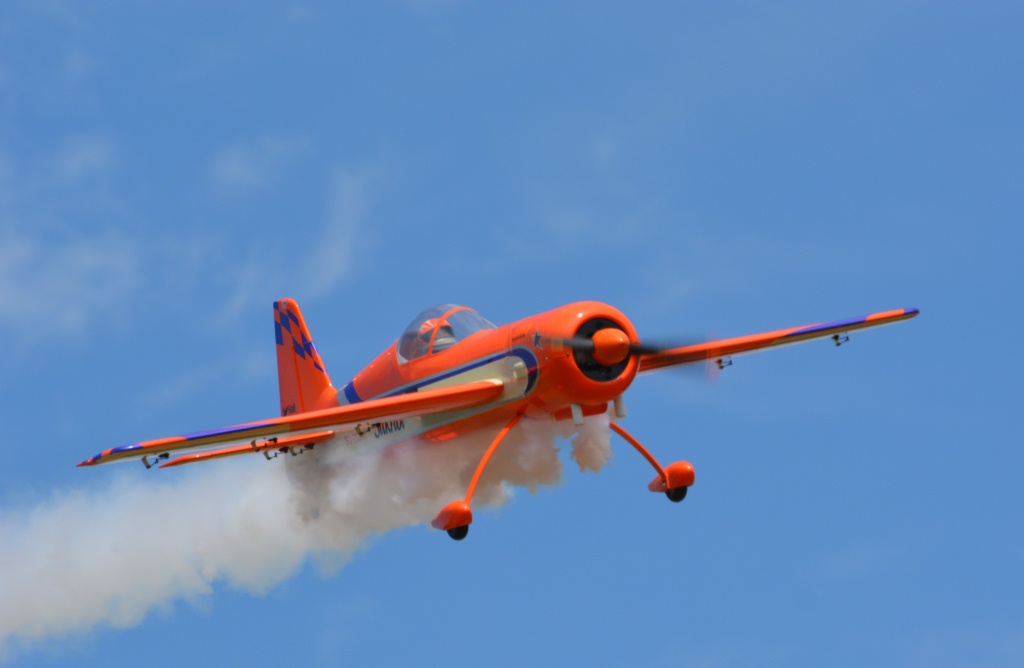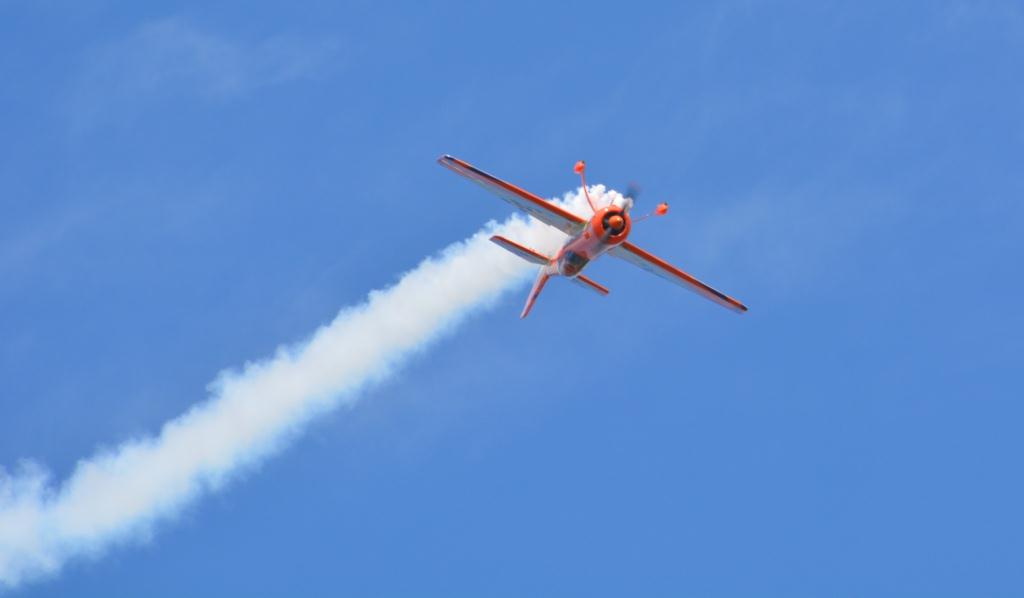 Rege Hall with his Hangar 9 Sukhoi SU26, powered by a DLE 170. Caught by Bryan Baumer starting an inverted pass and starting a left to right photo pass.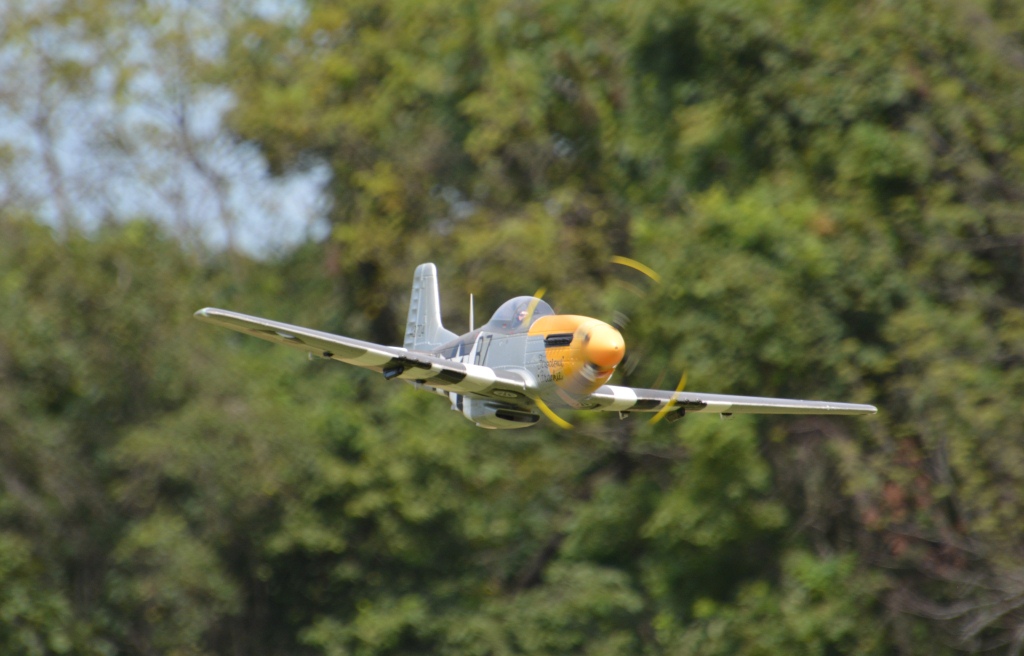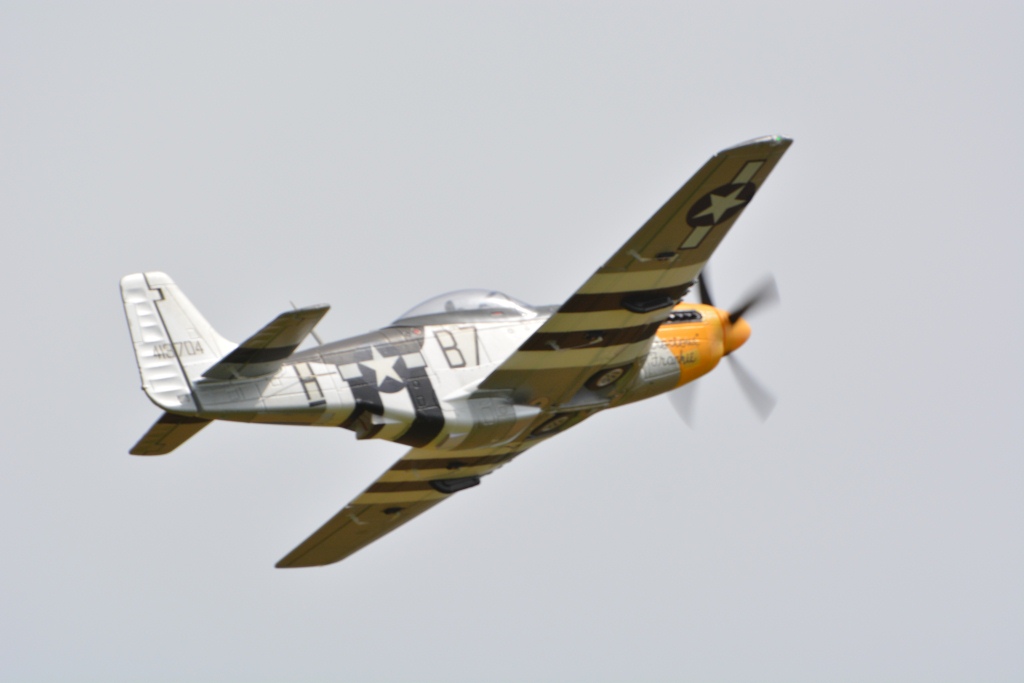 Mark Marshall's FMS 1700mm P-51 Mustang. Has very cool sounds, watch the start up on the You Tube video on the home page.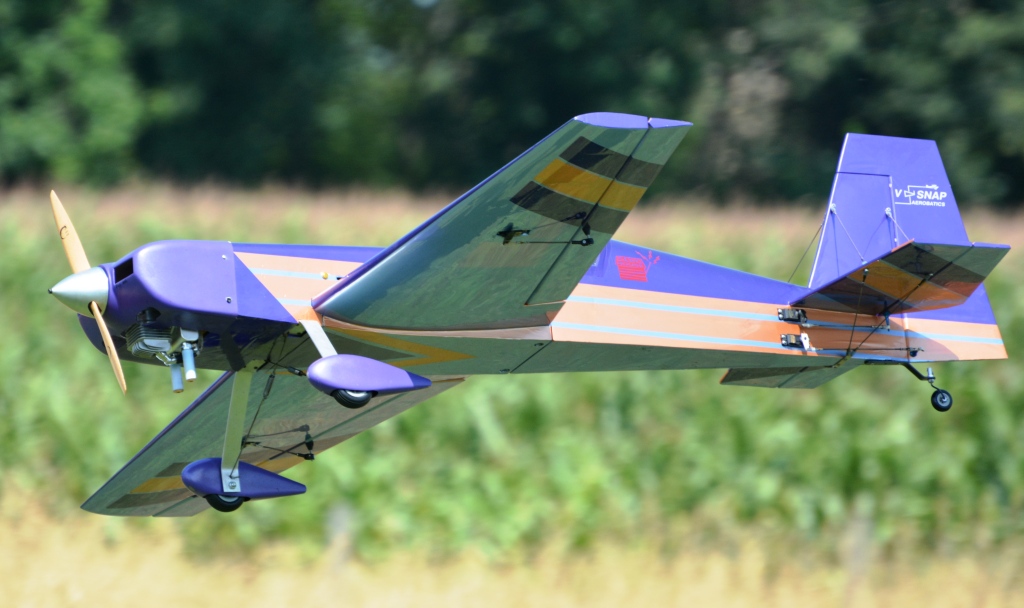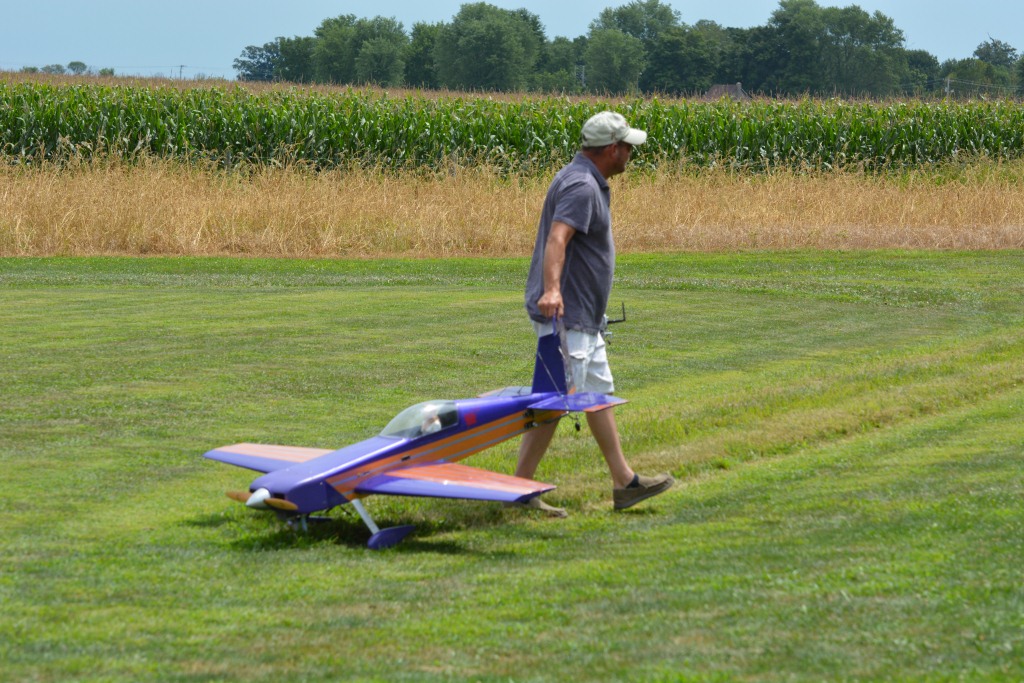 Scott Sorenson with his Staudacher after a good flight. Plane is now powered by a DLE 35RE, much improvement over the earlier Tarten Twin.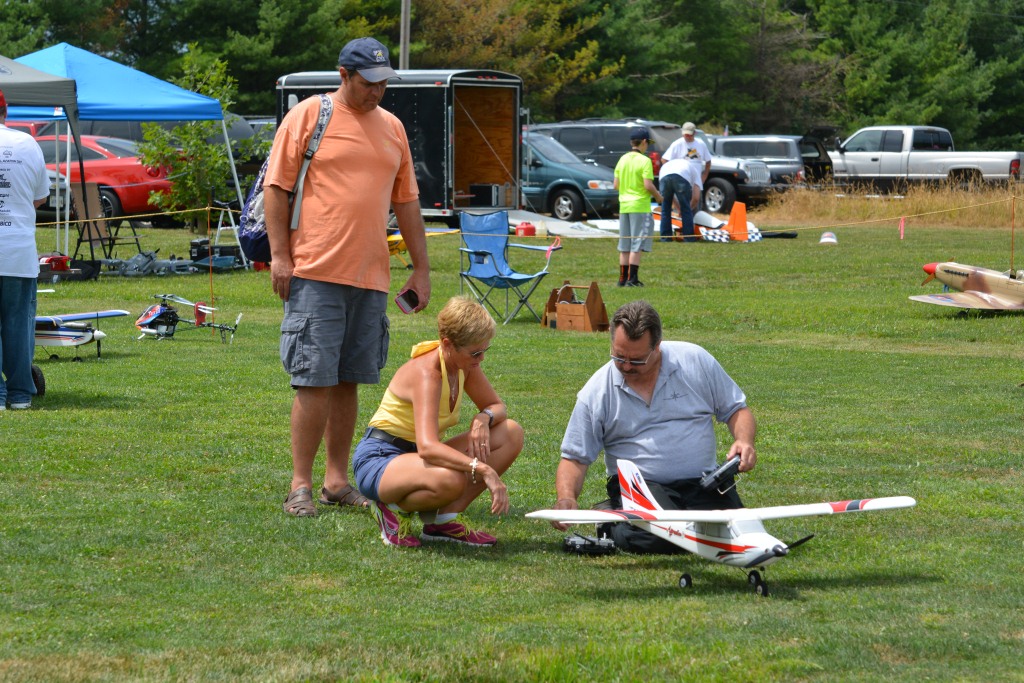 Warren Estep at it again!.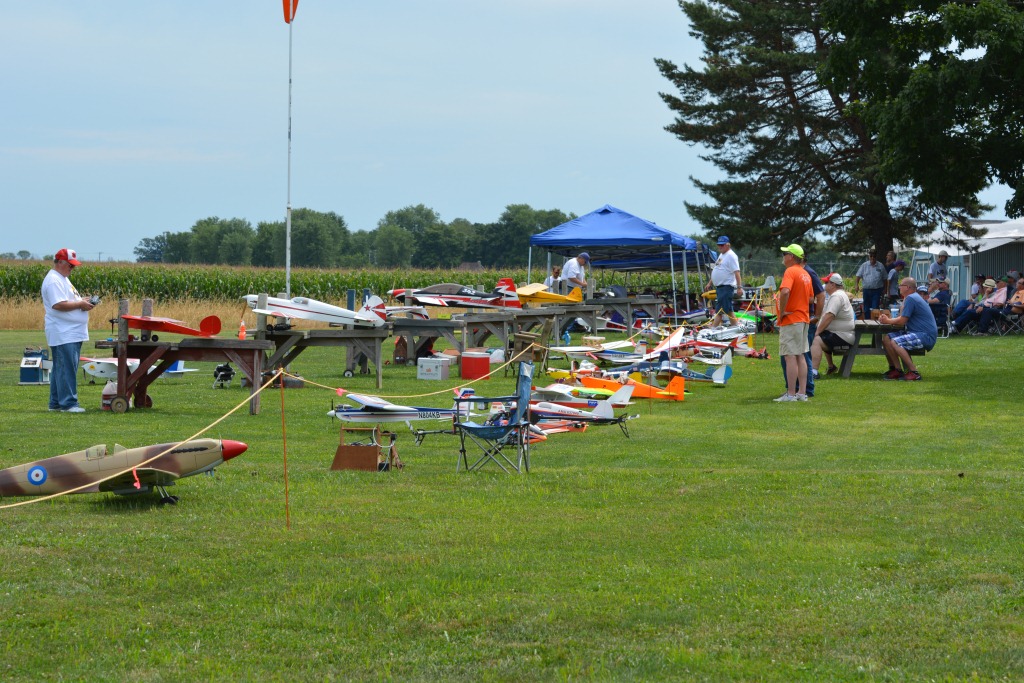 Shot of the flight line from the west end.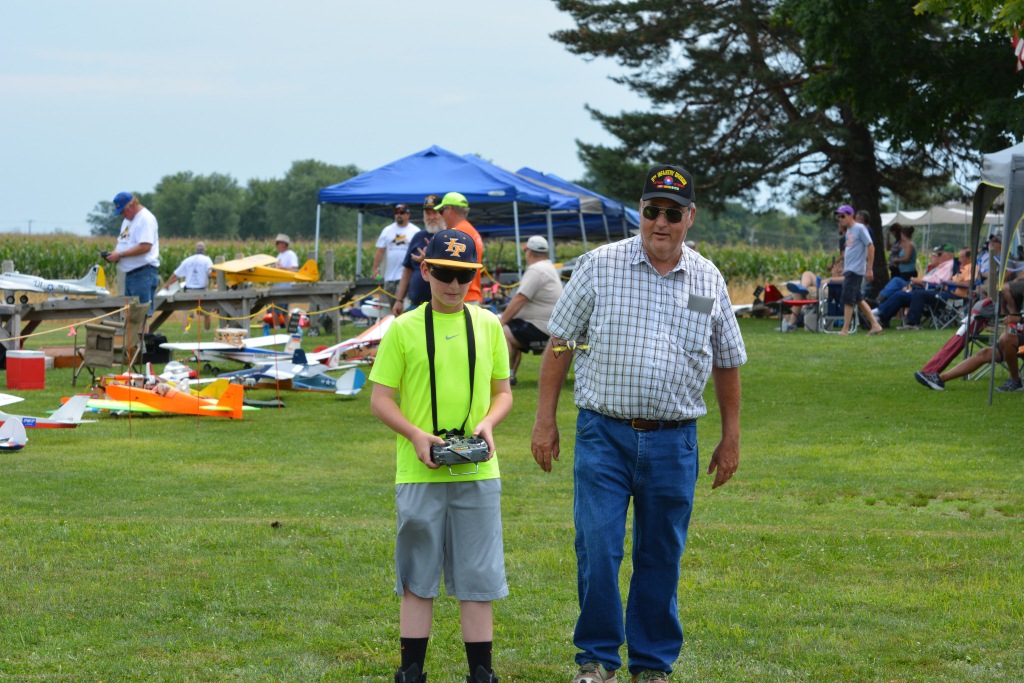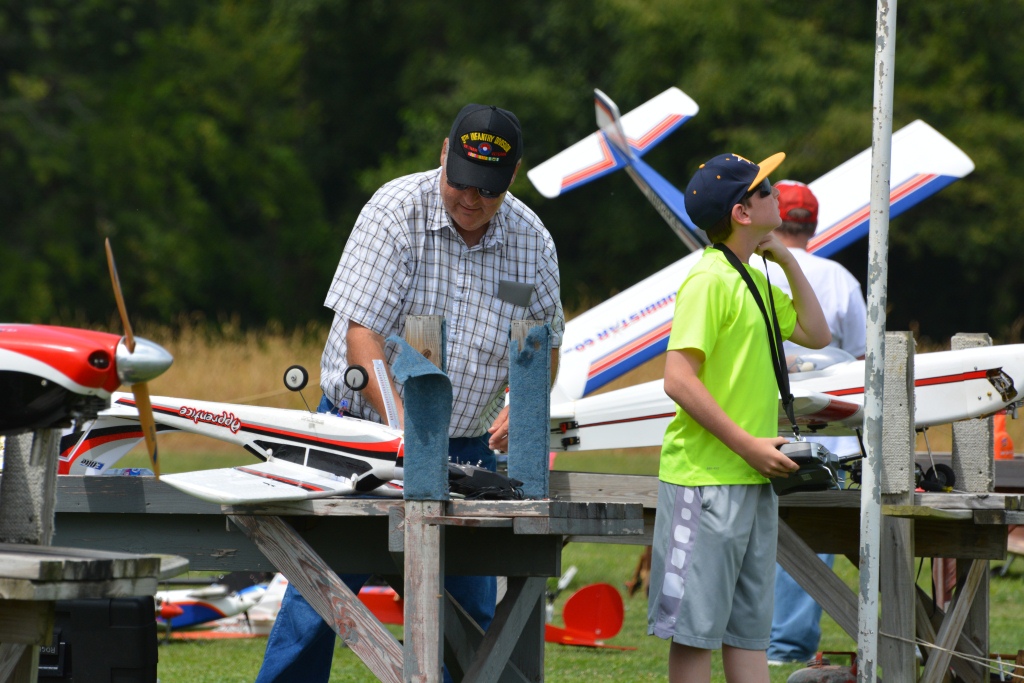 Roger Dohm watching as his grandson Nate flying a micro quad. Roger says he is going to get him hooked. He is also doing well flying the fixed wing Apprentiss.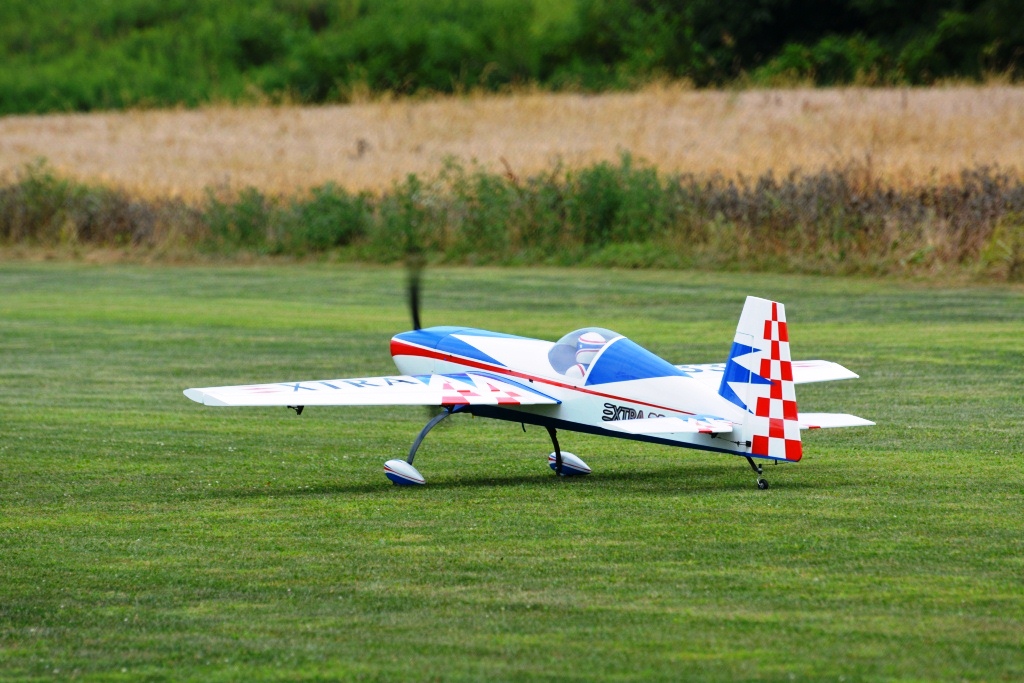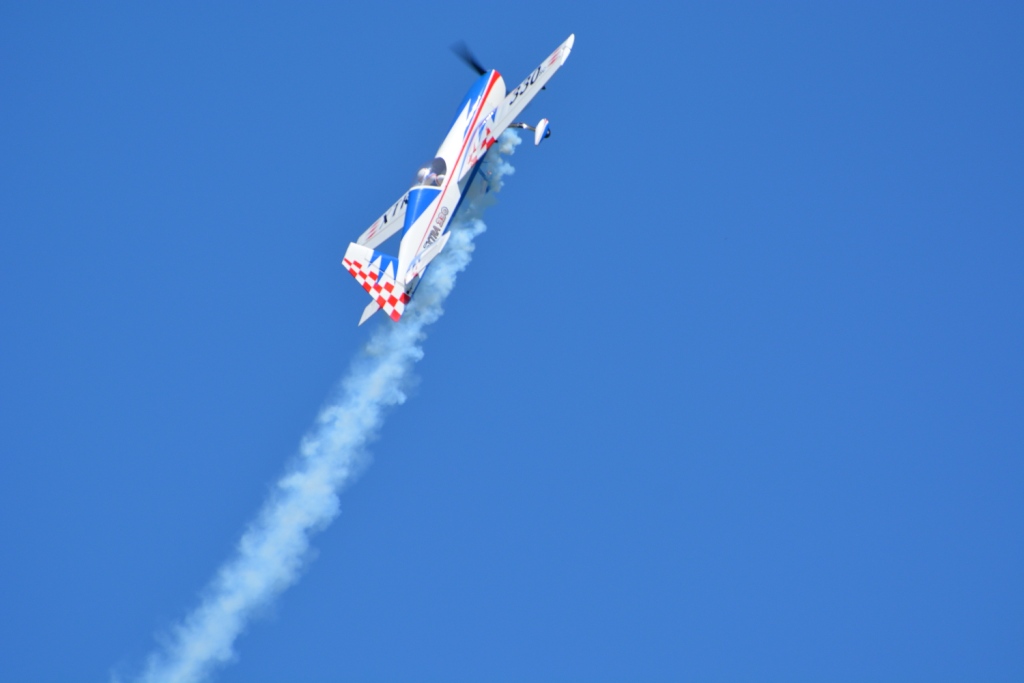 Tom Hatfield's 120 DEL powered OMP Extra 330SC rolling on take off and a nice shot with smoke on.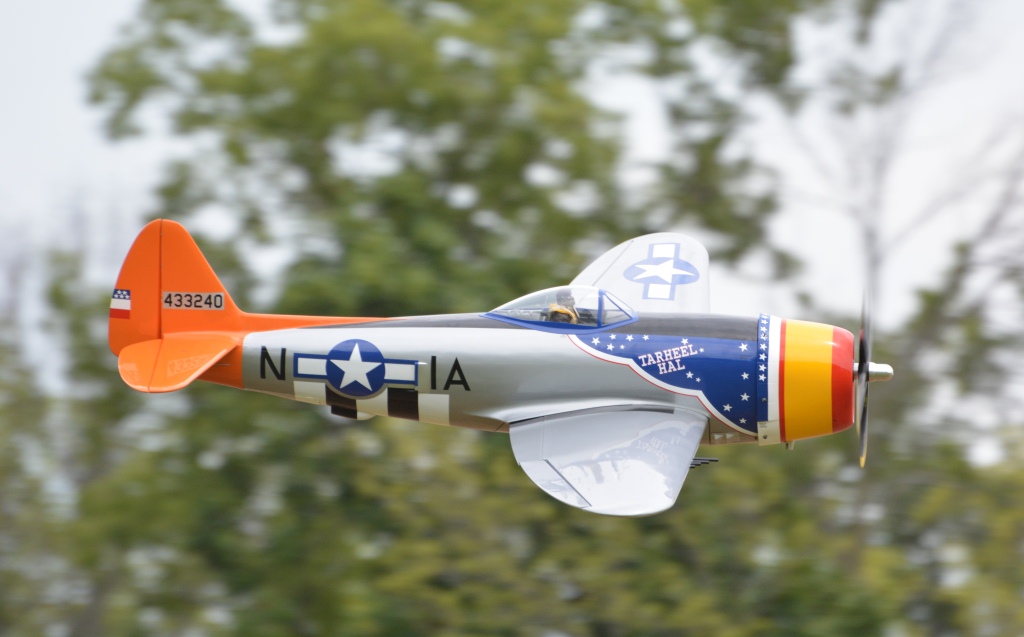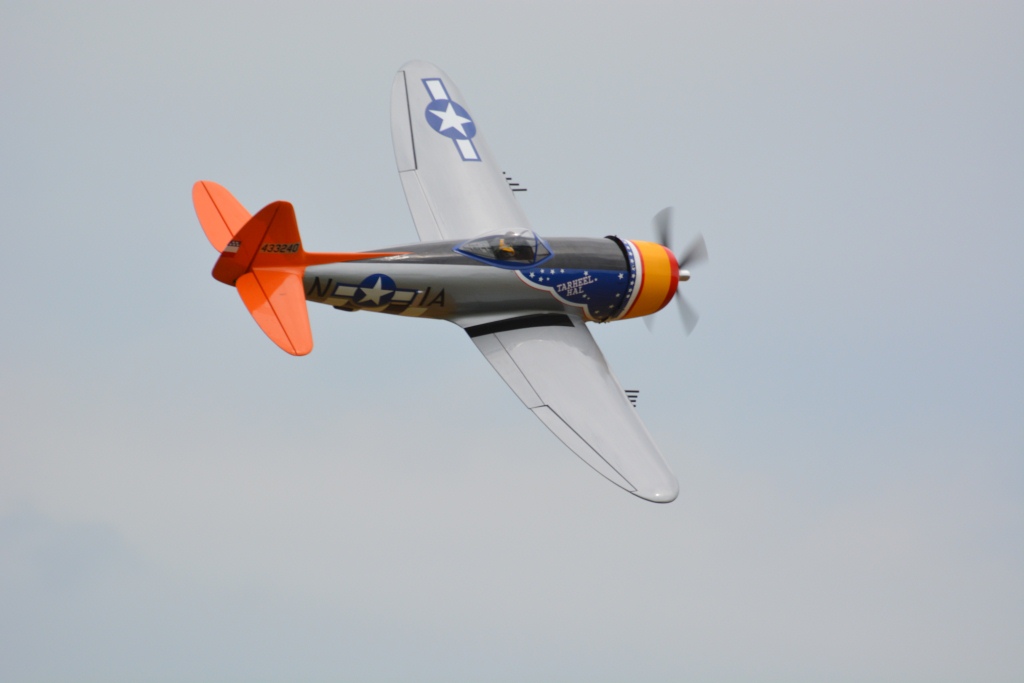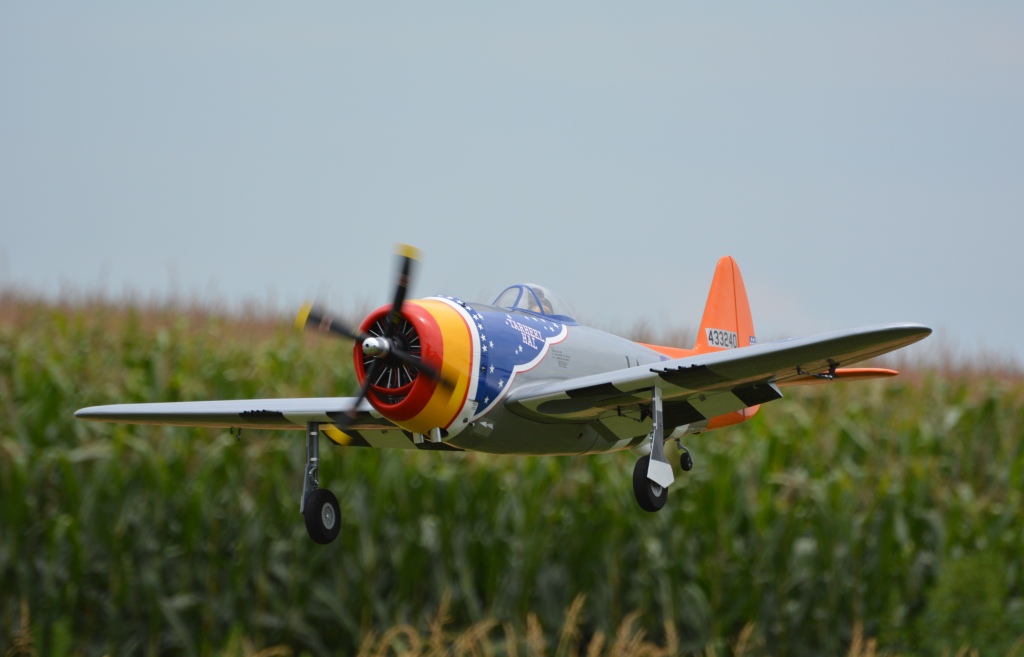 Kyle Bushman's Top Flite P-47 Thunderbolt in flight and on final. Kyle powers the plane with a DLE 55 turning a Beila 4 blade prop, very nice.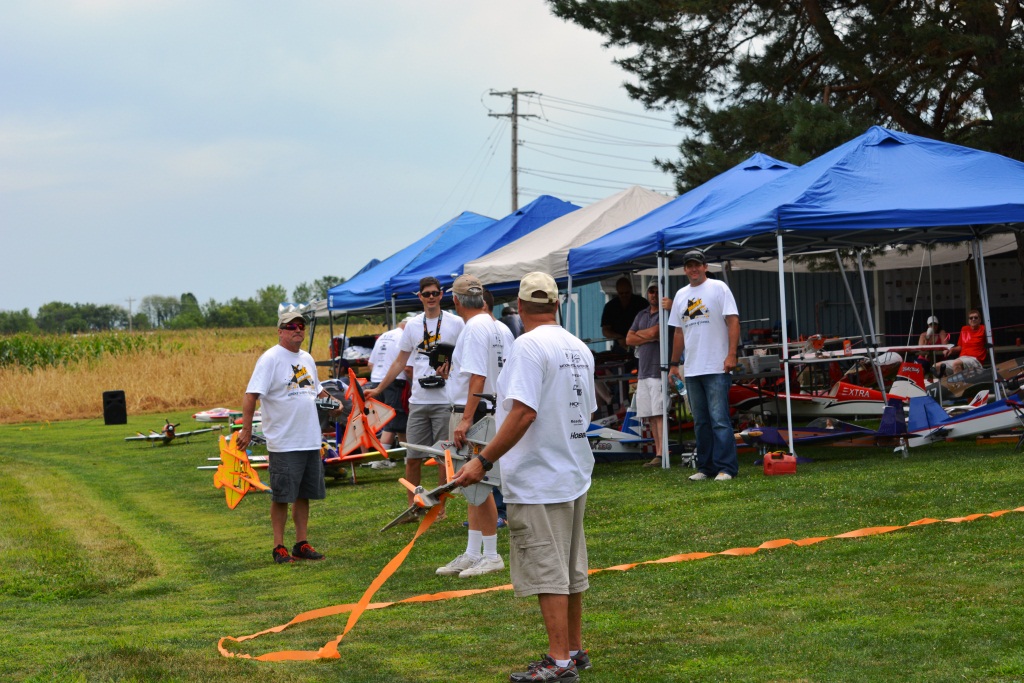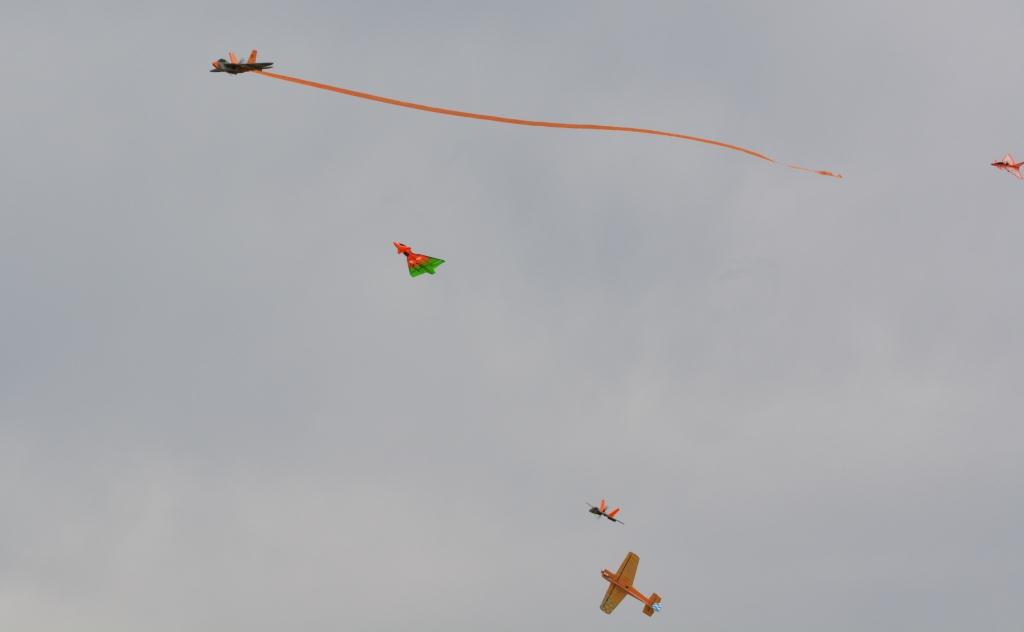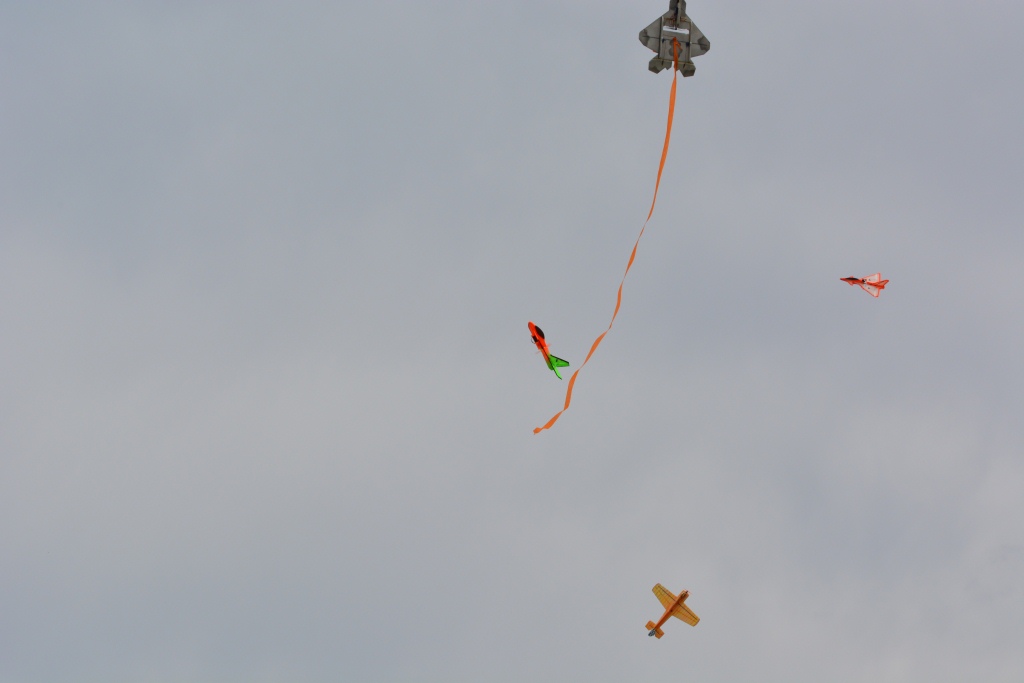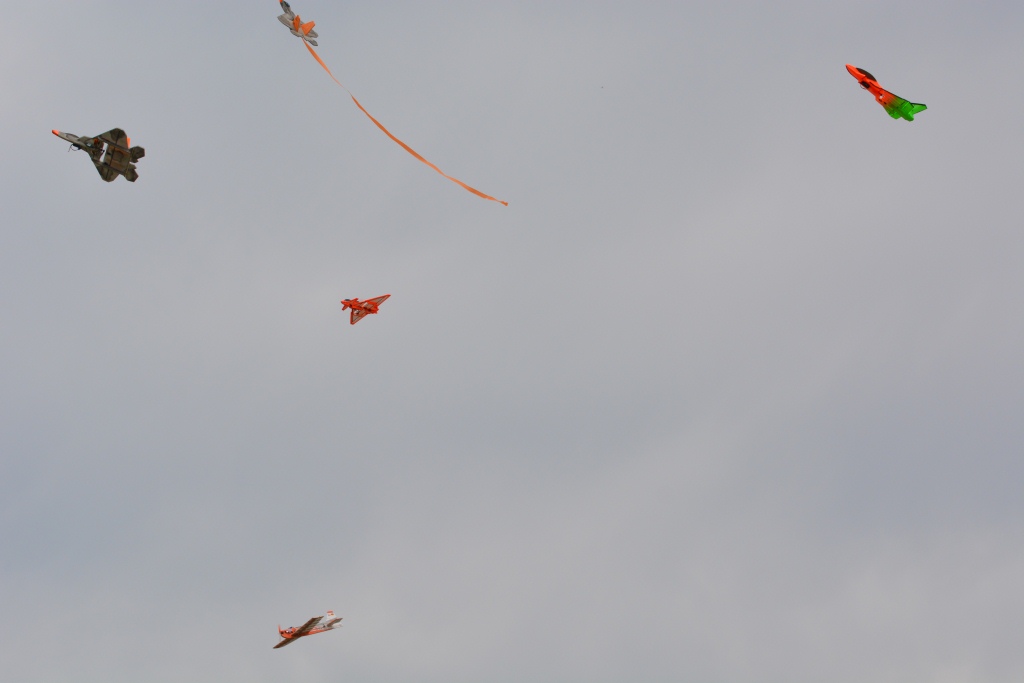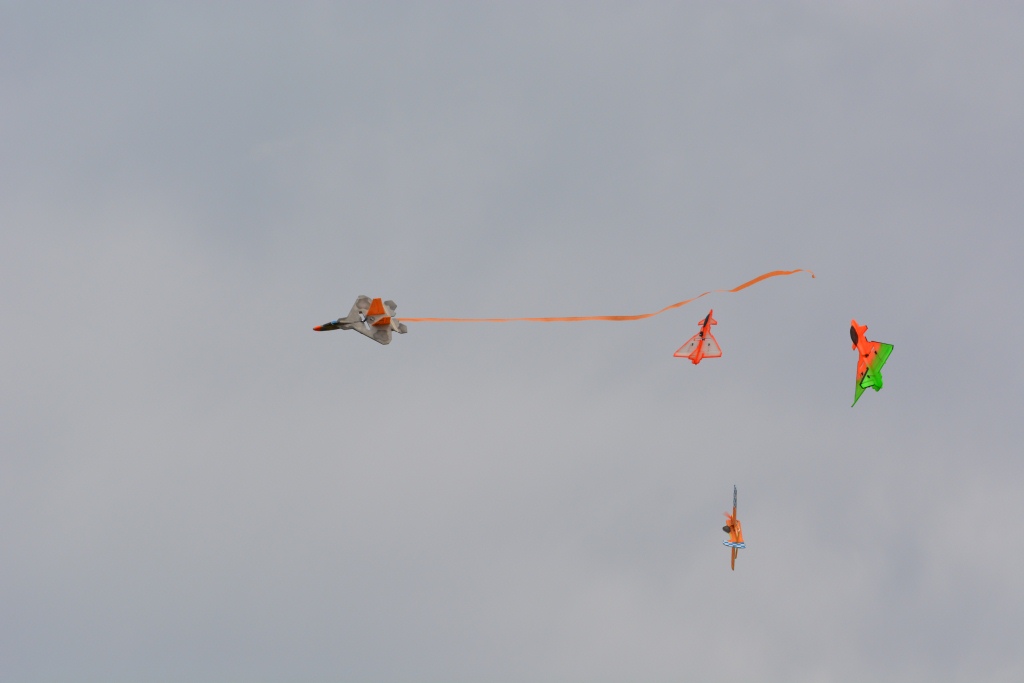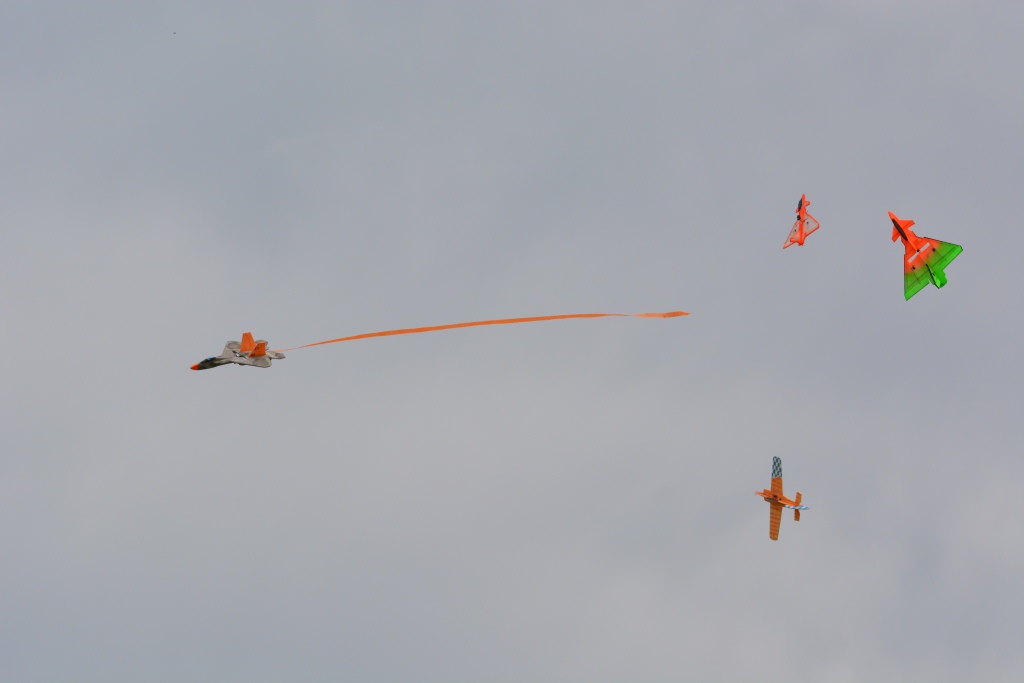 Rege Hall getting ready to launch his old slow F-22 foamie for a ribbon chase. Those chasers include: Dillon McBee, bright orange and green Eurofighter - Brian Baumer, Yak 55 - Brian Aimer, orange and white Eurofighter - Tom Hatfield, F-22 - John Louden F-22 - Ralph McBee, F-22. Brian Aimer was the first to cut the ribbon. Many close calls. Photos shot by Dave (I forgot my foamie Raven) Miller.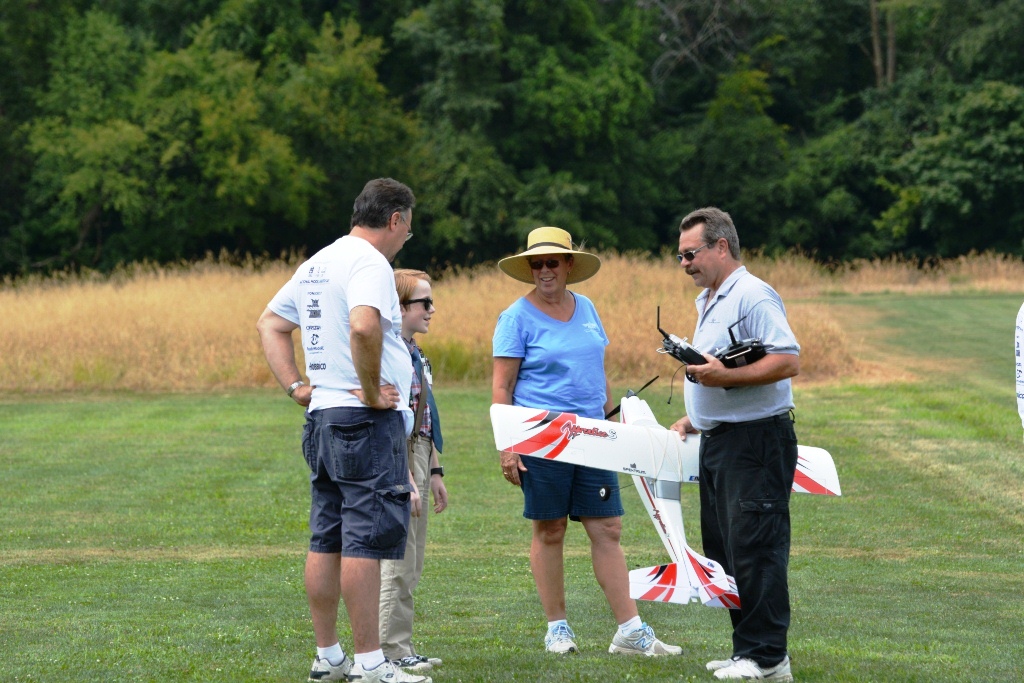 And here is Warren again doing trainer duties, this time he is working with Jack Shelton, one of our younger members. Nathan Hays and Sara Jean Rees looking on.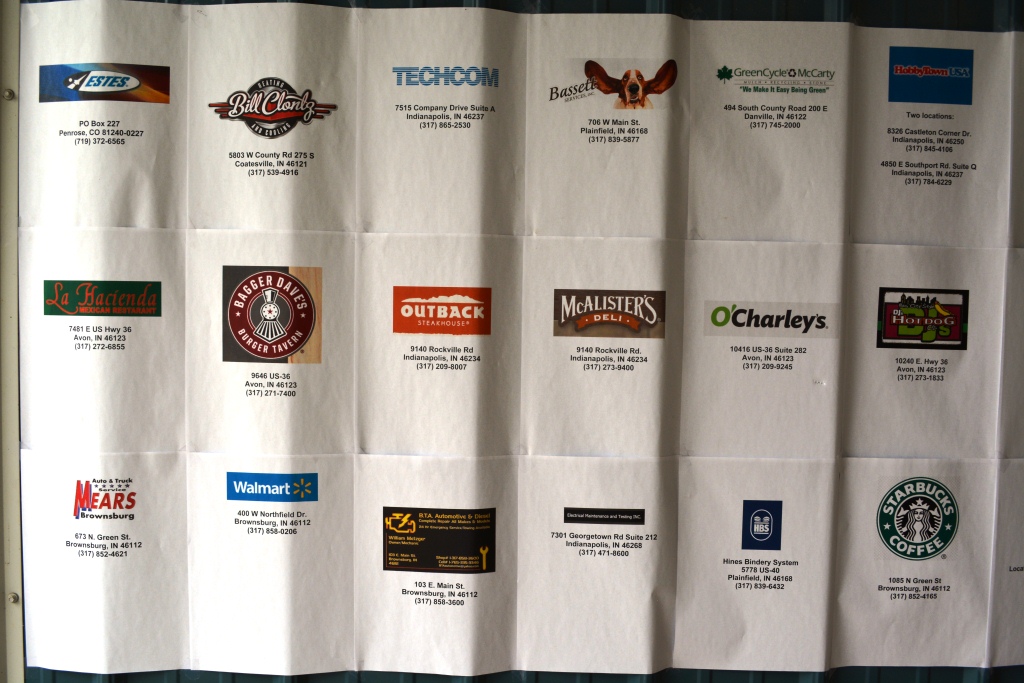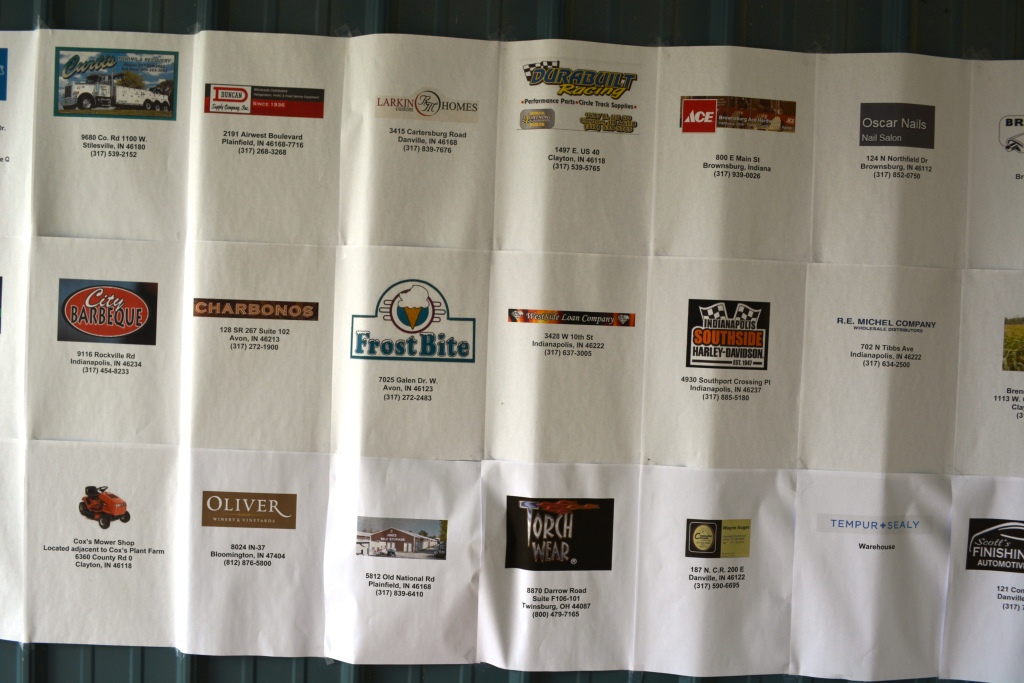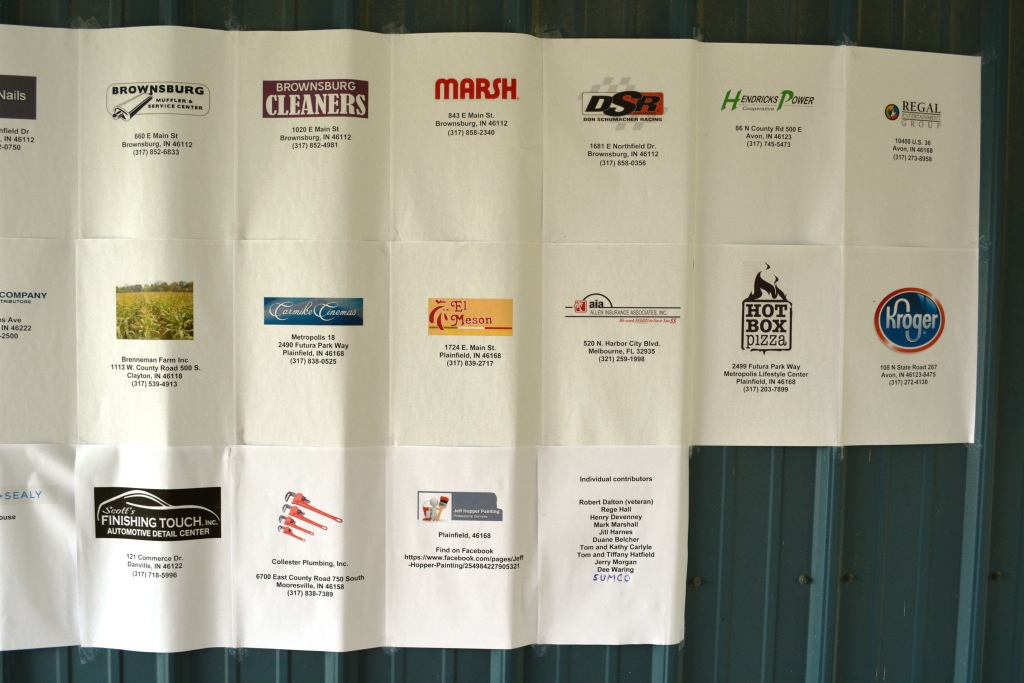 Our wall of 2015 sponsors and supporters, be sure to support these businesses as they have been generous and kind enough to support us and Wounded Warrior Project.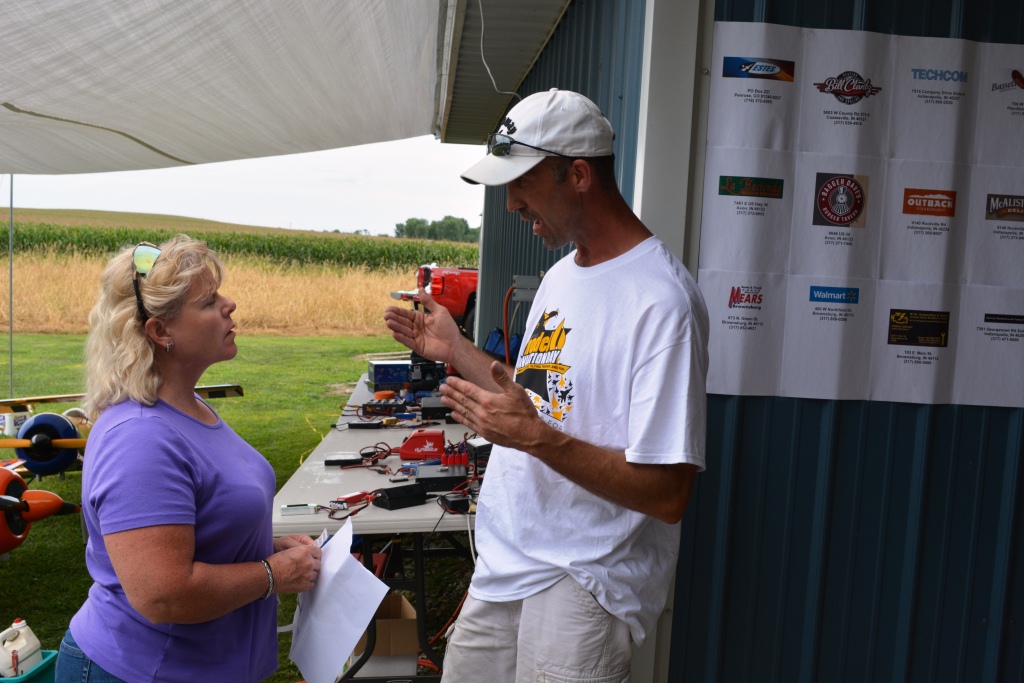 Mark Marshall explain to a lucky winner of a Tempur Sealy mattress and foundation how to claim her prize.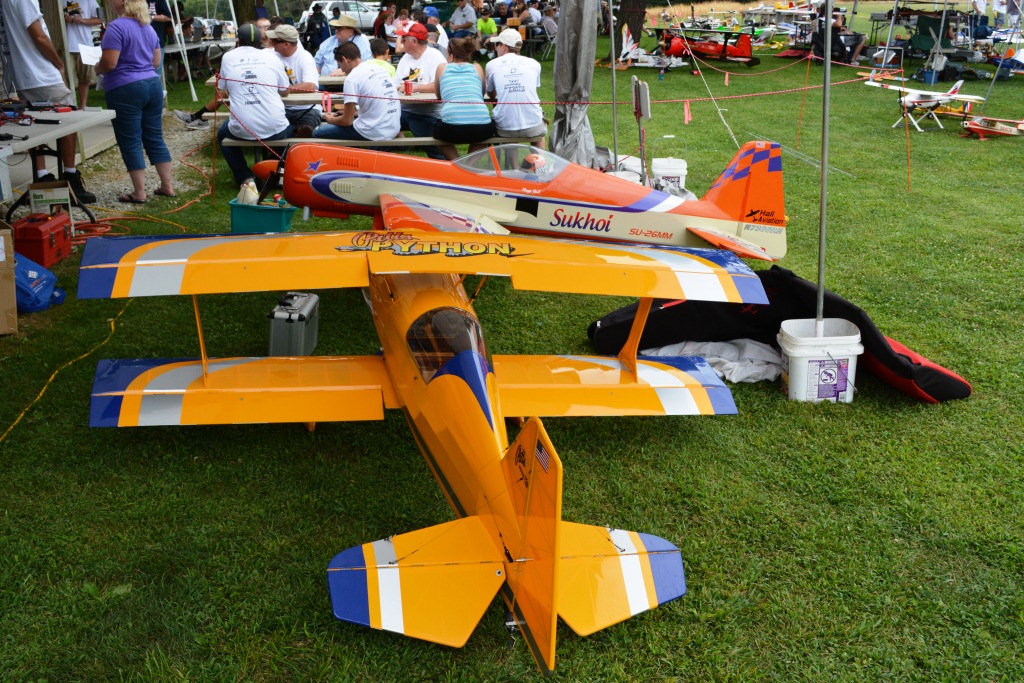 Rege Hall's Pitts Python and Sukhoi SU26.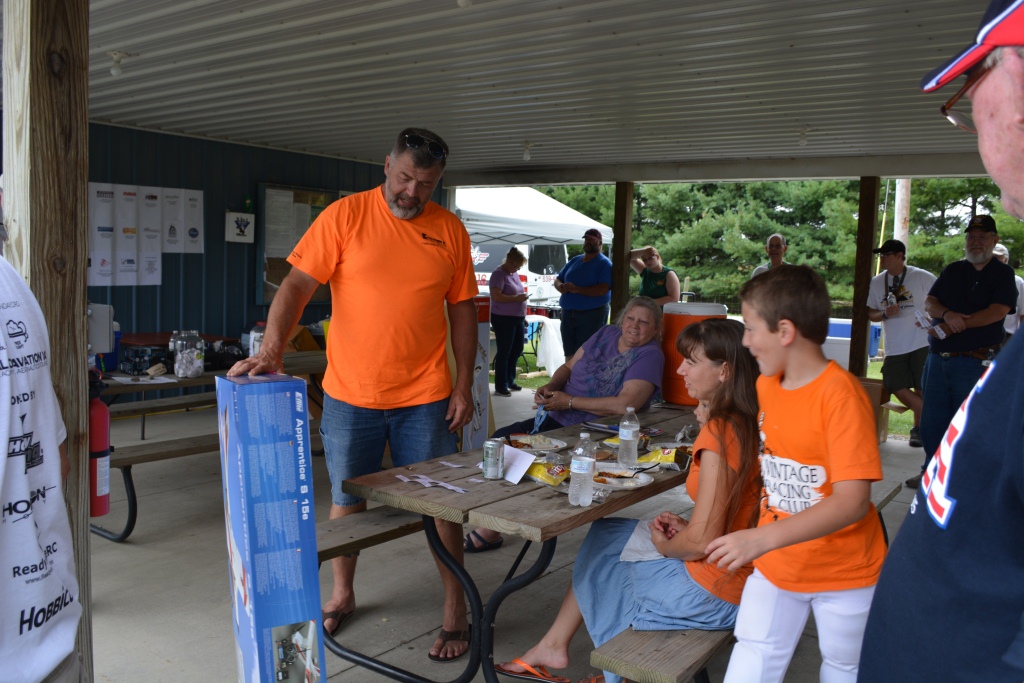 The winners of the E-Flite Apprentiss 15E ready to fly trainer. Notice the look on the young mans face. He was able to get a flight with Warren Estep and was thrilled to win this plane.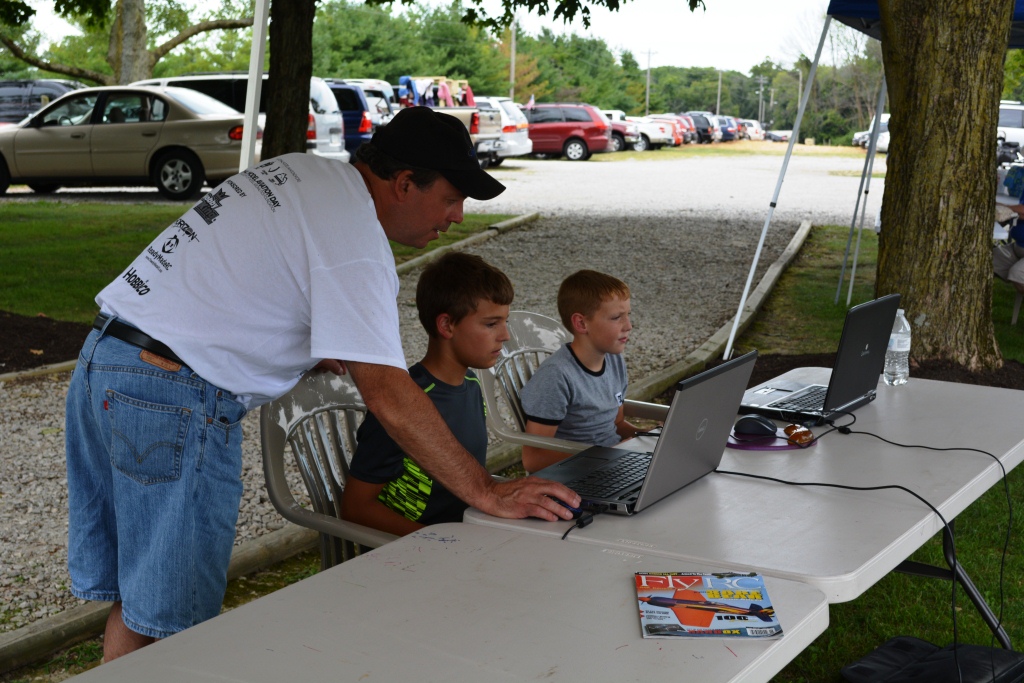 Bryan Paris helping a couple young future rc pilots on the flight simulators. The flight sims were busy all day.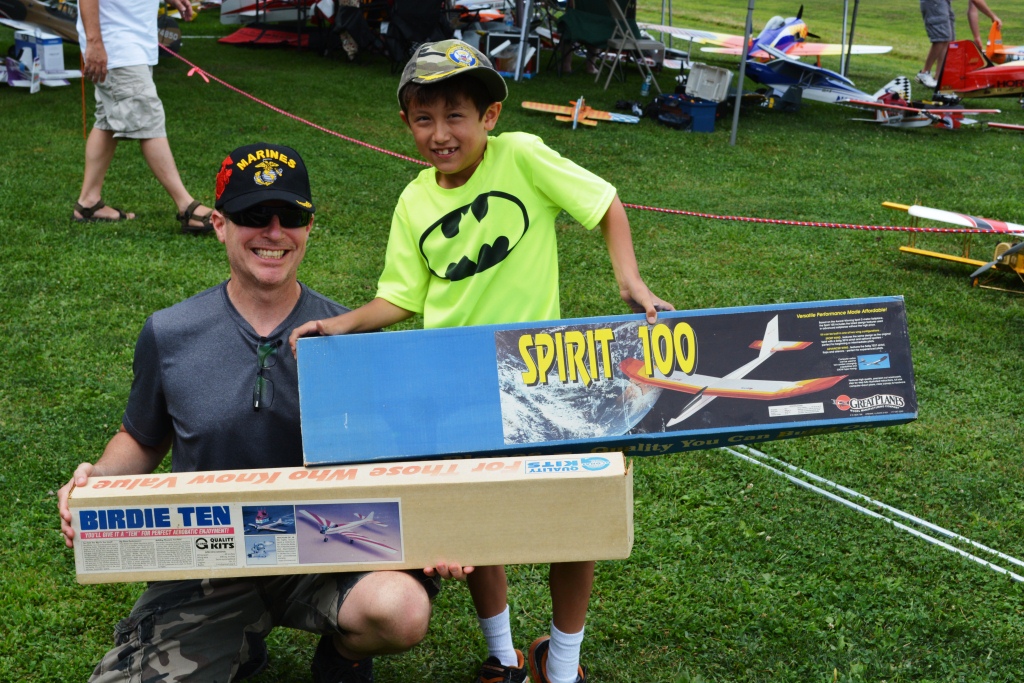 This young man was about the happiest little guy of the event. Him and his dad were lucky raffle winners of two kits.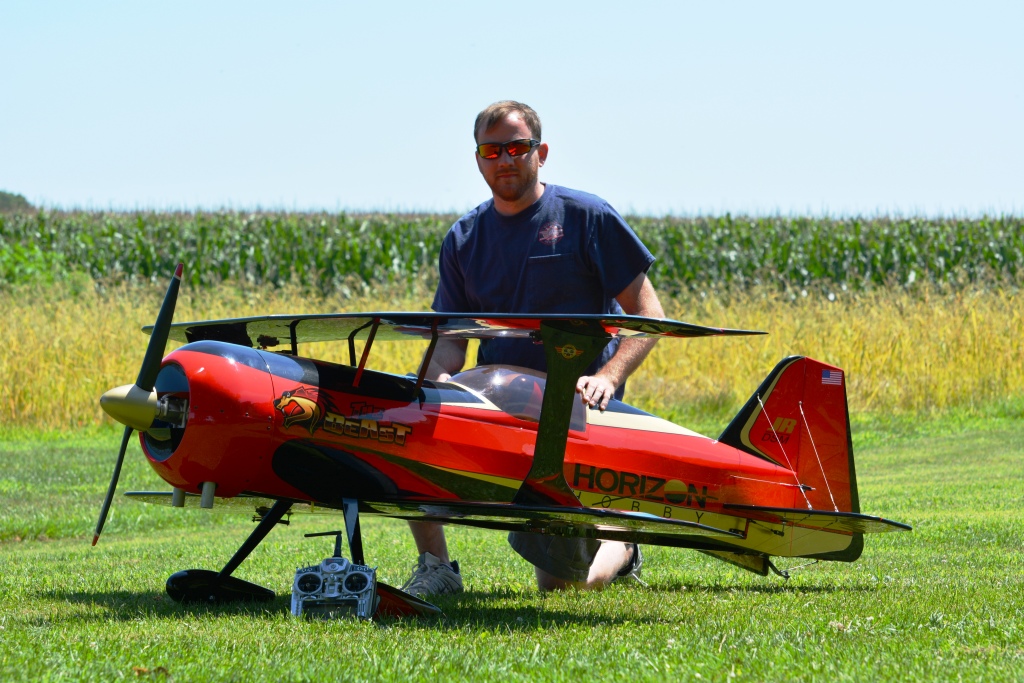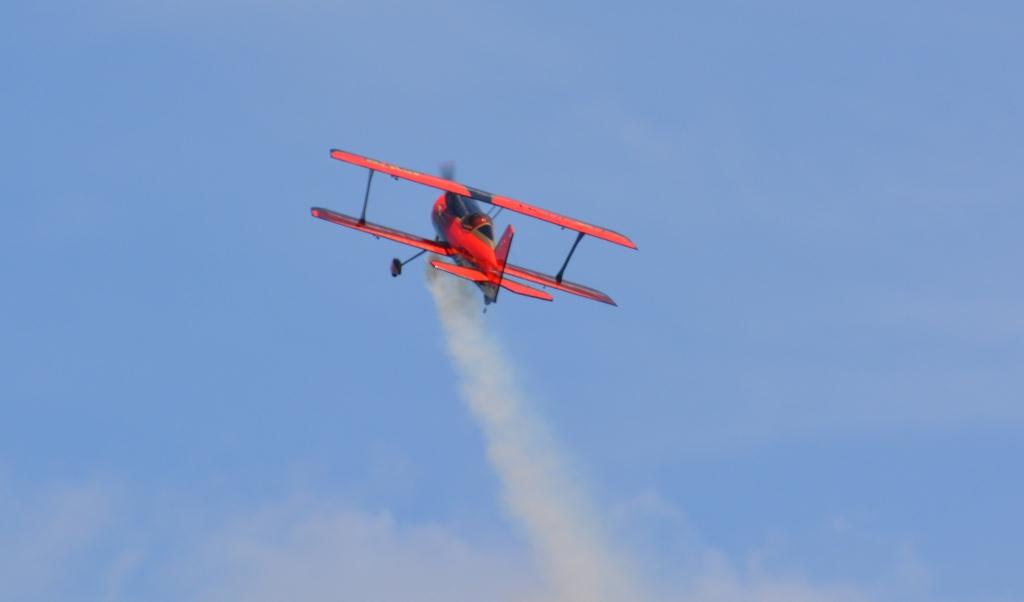 Kyle and Steve Bushman starting Kyle's 3W 106 powered Hangar 9 Beast. The Beast is a scale model of a full scale Pitts Model 12S that was flown by Brian Jensen.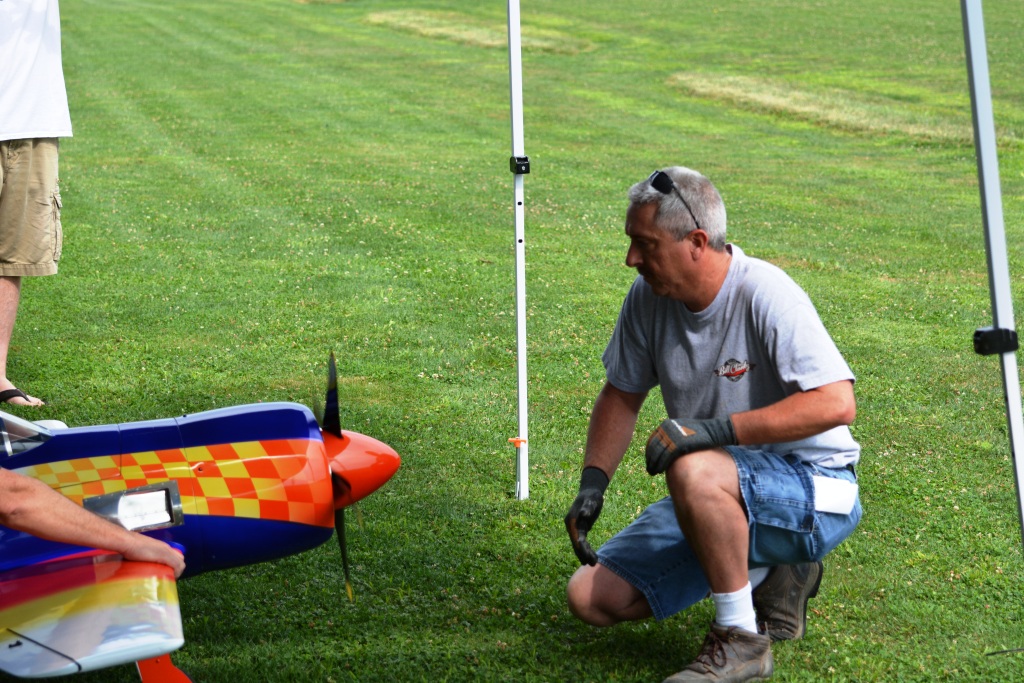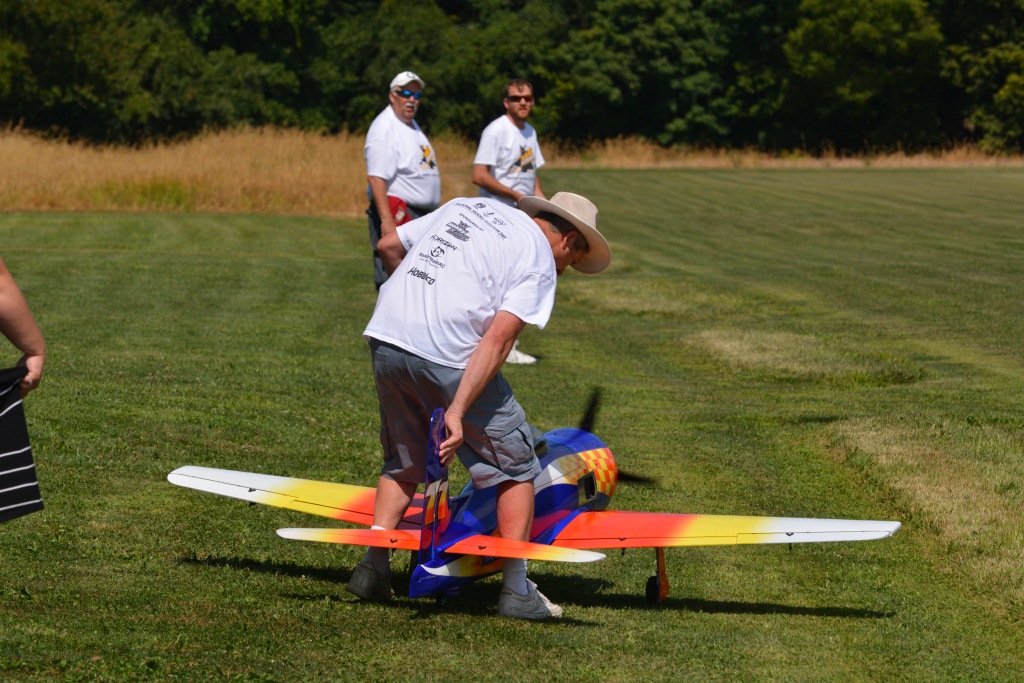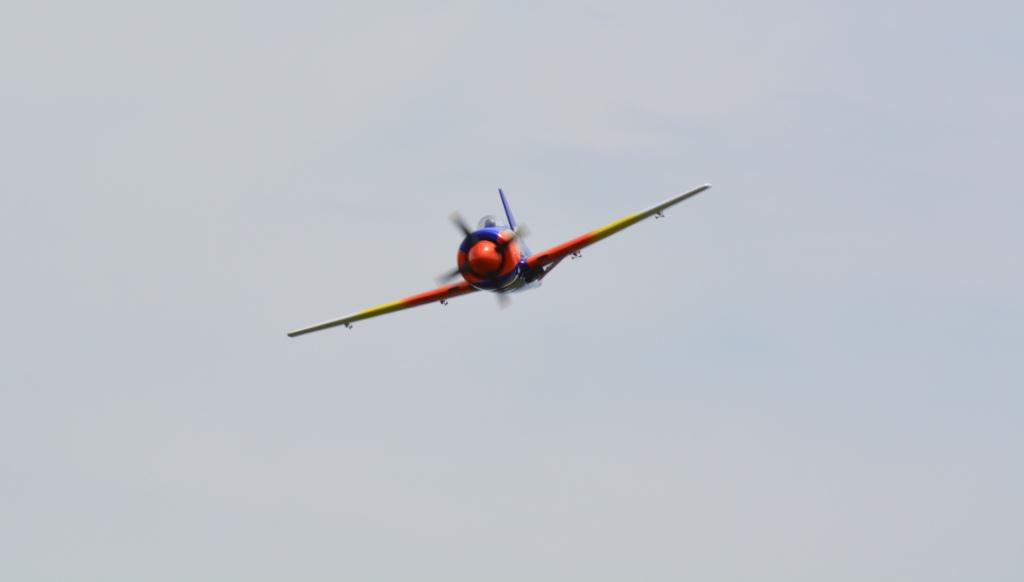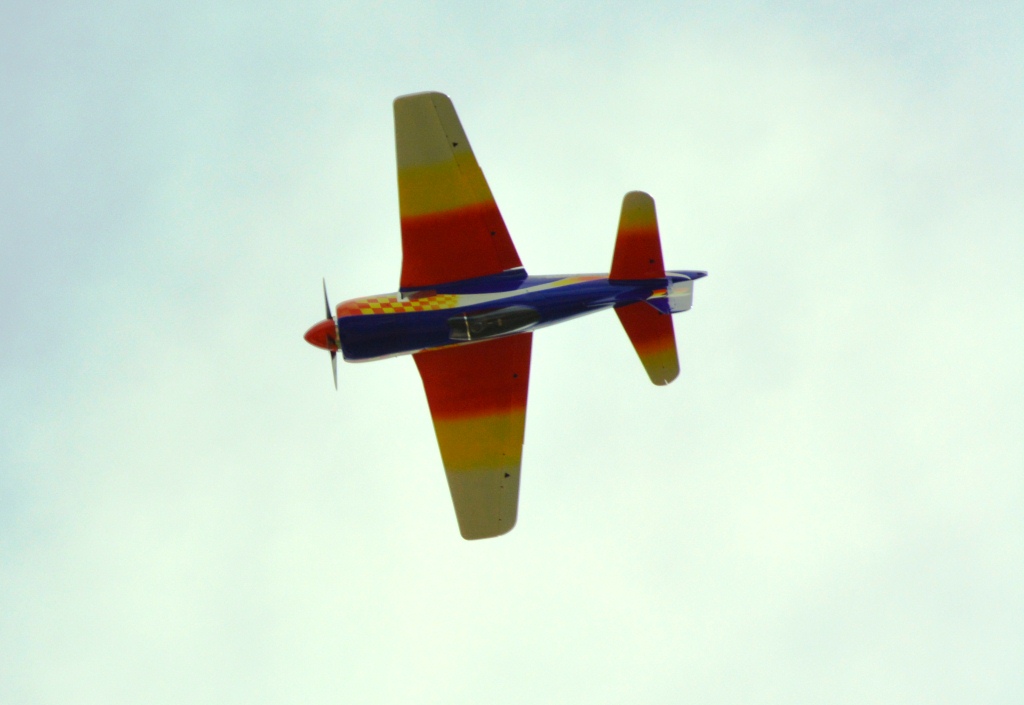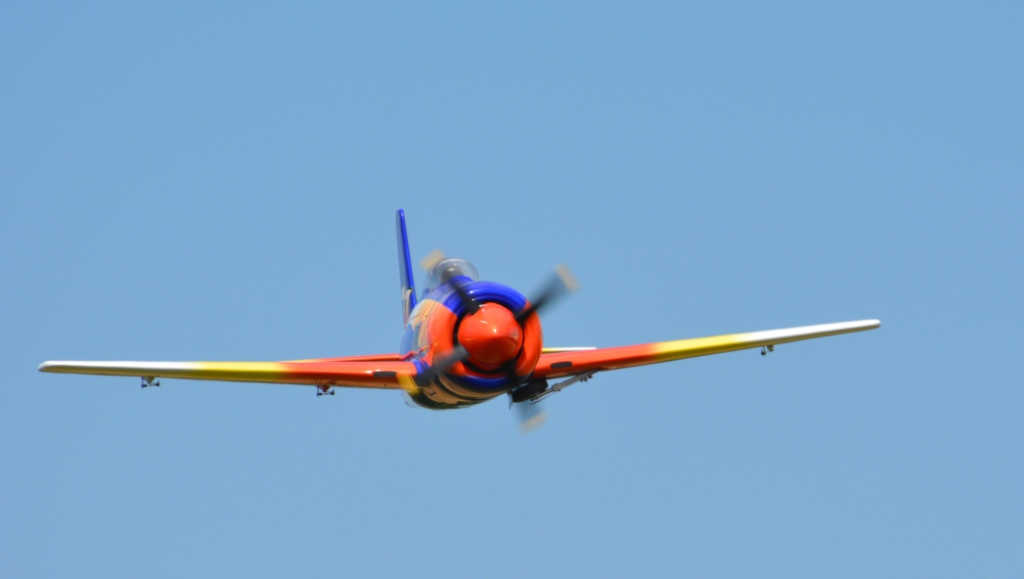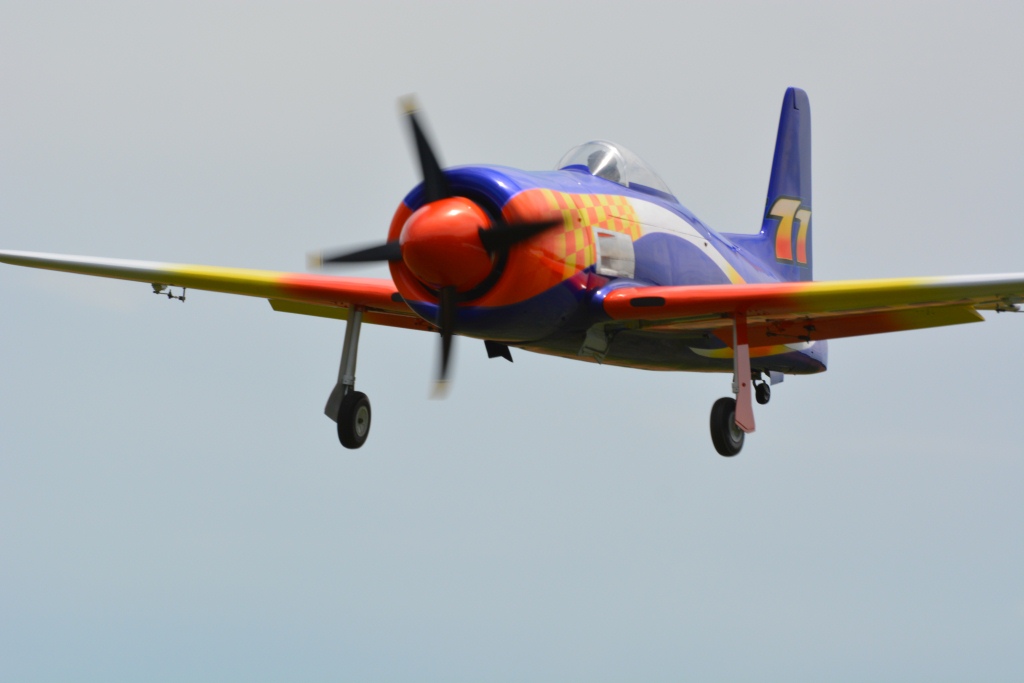 Wild Bill Clontz's beautiful 96" wing span Rare Bear. Powered by a DA 120 with a 4 bladed prop. Bill did an unbelievable paint job, made scale exhausts and handmade canopy and cowling.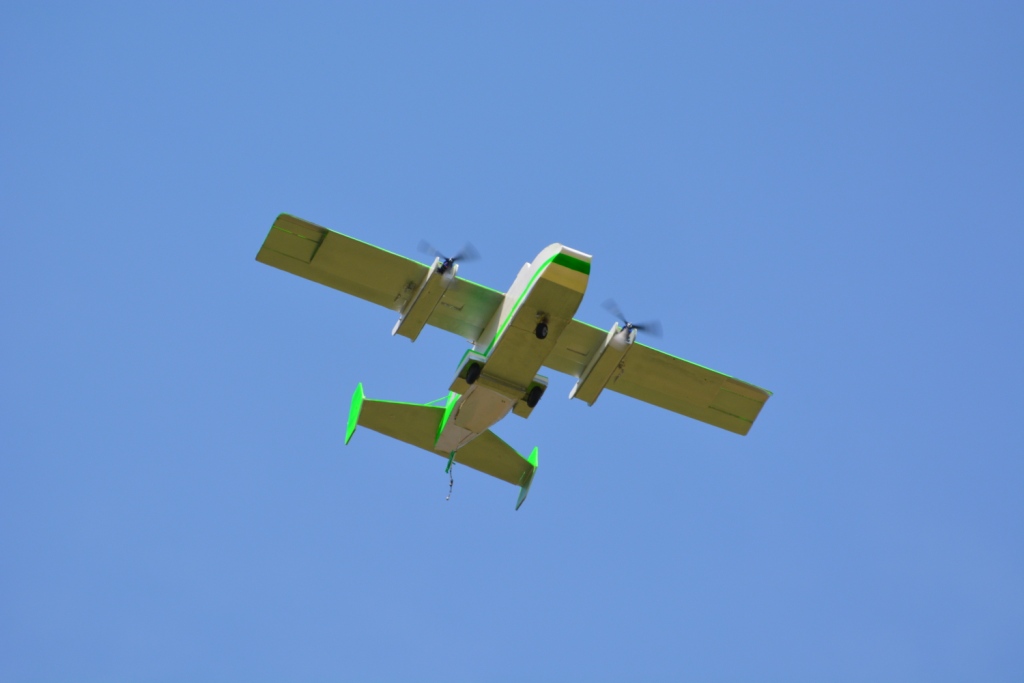 Joe Miller's Shorts Skyvan full of parachuters.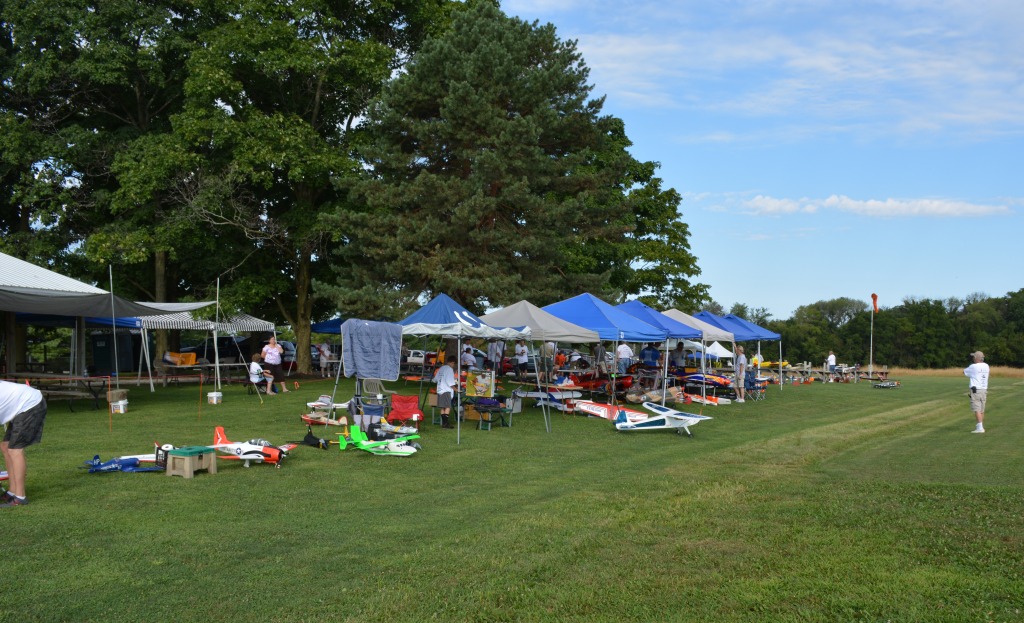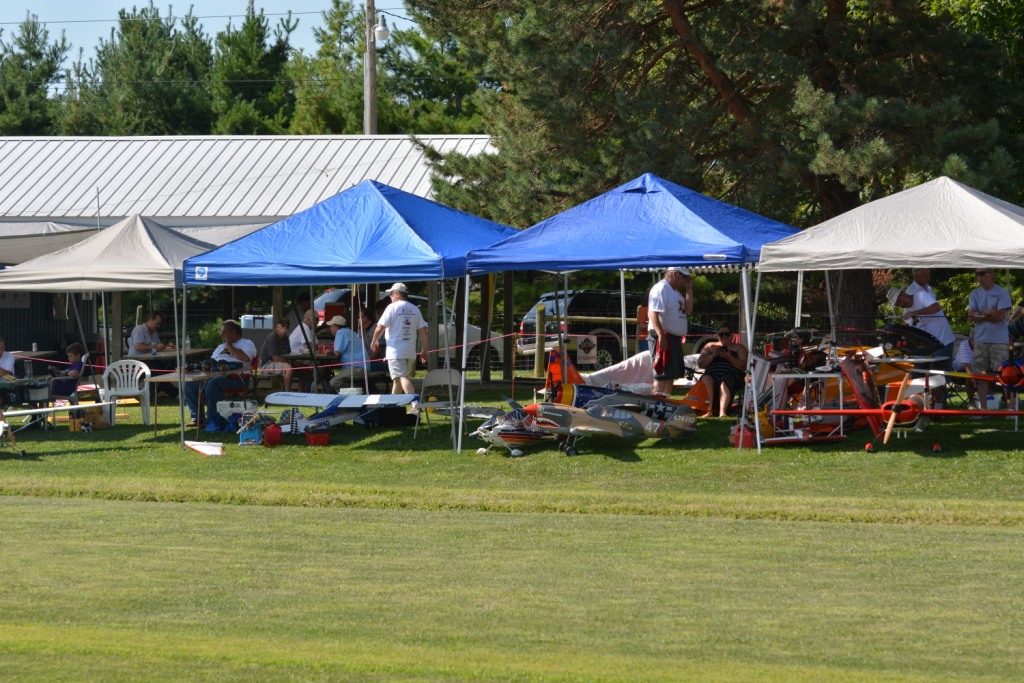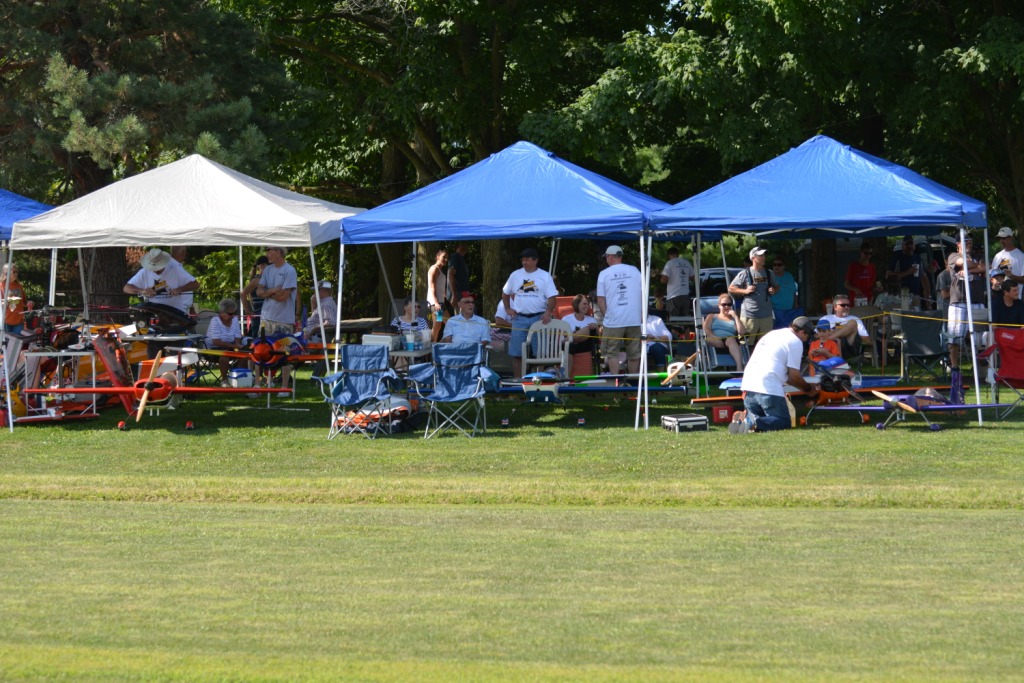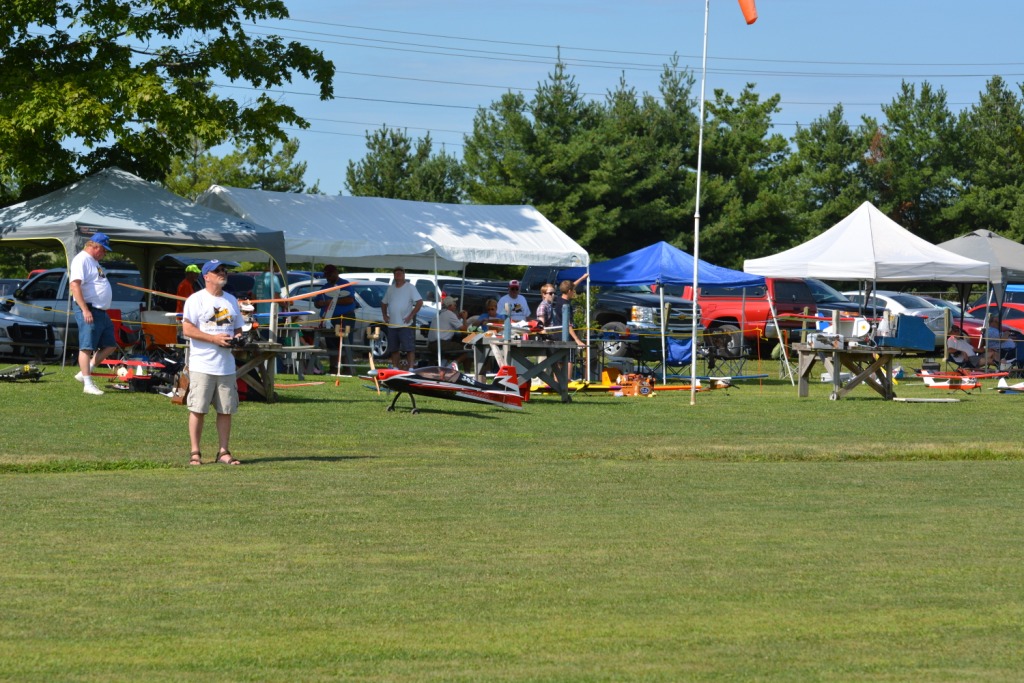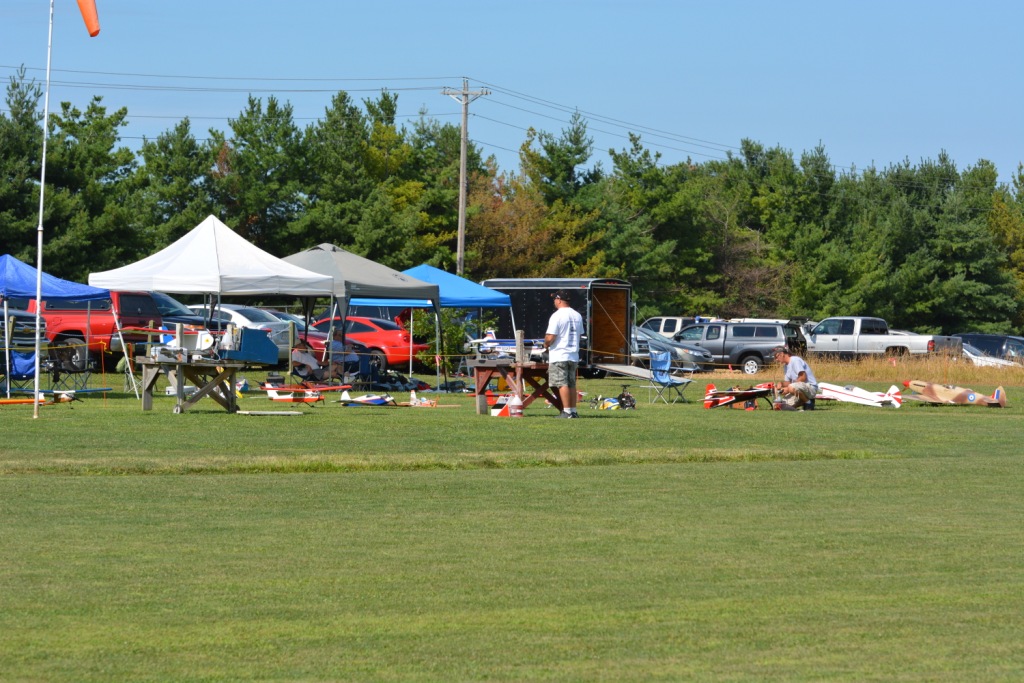 John Louden starting the day off with announcements and introduction of the presentation of the colors and national anthem. Shots of the pit area shortly before 10 am. Ray Courtney prepping his DlE 111 powered Extra 300 in one photo. John Killinger prepping his 30cc SBach in another.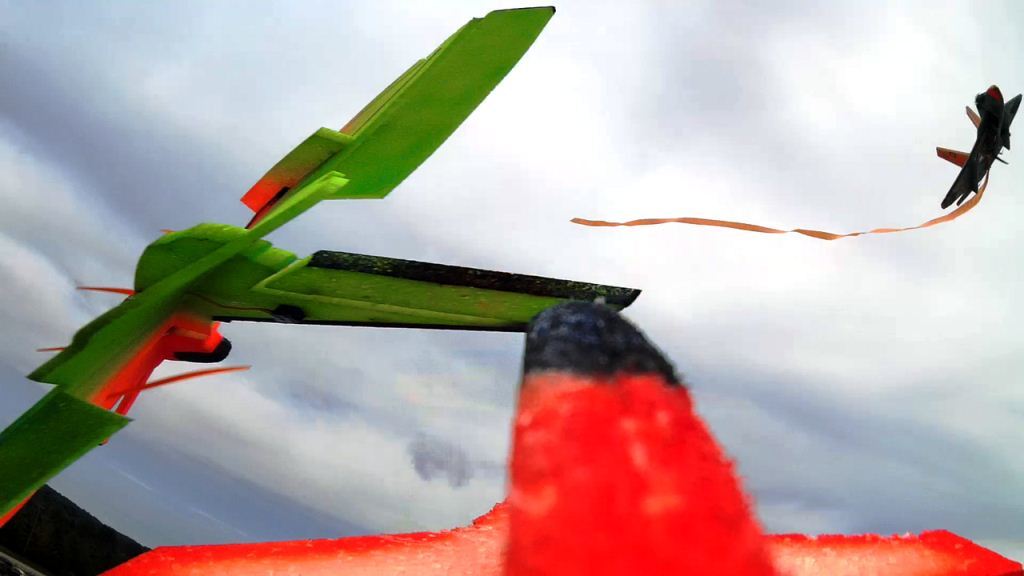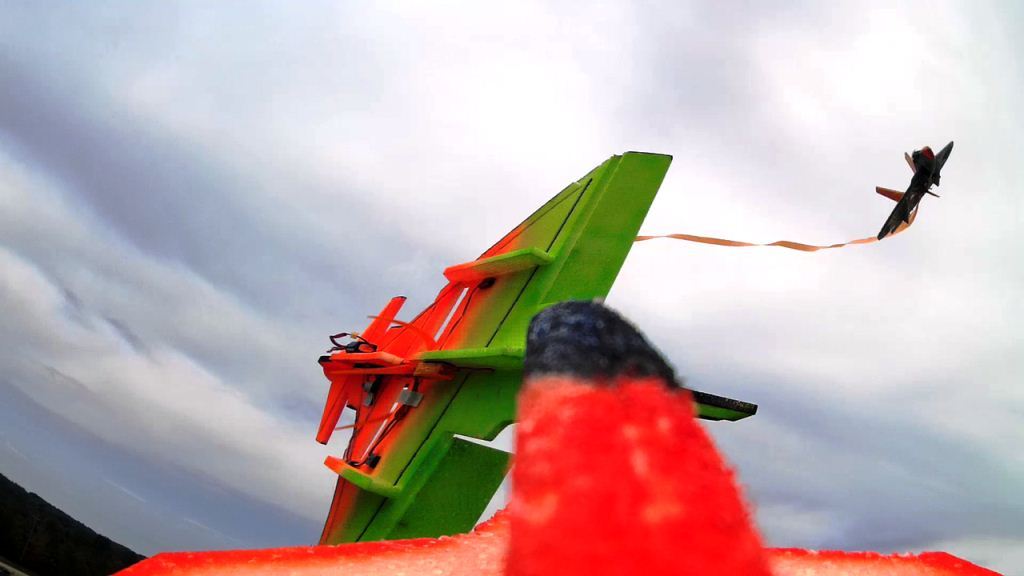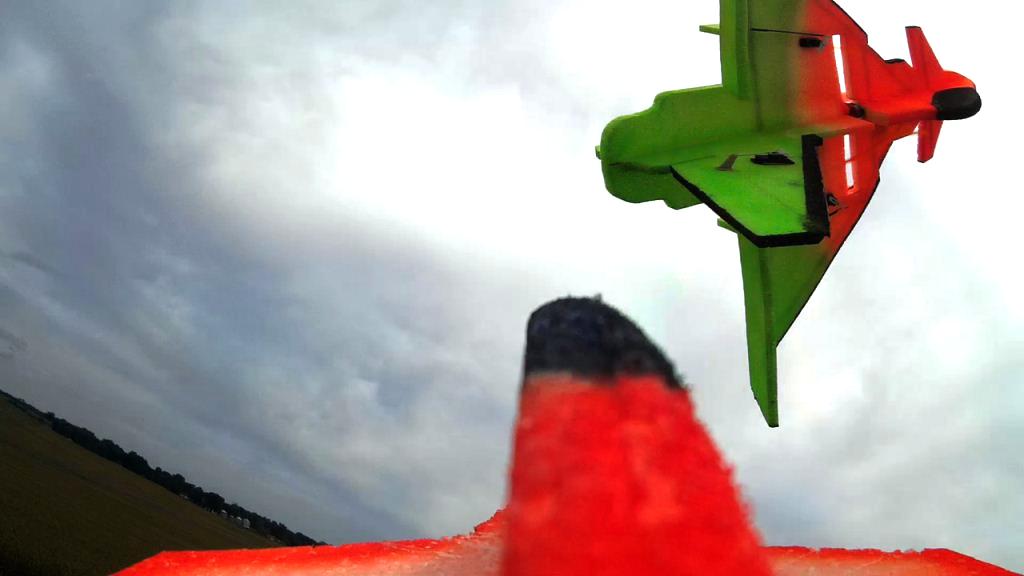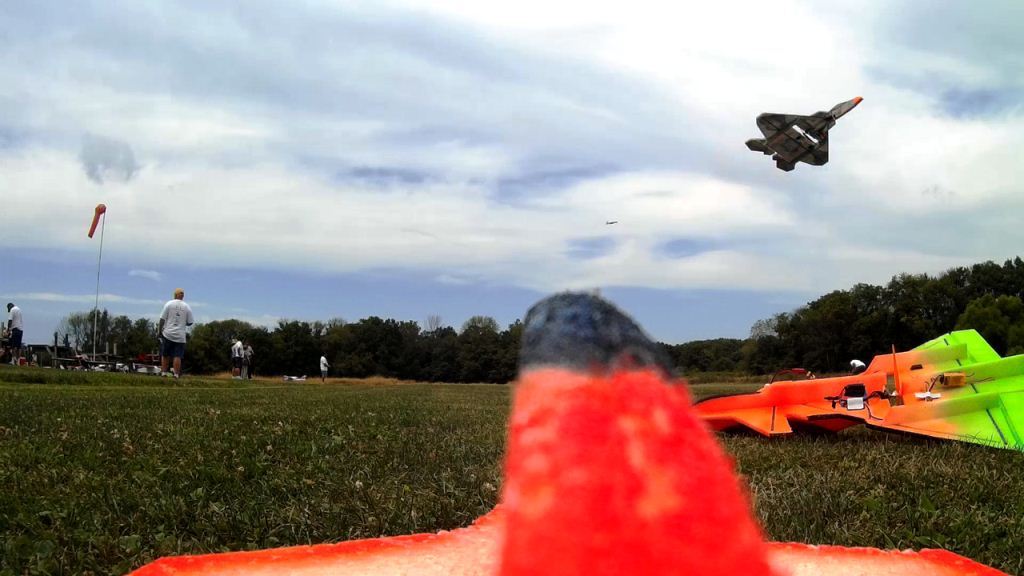 Some still shots from Brian Aimer's Eurofighter, wow! Amazing close ups.
Scott Black sent this link to a page of our photos: Indy Hobbies. Paste this in your browser if the link does not take you to Scott's dop box page: https://www.dropbox.com/sh/sivuivji0crwhgz/AACWRqaYgQm-1RkWug3zluvka?dl=0
Check out this video of the ribbon chase courtesy of Ryan Jones shot from his FPV quad:
This video is courtey of Brian Aimer's Mobius on his Eurofighter during the ribbon chase, some really close calls:
---