2012 after spring, spring fun fly.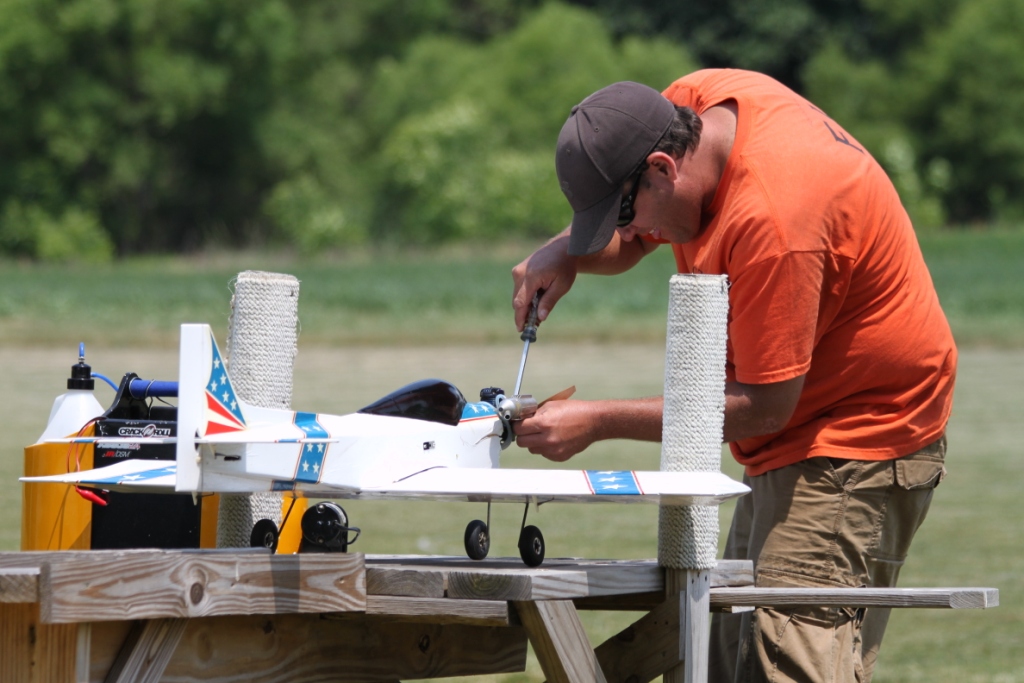 Ray Courtney getting his Contender ready for the events, might need a bigger screwdriver though.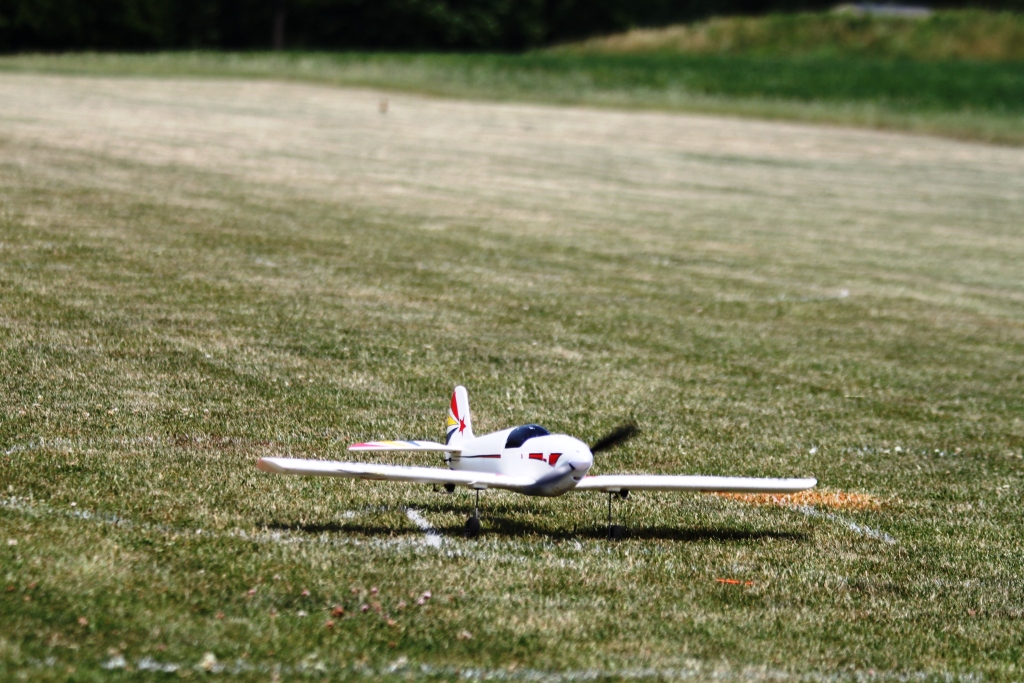 Dillon's Super Sportster EP making a successsful touch in the circle.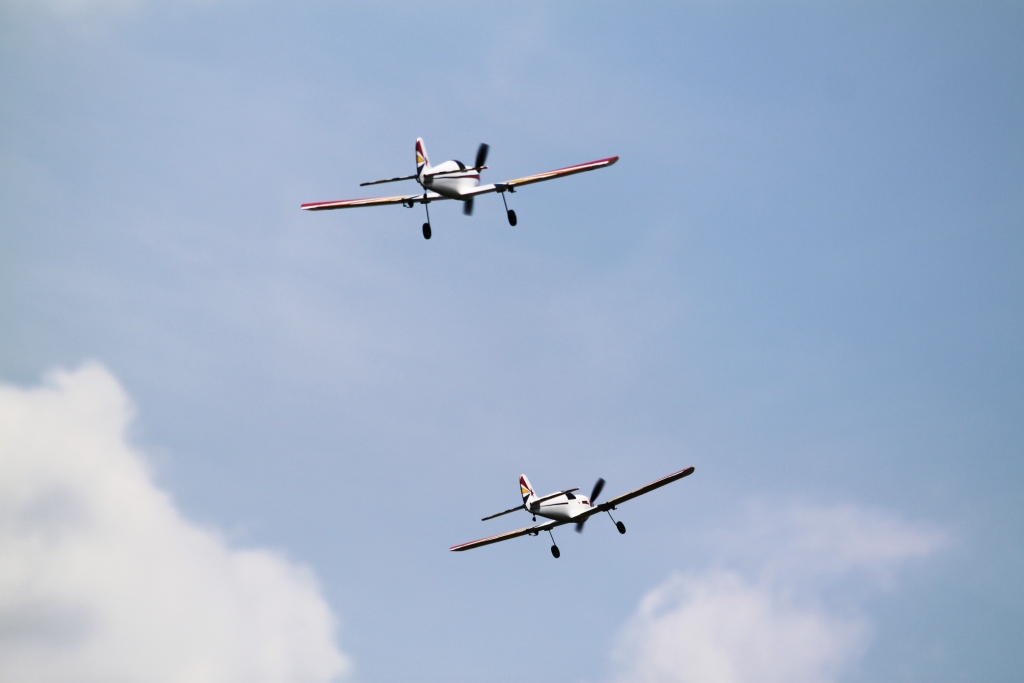 Dillon and Parker off into the blue with their Super Sportsters.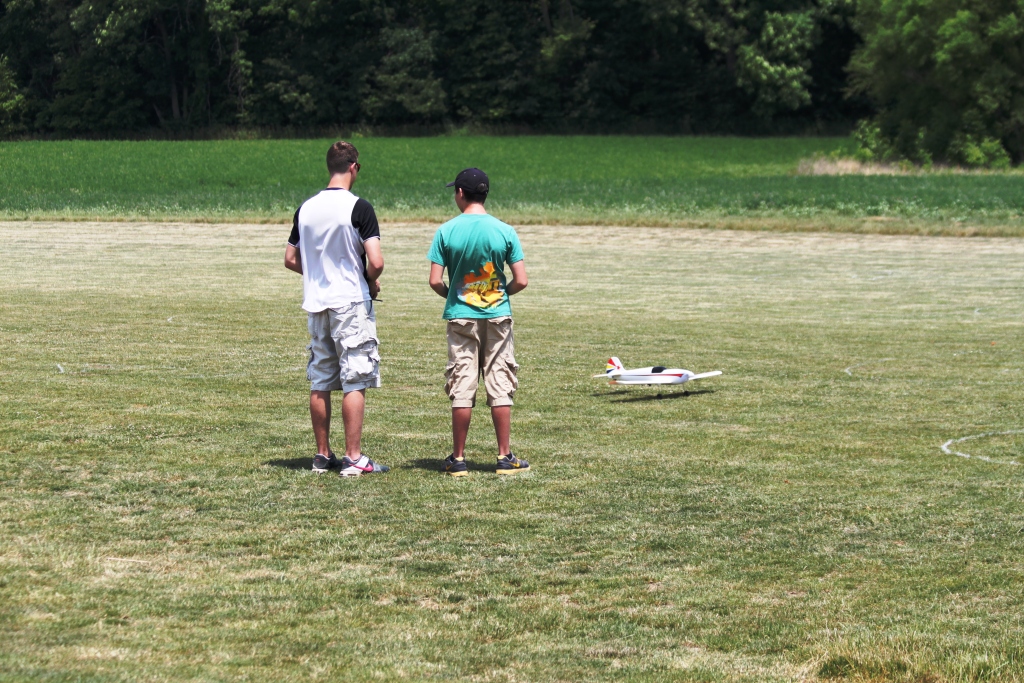 Parker doing a touch and go with his Super Sportster he won in the pilots rffle.
Our 2012 after spring fun fly is now in the books. This is the best weather for a spring fun fly that I can remember. A little warm, but with the slight breeze and shade, it was bearable. We started with a traditional hot dog cookout for lunch, had around 40 people.
We flew six events in all and had good participation. The events were relatively easy skill building events, however, when competition is involved, flying skills are tested.
The first event was called the six pack. There were six separate 9 foot diameter circles on the runway. The circles were numbered 1 to 6. The task was to take off and perform a touch and go in each of the circles, receiving the points for that circle. You could only receive each score one time, so strategy said to go for the six point circle first and work your way back to one. Then there was a 25 point score for breaking a stick and then a 10 point bonus for not killing your engine. Example, a perfect score would be:
1 + 2 + 3 + 4 + 5 + 6 + 25 + 10 = 56 pts.
And the top three scores were:
1. Parker Hall - 51 pts
2. Blake McBee - 50 pts
3. Ray Courtney - 21 pts
---
The second event was Taxi Test. Each pilot taxied a serpentine pattern around a set of cones and then took off, performed a loop a roll and landed and stopped in a designated circle. Time started when the plane taxied through the start cones and stopped when the aircraft was stopped in the designated area. Many very good scores were posted, oh yeah, a five second penalty for each cone knocked over:

1. Scott Sorenson - 41.85

2. Ray Courtney - 43.25

Parker Hall - 46.8
---
Next event up was the Timed Flight. Each pilot took off and had to perform at least two loop and two rolls and then land and stop in the designated landing area as close to one minute seventeen seconds as possible. This was a very tightly contested event and very interesting strategy by a few. No stopwatches, watches or transmitter timers were allowed.

1. Blake McBee - 1.3 seconds

2. Ralph McBee - 4.2 seconds

3. Bill Clontz - 4.4 seconds
---
Then came the Pony Express. A little different this time as we flew 3 teams with 5 on each team. This was a real test as it was almost a comedy of errors. Engines not running right in the heat and sun and landings away from the landing area, made for a very interesting event. Thanks to Brian James and Jesse Knox for setting in the sun to act as the flaggers.

1. Joe Kosiba, Ray Courtney, Scott Sorenson, Vern Hines and Parker Hall - 3:44:03

2. Rege Hall, Bill Clontz, Ralph McBee, Blake McBee and Drew McBain - 4:07:22

3. Parker Hall, Jay Thomas, Don Schmedake, Dave Miller and Dillon McBee - 5:19:6
---
We also flew two foamie electric events which had good participation. The firs tone was a spot landing. Each pilot got three tries and aiming for the bulls eye. Evidently this was harder than it looked. The best of the three was recorded:

1. Parker Hall - 10.5"

2. Blake McBee - 14.5"

3. Scott Sorenson - 18"

Honorable Mention goes to Ray Courtney with 26" and Jay Thomas with 35".
---
The second electric event was a version of musical pylons. In our version, the pilots performed a mass launch and when the judge yelled "land", each pilot had to dive for the #1 circle. Last one to get in the circle was out. If you missed the circle you were also out. Then we go again until we have only two left to duel it out. The mass launches were fun to watch.

1. Scott Sorenson

2. Parker Hall

3. Dillon McBee

Ray cortney provided these videos of the musical circles event:
---
Everyone had a great time and we ended with a quick awardless award ceremony and a raffle for all participants. The lucky winners were:

Parker Hall - Super Sportster EP ARF

Dave Miller - club tee shirt

Jesse Know - club tee shirt

Brian James - club tee shirt
---